Updated October 2019
Confession: I eat out almost every day of the week. Mostly because I need to try new restaurants that are opening (so I can give you guys recommendations through my texting service. Yes, you can text me for restaurant recommendations at 512-400-3637!) and I really just like eating out. Follow me on Instagram at @atasteofkoko for my updated picks!
SEE ALSO: 23 Best Breakfasts In Austin Worth Waking Up For
I've written several "best of" Austin restaurant lists but not an ultimate guide to the top restaurants in Austin. The thing about "best" is that it's relative to who's writing it and when you guys ask me for recommendations, you're really asking what's the best according to me. So here it is, my favorite & top Austin restaurants – weekly go-to picks for healthy, brunch, desserts, happy hour, girl's night, and date night.
---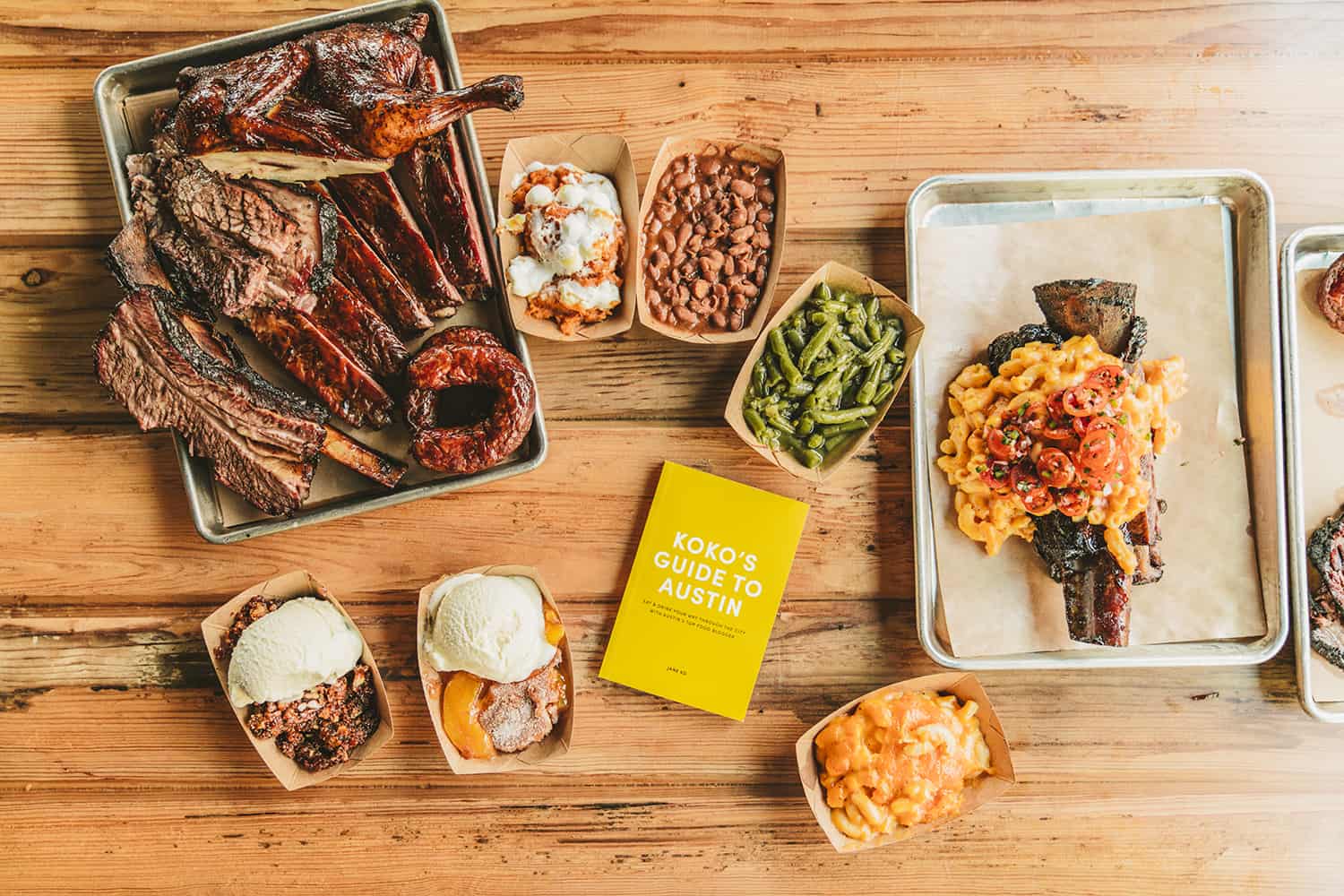 IF YOU'RE VISITING AUSTIN FOR THE FIRST TIME
For barbecue – La Barbecue has the best barbecue in Austin. Get the beef ribs, they're the size of a dinosaur bone. If La Barbecue is closed, here's a couple of other barbecue restaurants in Austin.
For tacos & margaritas – go to La Condesa. Tacos & margaritas are each a food group if you live in Austin.
For queso, tacos & frozen margaritas – Fresa's has my favorite margarita in Austin, frozen prickly pear margarita with salt. Make sure to order the queso, elotes off the cob, and steak chimichurri tacos.
Breakfast tacos – go to Veracruz and order the migas tacos.
Sushi – Uchiko (James Beard) is still the local favorite. If you don't want to spend $$$, go during happy hour (daily from 5–6:30pm). Here's my guide to best happy hours in Austin.
---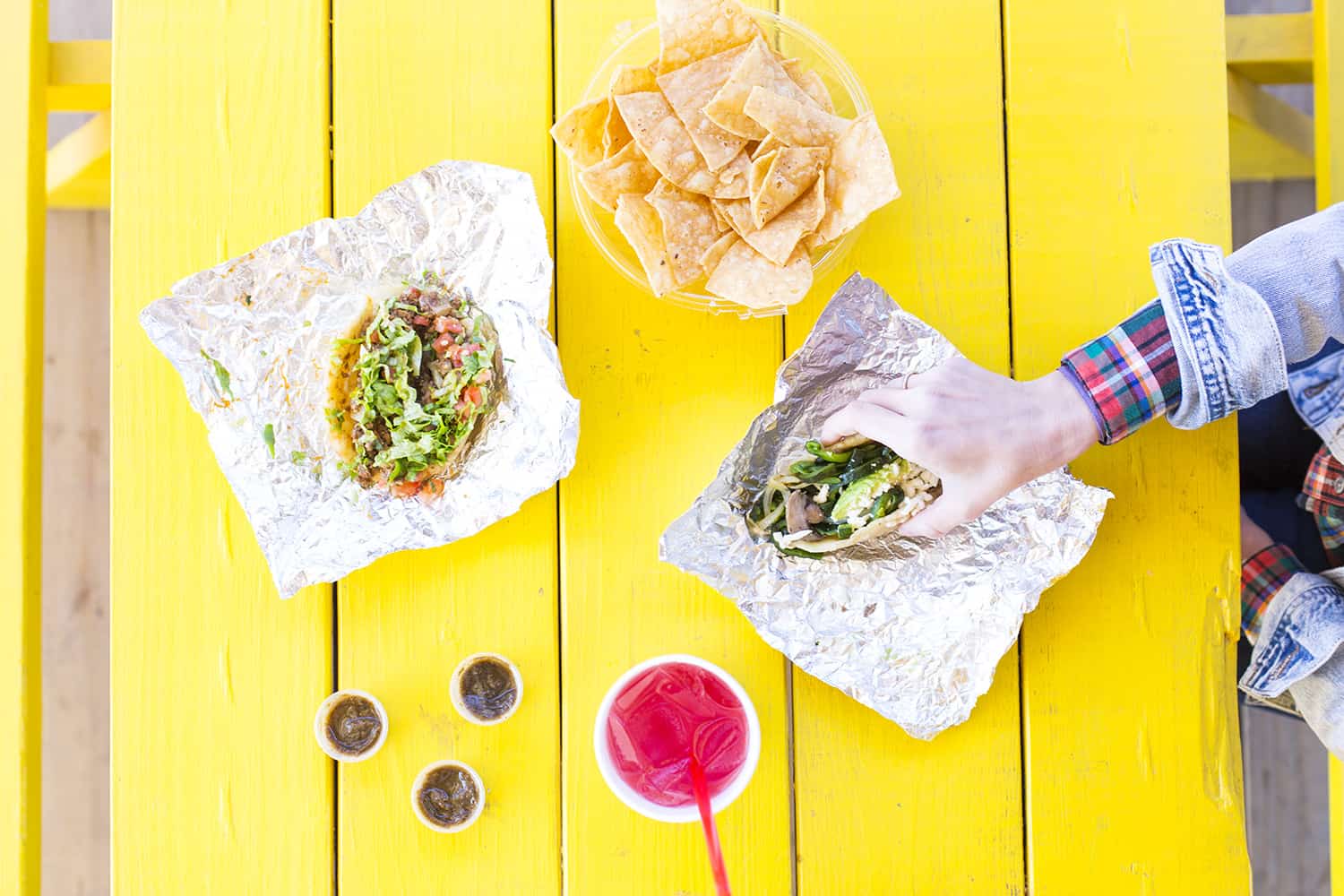 MY WEEKLY GO-TO AUSTIN RESTAURANTS
During the week, I don't always have time for lunch/dinner but if I do, here are my go-to's.
El Chilito – 2 beef puffy tacos and an agua fresca is my go-to order every single time.
Titaya's – if I'm flying back from a trip, I usually call Titaya's right when I land for a pickup order of the pad see ew.
Cava – this is a chain but the bowls are SO good. I love the braised lamb grain bowl.
Central Market – slightly embarrassed to admit that I will occasionally grab the prepackaged sushi from Central Market. Sometimes a girl just wants to eat sushi and watch Netflix!
Home Slice Pizza – pepperoni and the margherita pizza are my favs
Elizabeth St Cafe – pho is overpriced but the kaffir lime fried chicken bún is delicious.
Snooze – Snooze Classic with sunny side up eggs, chorizo, crispy hash browns, and an English muffin.
Contigo – Contigo has a solid brunch
Cafe No Se – a cute spot with a delicious quinoa bowl
Hillside Farmacy – I like going to Hillside Farmacy during the week for quiet meetings
Kinda Tropical – rainbow rice bowl is healthy but also delicious
---
HEALTHY RESTAURANTS IN AUSTIN
Honest Mary's – love their healthy grain bowls and it's so convenient to pick up a couple of bowls to eat throughout the week.
Leaf – love their salads but parking is a pain in downtown Austin
Blender & Bowls – dragonfruit acai bowls are my jam
Cava – healthy grain bowls with lamb!
High Note – this new cafe by the owners of Kerbey Lane is super cute and the food is really good.
---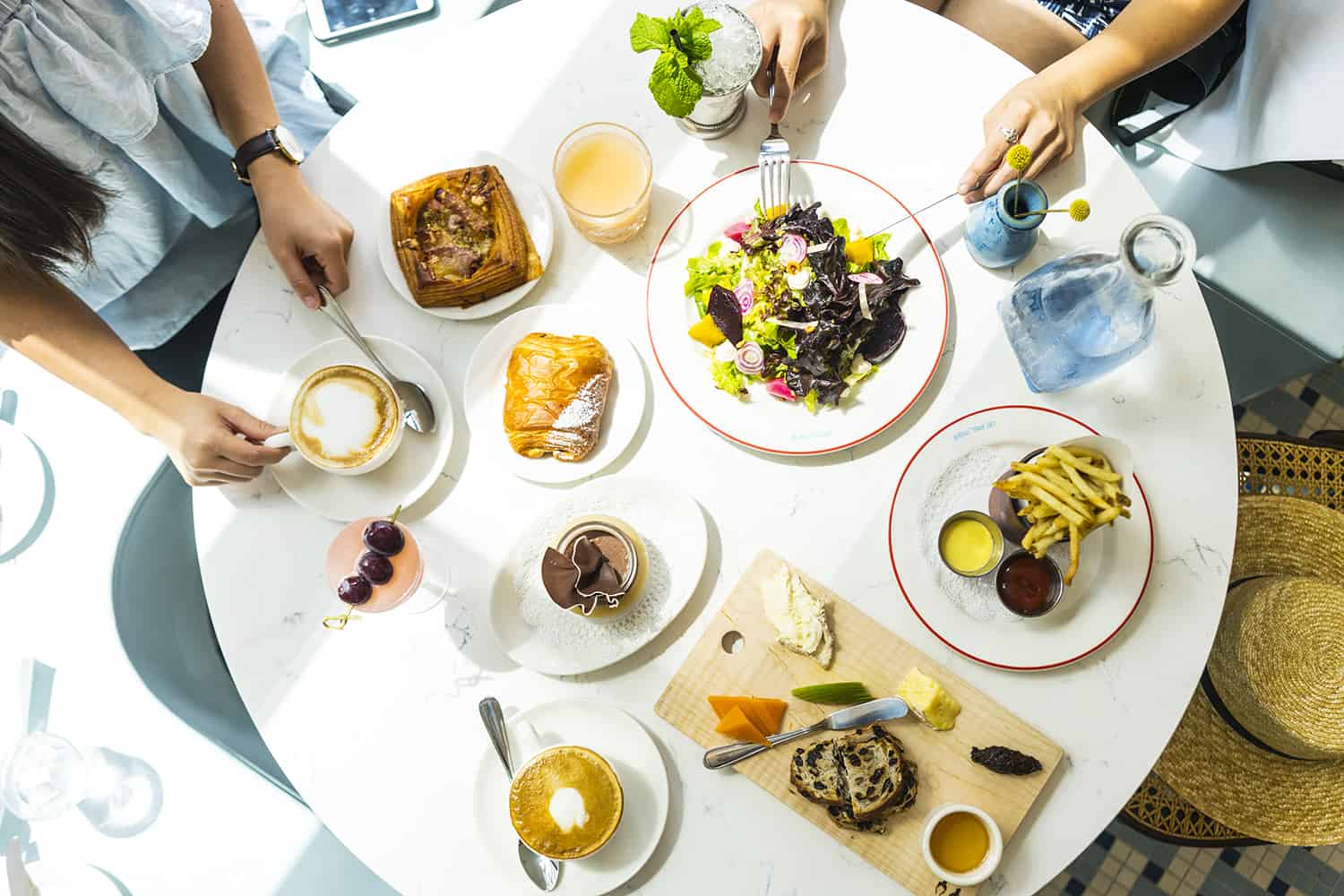 BEST AUSTIN RESTAURANTS FOR BRUNCH
Le Politique – I've been here several times for brunch on the weekend and it's always good.
Fresa's – many Sundays have been spent on the spacious patio at Fresa's eating queso and sipping on margaritas.
Contigo – Contigo is a Sunday staple during the summer
Elizabeth St Cafe – everyone loves the patio space at this local French-Vietnamese cafe
Snooze – Snooze serves brunch all day through the week but not only is it delicious but also not pricey.
Paperboy – there are two trailer locations in East Austin and South Austin. The breakfast menu is the cure for any hangovers.
Suerte – my current favorite weekend brunch
SEE ALSO: 22 Spots With The Best Brunch In Austin
---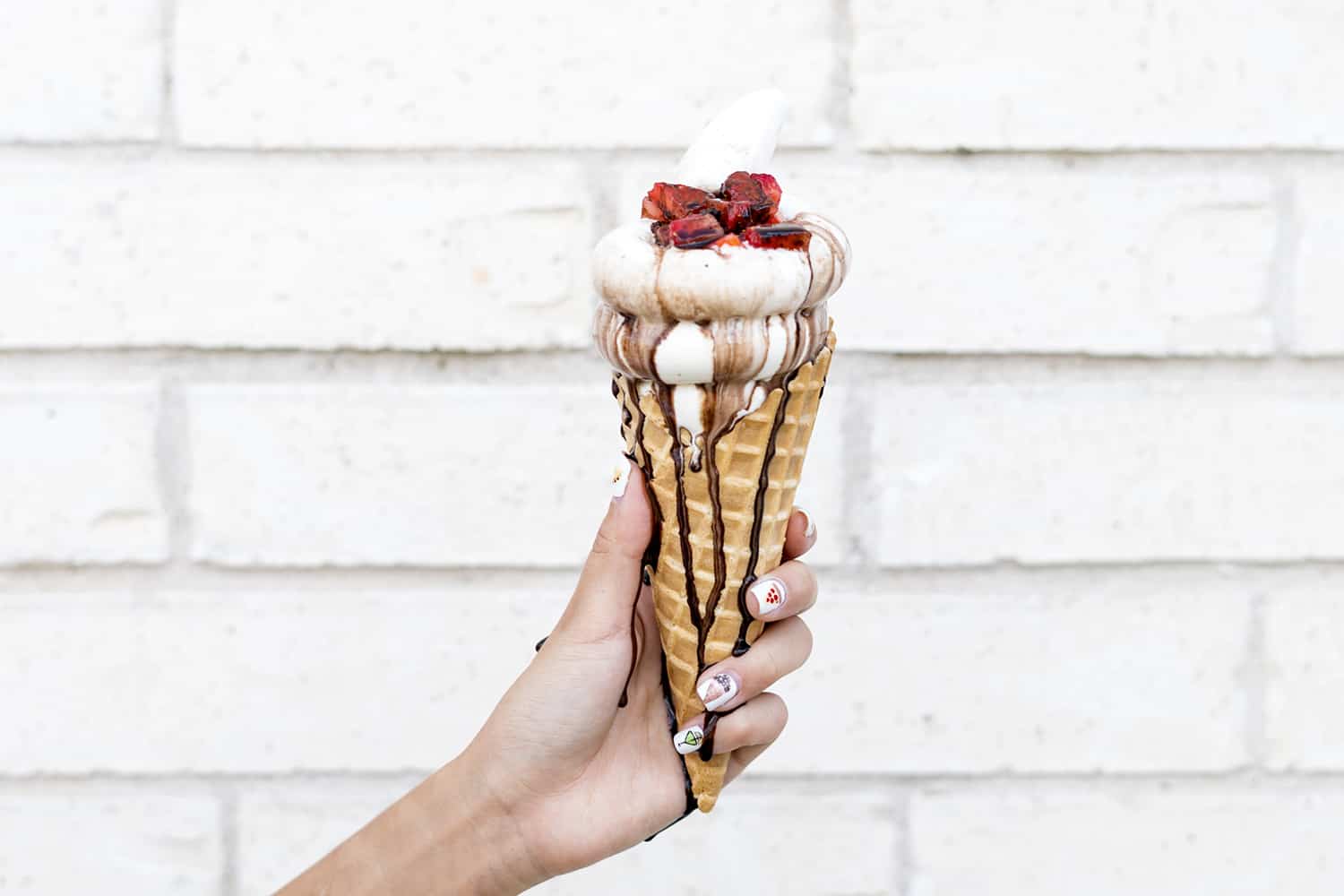 BEST DESSERTS IN AUSTIN
Sugar Mama's – my go-to for cupcakes in Austin.
Cow Tipping Creamery – if traffic wasn't so bad from Central Austin to South Austin, I'd go to Cow Tipping Creamery every week for vanilla soft serve with chocolate syrup. Treat yourself to their birthday cake stacker or shake
Amy's Ice Cream – Mexican vanilla with vanilla Oreos will always have my heart
Gemelli's – favorite gelato spot in Austin, my favorite flavor is the earl grey gelato when it's in season
Lick Ice Creams – favorite ice cream spot in Austin!
Frozen Rolls – Thai rolled ice cream with fun toppings
---
BEST AUSTIN RESTAURANTS IN HAPPY HOURS
Clark's Oyster Bar – the burger + fries is 1/2 off from Monday to Friday from 3 – 6pm, and it's 1/2 off bottles of wine on the weekends from 3 – 6pm.
Uchiko – even though Uchiko broke my heart by taking the Brussels sprouts off the happy hour menu, I still love Uchiko's happy hour.
Lucky Robot – Lucky Robot's outdoor tables are a great spot to people watch on South Congress. Happy hour is Monday – Friday from 4 – 6pm.
Kome – $4.5 Japanese chicken wings, $4 gyoza, $4 – $6 sushi rolls, and $5 house sake is Monday – Thursday from 5 – 6pm.
SEE ALSO: Ultimate Guide To Best Happy Hours In Austin
---
GIRL'S NIGHT
Aviary – amazing selection of wine with bites
June's – another great wine bar in Austin that's perfect for catching up with girlfriends
Josephine House – just caught up with the girlfriends at Josephine House last weekend while sipping on glasses of rosé on the patio.
40 North – cute bungalow for pizza and wine
---
BEST AUSTIN RESTAURANTS FOR DATE NIGHT SPOTS
Uchi + Uchiko – obvious but still the best date spot in Austin. I haven't been to Otoko but I'd imagine that's a great date night spot too.
Clark's Oyster Bar – I love this cute, intimate seafood spot. Even celebrated one of my birthdays here!
Le Politique – cute European restaurant with delicious entrees and pastries. They have lobster + frites!
Justine's – steak frites with house red and the chocolate cake? I'd swipe right on that.
Irene's – for a casual date night, I'd go to Irene's for some hazelnut & Nutella toast with cocktails.
Ah Sing Den – I really love the Asian vibes at this East Austin bar and their cocktails are really good.
40 North – share a couple of pizzas, crispy potatoes, and the labneh over a bottle of wine.
G'Raj Mahal – best Indian food in Austin, love the tiki masala with garlic naan, batura, and Indian spiced beignets!
Oseyo – this newly opened Korean restaurant in East Austin serves authentic Korean food.
ATX Cocina – I love the Mexican food at ATX Cocina, especially the meat dishes!
Sway – I've celebrated several special occasions here
---
Last year I spent over $8000 on restaurant meals alone – that's a good amount of money. When I saw Uber launch Uber Visa Card that offers 4% back on dining at restaurants, takeout, bars, and Uber Eats*, I signed up immediately. 4% back on $8000 is $320!
Uber Visa Card*:
✓4% back on Dining – restaurants, takeout, and bars, including Uber Eats.
✓3% back on Hotel and Airfare – includes vacation home rentals
✓2% back on Online Purchases – Uber, online shopping, video and music streaming services
✓1% back on All Other Purchases
Earn $100 after spending $500 on purchases in the first 90 Days!*
No annual fee*. No Foreign transaction fees*.
$50 subscription credit. Up to $50 credit for online subscription services after you spend $5,000 on your card per year.
Exclusive Access. Receive invites to exclusive events and offers in select U.S. cities.
Mobile Phone Damage Protection. Up to $600 for mobile phone damage or theft when you pay your mobile phone bill with your card.
*Terms Apply. Please review the FAQS and Rewards Summary for important information about program benefits and features listed above and the Terms and Conditions for full details about the rewards benefits (such as how points are earned), interest rates and account fees and terms for this particular offer before applying.