What are the best restaurants for a date night, birthday, anniversary, or any special occasion in Austin? This is one of my most frequently asked FAQs.
SEE ALSO: Austin Restaurants Offering Curbside & Takeout Food
Here are the best spots for wining, dining, and woooing.
---
Sushi
TenTen
TenTen is a modern Japanese restaurant in downtown Austin with fresh sashimi, sushi, and robata – Japanese-style grilled meats and vegetables. Housed on the first floor of the refurbished Miller Blueprint building, TenTen is a high-energy urban design with stone and wood fixtures, cozy booths and intimate lighting resulting in a welcoming, vibrant and fresh ambiance.
Splurge: a5 wagyu ribeye with shiso wasabi gremolata (24 oz) for $225 and the king grab with red yuzu kosho butter for $56.
Good for: date night, birthday, anniversary, & special occasion
Price: $$$
501 W 6th St, tentenaustin.com
Uchi
Uchi and Uchiko are the top picks for any special occasion dining in Austin so I had to put them on this list. Opened in 2003, Uchi is a modern Japanese restaurant by James Beard Award-winning Chef Tyson Cole that has defined fine dining in Austin. The menu alone is "not your everyday mean" but it's the exemplary service that makes guests feel so special. Many marriage proposals have happened at Uchi. Lots of first dates and anniversaries have been spent as well.
Splurge: Ten-course chef's tasting (vegetarian option available) or the six-course signature tasting.
Good for: date night, birthday, anniversary, & special occasion
Price: $$$$
801 S Lamar Blvd, uchiaustin.com
Uchiko
Uchiko is the sister restaurant to Uchi with a modern twist on Japanese cuisine. There is a private dining room that has hosted rehearsal dinners, showers, intimate holiday soirees, birthdays etc. The service is attentive and if you have a special occasion ahead of time (like many restaurants) you can call ahead to let them know what you are celebrating and they will help you integrate whatever surprise you have into your dinner.
Splurge: Daily ten-course chef's tasting menu or the five-course tasting menu
Good for: date night, birthday, anniversary, & special occasion
Price: $$$$
4200 N Lamar Blvd, uchikoaustin.com
Soto
Soto is a traditional Japanese restaurant with two locations – Cedar Park and Austin on South Lamar. Their most iconic dish is the flaming salmon.
Splurge: Chef's choice 20-piece sashimi for $70, a5 wagyu ribeye ishiyaki (hot cooking stone) for $65, foie chras chocolate with a 8-year aged sake for $18
Good for: date night, birthday, anniversary, & special occasion
Price: $$$
1100 S Lamar Blvd Ste 2115, sotoaustin.com
Kemuri Tatsu-Ya
Kemuri Tatsu-Ya is an izakaya in east Austin, from the team behind Ramen Tatsu-ya. Offering smoked meats, yakitori, and izakaya classics with a full bar with an extensive Japanese whiskey selection. The menu is divided by munchies, raw, smoked, skewers, chinmi, and dessert.
Good for: date night & birthday
Price: $$
2713 E 2nd St, kemuri-tatsuya.com
Uroko
Small Japanese restaurant with casual counter service with Tamaki (handroll) bar by day and weekend 45-minute sushi omakase led by chef Masazumi Saio and Takehiro Asazu.
The dining room is currently closed but sushi omakase is available for take out and pick up.
Good for: date night, anniversary, & special occasion
Price: $$
1023 Springdale Road Bldg 1 Suite C, urokoaustin.com
---
American
Eberly
Eberly is a gorgeous restaurant on South Lamar with a contemporary and intimate dining room filled with velvet, navy blue, booths and a brass bar. The center study and open kitchen make it feel like a bustling restaurant, and the famous Cedar Tavern bar ( carefully put back together from the original iconic bar in New York City) fills the space with history. Enjoy Chef Jo Chan's Japanese Milk Rolls, Mushroom Mafaldini, Braised Short Rib, and Shells & Cheese.
Special ocassions: Eberly prints off a special card with the occasion and guest's names with the date and also have the staff sign it for them. They send out an off-menu dessert from the Pastry Chef Sarah Seghi, and if it's your birthday, we will send it out with a candle!
Good for: date night, birthday, anniversary, & special occasion
Price: $$$&
615 S Lamar Blvd, eberlyaustin.com
Bar Peached
Although not only available for birthday celebrations, Bar Peached offers their Birthday Cake Bingsu! This dessert is a signature item at Bar Peached, and it includes cake ice cream, birthday cake, whipped cream, mochi, sprinkles, and is topped with a celebratory candle!
1315 W 6th St, barpeached.com
Rosedale Kitchen and Bar
Rosedale Kitchen serves vibrantly healthy dishes mixed with American comfort foods and a slice of Texas flare is now offering curbside pick-up meals. Healthy salads, easy heat and eat family meal packs, kid-friendly dishes, housemade cookie dough, and ice creams, cocktail kits, and more.
Good for: date night & birthday
Price: $$
3800 N Lamar Blvd Ste 170, rosedalekb.com
Rosewood Gulf Coast Chop House
Located in East Austin in a quaint 1890's home, Rosewood features South Texas cuisine while supporting local farmers, ranches, and Gulf Coast fishers.
Good for: date night, birthday & anniversary
Price: $$
1209 Rosewood Ave, rosewoodatx.com
Clark's Oyster Bar
Clark's Oyster Bar is one of my favorite date night spots in Austin whether you dine inside or outside! Start with freshly shucked oysters, cioppino, and the pan-roasted black Angus hamburger.
Splurge: grilled whole Mediterranean Branzino for $40 and Black River Russian Osetra for $240.
Good for: date night, birthday, anniversary, & special occasion
Price: $$
1200 W 6th St, clarksoysterbar.com
June's All Day
June's on South Congress is a super cute spot with an extensive wine list – I like dining outside on the patio and people watching.
Good for: date night, birthday, anniversary, & special occasion
Price: $$
1722 S Congress Ave, junesallday.com
Aviary
Aviary has a great wine selection perfect for anniversaries to find your new favorite special bottle of wine. Their fresh and seasonal rotating menu makes every visit to Aviary something new!
Good for: date night, birthday
Price: $$
2110 S. Lamar Blvd, aviarywinekitchen.com
Easy Tiger
Easy Tiger's spacious outdoor patios come with space heaters for a cozy night out and they just opened in South Austin with a rooftop deck that would be cute for a first date.
Good for: date night & birthday
Price: $
6406 N Interstate 35 Frontage Rd Suite 1100 + 3508 S Lamar Blvd Suite 200
Via 313
When you're celebrating your birthday at Via 313, you can expect the team to celebrate with you! You get a card signed
by the staff and a free dessert such as a scoop of Superman Ice Cream!
---
Asian
Peached Tortilla
Peached Tortilla is a staple for special occasions, they offer a signed card and free dessert for birthday celebrations! For anniversaries, they offer those two along with 2 complimentary glass of bubbles for a toast!
5520 Burnet Rd #100, thepeachedtortilla.com
Loro Asian Smokehouse & Bar
2115 South Lamar Blvd
1618 Asian Fusion
I had 1618 Asian Fusion in the restaurant a couple of months ago and ordered 1618 Asian Fusion take to the house and it was delicious! Love the Peking duck, pho, and filet mignon stir fry onion.
WHEN: Monday to Thursday from 11:00am – 3pm and 5:00pm — 10:00pm, Friday to Saturday from 11am — 11pm, and Sunday from 11am — 10pm.
HOW TO ORDER: Order online
SPECIAL: Free delivery within 3 miles
1618 E Riverside Dr, 1618asianfusion.com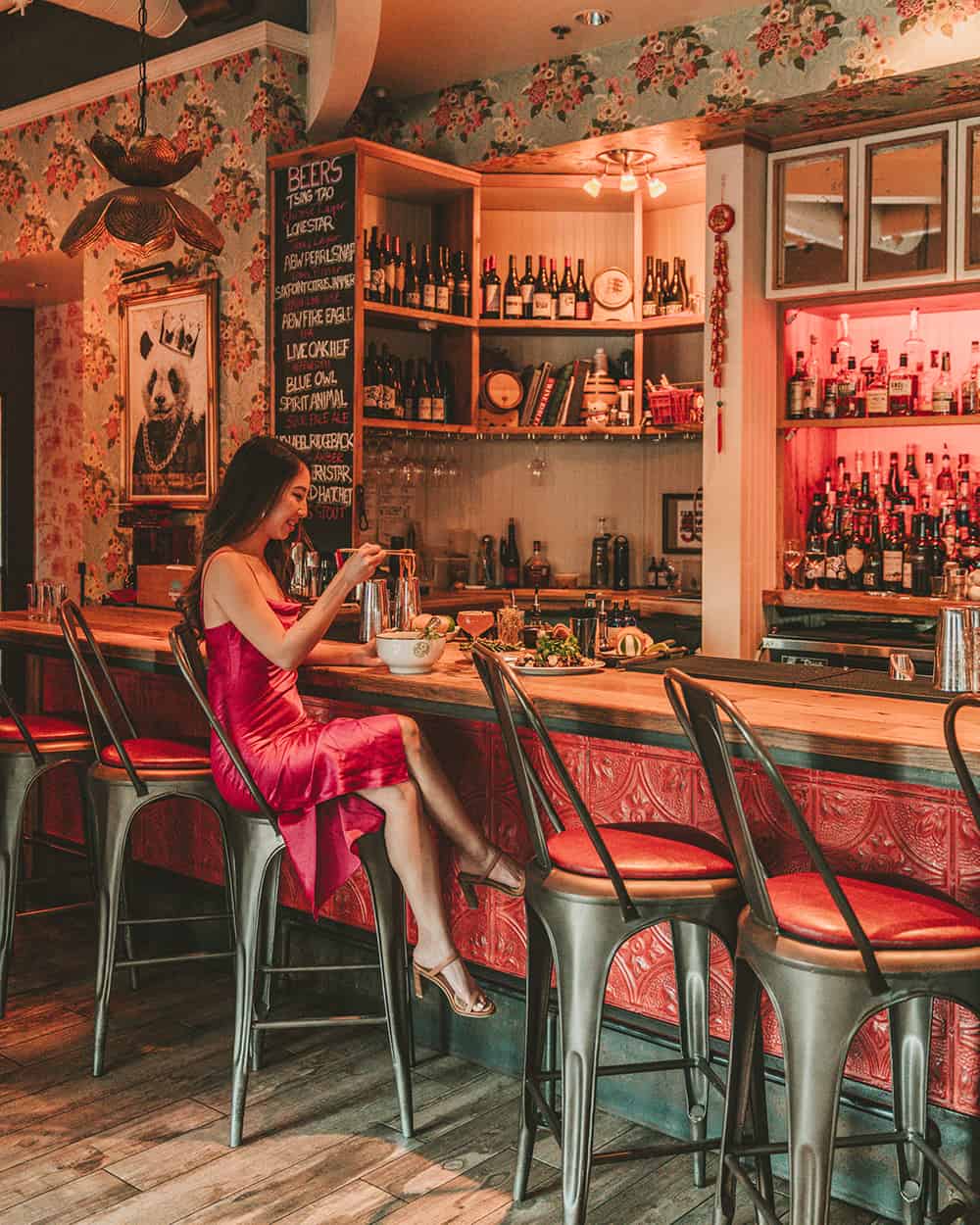 Old Thousand
Old Thousand has a fun party atmosphere that's great for groups! Their hip hop vibe and cool aesthetic make dining in feel like a party every time. Plus – their menu is full of gluten-free, vegan, and vegetarian options, making it easy for everyone in your group to find something!
1000 E 11th St, oldthousandatx.com
---
European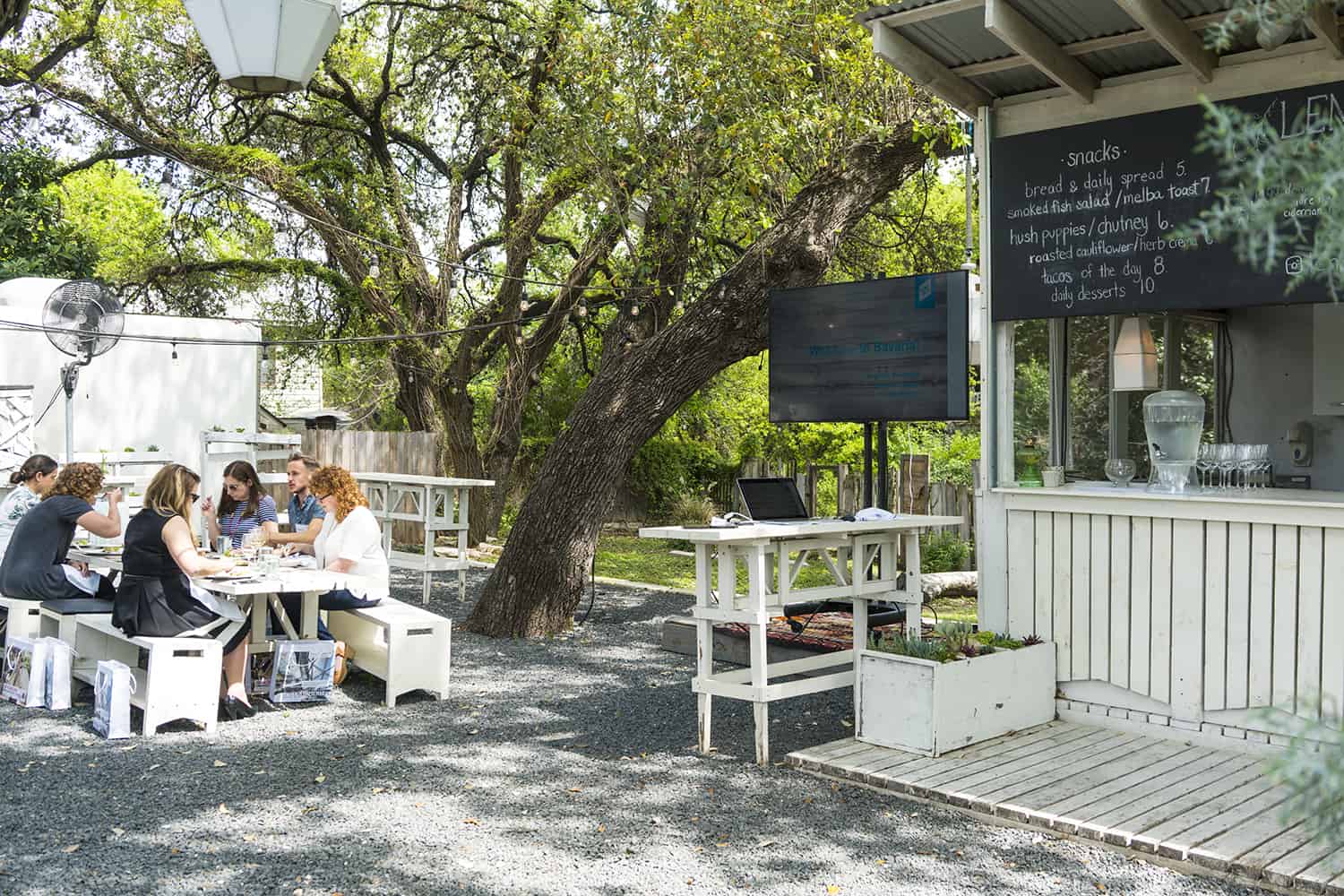 Lenior
Lenoir is a popular date spot with their romantic wine garden – now open for reservations and walk-ins.
1807 South First, lenoirrestaurant.com
Juniper
Juniper always makes their guests feel special, and when you make a reservation for a special occasion, they'll customize your menu! Additionally, they'll gift birthday guests a special present with tasty treats!
2400 E Cesar Chavez St #304, juniperaustin.com
Devil May Care
Sunday brunch at Devil May Care would be a fun date experience – I like dining on the rooftop deck with a view of the city. DMC also has live music (DJs) on most Sundays, check out their website for the schedule.
500 W 6th St Suite 10, devilmaycareatx.com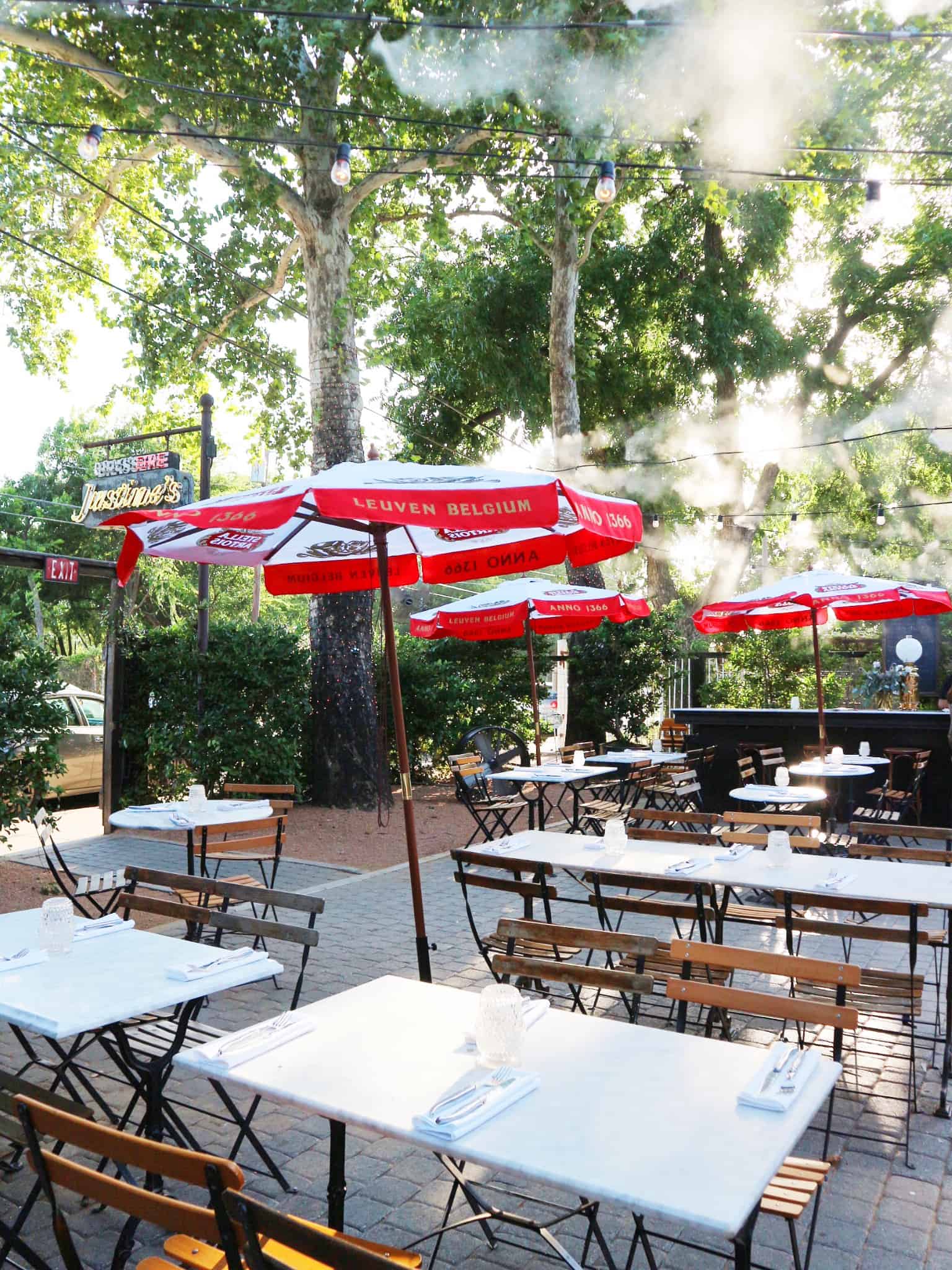 Justine's Brasserie
Justine's is one of my go-tos for date night in Austin – cheese plate, steak frites, and a glass of house red under the twinkling lights in the backyard garden.
Tip: Justine's books up weeks in advance but you can try swinging by and putting your name down and then walk across to Central Machine Works for a drink.
4710 E 5th St, justines1937.com
---
Tex-Mex
Taquero Mucho
Austin's Instagrammable pink Mexican restaurant has opened for curbside takeout with their popular Tex-Mex options like the pink tacos and margaritas so I had to add them to this list best date night restaurants Austin.
508 West Ave, taqueromuchoaustin.com
Grizzelda's
Grizzelda's is a cute spot for a first date – share a plate of sizzling fajitas over a couple of Grizz Mizz margaritas.
105 Tillery St
---
Meal kits
Assembly Kitchen
Assembly Kitchen is a new curated platform that brings restaurants, their recipes and local ingredients to customer's homes that was created by the founders of Comedor and Garage Cocktail Bar in March of 2020 in response to the ever-changing needs of their customers. Assembly Kitchen has a black glove delivery from our vetted Assembly Kitchen drivers.
Each meal kit is delivered to your door with their black glove delivery service. I was super impressed with how organized the meal kit was – each container was properly labeled with a detailed instruction sheet. Assembly Kitchen has also created step-by-step videos so you can follow along.
Choose from
Comedor
Holy Roller
Assembly Pizza
Garage
Assembly Bake
WHEN: Every day from 11am to 7:30pm
HOW TO ORDER: Order online or for same day pick up of Comedor, Assembly Pizza or Garage, call 512-499-0977 to place your order.
Antonelli's Cheese Shop
Book a virtual cheese tasting with Antonelli's for Valentine's at home.
4220 Duval St, antonellischeese.com
---
OTHER BEST DATE NIGHT RESTAURANTS AUSTIN
L'Oca d'Oro
Mattie's
Jeffrey's
Fonda San Miguel
Wink
Jeffrey's
Uchi
Olamaie – currently closed
Fabi + Rosi – closed
Barley Swine – currently closed
La Condesa
Le Politique – closed
RELATED: 5 Best BBQ In Austin By A Barbecue Expert
Romantic date night ideas in Austin
Peter Pan Mini-golf – BYOB
Boating on Lake Austin or Lake Travis
Blue Starlite drive-in – cute Austin date ideas
Glamping in the Texas Hill Country at Collective Retreats
Golfing at Topgolf
Swan pedal boat on Lady Bird Lake
Swimming in Barton Springs
Watch a movie at Alamo Drafthouse