*updated January 2022
The big V-Day is right around the corner so if you've been wanting to ask out that girl or guy, do it now before they're taken.
SEE ALSO: 17 Best Date Night Restaurants In Austin For Takeout
As always, I've done my research and rounded up the 7 best date ideas for Valentine's Day in Austin including all the restaurants that are offering Valentine prix fixe dinners. Seal the deal with bae this Valentine's.
Romantic canoe on Lady Bird Lake
VALENTINE'S DAY ON THE WATER
Love is in the water! Experience it for yourself, with your favorite girlfriends for Galentine's Day, or surprise your partner with a 2-hour cozy get-away on Lady Bird Lake with Rowing Dock's exclusive Valentine's Day Paddle Packages. For those planning a proposal to their loved one, check out the "Let's Get Hitched" package with local wedding photographer Alyssa Jarae!
LOVE BIRDS PACKAGE: $75/COUPLE
Leave it to us to create the most romantic and fun Valentine's Day date. Spend your day or evening with your friends or loved one paddling down Lady Bird Lake. What's Included: a double kayak or canoe reservation for two hours, a blanket rental to keep you warm, chocolates, and a floral bouquet!
**Must book at least 1 week in advance to secure Love Birds Package on Valentine's Day.
LET'S GET HITCHED PACKAGE: $250/COUPLE
Was your first date at Rowing Dock? Does Rowing Dock hold a special place in your heart? Propose to your loved one the Austin way! Let's partner together and make a surprise proposal on the water that your partner won't forget. What's included: a kayak or canoe reservation for two hours, a floral bouquet, chocolates, a blanket rental to keep you warm AND a photography session with local wedding photographer Alyssa Jarae to capture your proposal in real-time.
**Must book at least 1.5 weeks in advance to secure Engagement Package on Valentine's Day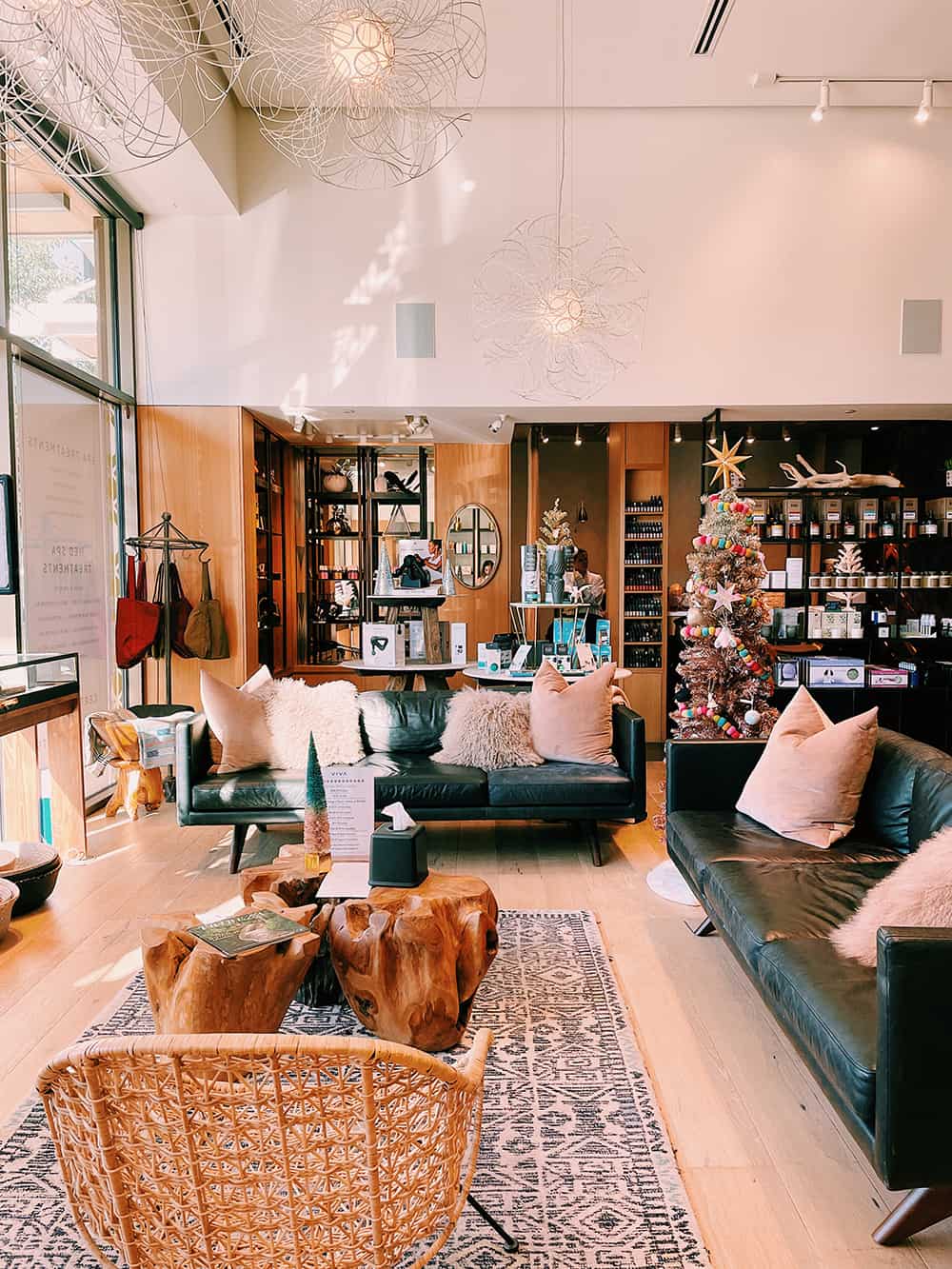 Spa day at Viva Day Spa
Enjoy Valentine's Day with a relaxing spa treatment in Austin at Viva Day Spa + Med Spa –
Need Valentine's gift ideas? Make it a spa day for two with a romantic couples spa package. Or treat your bestie with a gift certificate for a rejuvenating facial or muscle melting massage.
Love Rocks Massage – Melt your honey's heart (and muscles) this Valentine's Day with the Love Rocks Massage Package. It takes the Swedish massage to the next level with a Hot Stone Massage on the neck, shoulders and back. Not to mention all of the other pampering extras in this massage spa package.
Sweet Cheeks Organic Facial – Turn up your skin's radiance the natural way for Valentine's Day with a Sweet Cheeks Organic Facial Package. It's 90-minutes of customized pampering featuring a facial, detox peel, massage and more skin care extras. Plus, natural skin care products from Eminence Organics.
Spend $300 in gift certificates, get a free $50 spa voucher:
Get a little extra love when you gift Viva! Receive a complimentary $50 Valentine's Voucher for future spa or med spa services when you spend $300 or more on any combo of Viva gift certificates (not including gratuity). Offer available January 24-February 15, 2022.*
Winter igloos at Dreamland
Cozy up in a dreamy illuminated winter igloo at Dreamland and then play at the 64-acre outdoor venue in Dripping Springs. Perfect spot for a Valentine's Day date night or an evening out with friends. Winter igloos can be reserved in the Welcome Center for $30 / hour with one hour minimum rental required, with 4-6 people fitting in each igloo. All children under the age of 18 in the igloos must be accompanied by an adult. Located next to the Texas fire pit, every igloo consists of a loveseat, 2 chairs, coffee table, side tables, poufs, wine bucket and bluetooth portable speaker. The private spaces are not heated; however, blankets are provided in each igloo.
Sip on bottled wine (red, white, rose, and prosecco) along with any beverage from the taproom, which features beer from 50 different breweries and 40 wine varietals. There are new cocktails for Valentine's Day, including "Strawberries and Kisses" and "The Single Lady," along with hot cocktails, all available for delivery service from the bar. In addition to drink service inside each igloo, Dreamland will be serving up charcuterie boards, only available for purchase when reserving an igloo.
For more info, visit dreamland.us
Drive-in Movie at Blue Starlite
Surprise your sweetheart with the Ultimate Valentines Day package for 2 with a drive-in movie at Blue Starlite – comes with 2 popcorns, 2 movie theater candies, Valentines Candies, and a rose!
This year's lineup include classics like Princess Bride, The Notebook, Sixteen Candles, Moonrise Kingdom, Roman Holiday, True Romance, and Say Anything.
There's also an ultra special Valentines Dinner for 2 – treat your special someone to dinner and movie under the stars.
Tickets at bluestarlitedrivein.com
Love and Boat
Romantic float down Lake Austin in an electric donut boat with a picnic! Love and Boat sets up everything for you and. your boo for up to 4 hours. Enjoy the beautiful skyline, play some games or just relax and enjoy an intimate setting on the water.
20% off with code: KOKO
Glamping getaway near Austin
There are several glamping getaways near Austin – Round Top, Marble Falls, Wimberley, Fredericksburg, and more. Here are the 7 best spots for glamping near Austin.
Pictured above is Collective Retreats in Wimberly on the scenic Montesino Ranch in the heart of Texas Hill Country. It was about an hour's drive from Central Austin and the drive to Montesino Ranch was quite scenic and we were greeted with the cutest cows.
The safari tents are HUGE – there are 12 of them on the property, each with its own scenic view. I was super cozied up with the fire crackling, heater on, and tucked into bed with the electric blanket on while reading a book. The stay includes a complimentary breakfast in the morning and s'mores by the fire at night. You can opt for a farm-to-table dinner or a DIY grilling kit for $120 per box and serves 2 people
Valentine's Sushi Baller Boxes from Osome
Osome has assembled incredible, handcrafted nigiri boxes that make for an intimate night in. Their limited time Valentine's Baller Box includes 24 pieces of globally sourced nigiri style Japanese Bluefin Tuna Flight including Akami, Chu Toro and O'Toro, Big Glory Bay New Zealand King Salmon, Tasmanian Ocean Trout, Amberjack from Kona Hawaii and Japanese Sea Bream. There will also be an assortment of delicacies from Kaluga Hybrid Caviar, Alaskan King Crab, and A5 Miyazaki Wagyu.
The Valentine's Baller Box is $320 and is paired with a dessert for two, accompanied by imported Sake or Cava wine provided by Civil Goat Coffee. Osome's Baller Box can be ordered here and picked up on February 13, 14, and 15 from 4:30-8pm at Civil Goat's Guadalupe location (3423 Guadalupe St) with delivery also available for an extra charge between 1-7pm.
Local flower bouquets delivered
Poppy and Peppy is a local florist here in Austin that creates these beautiful flower bouquets that are delivered to your door. Preorder until Feb 7th or visit the pop-ups at 309 Coffee in Georgetown on the 12th and 14th.
You can also select the floral subscription that delivers a flower bouquet every month. Designed with 12-15 stems of seasonal blooms and thoughtfully picked by designers choice each week. Your first delivery comes designed in the perfect vase for each of your future bouquets. I love receiving a beautiful bouquet every month from Poppy and Peppy!
10% off coupon for orders CODE: VALENTINE
Dinner for two from Aba
For those relaxing at home, available for pick-up from Mediterranean restaurant Aba is the Valentine's Day Dinner For Two ($124.95, plus tax). The menu includes Lobster Bisque, Smoky Garlic Hummus with Our House Bread, Ahi Tuna with Apple & Fennel, Brussels Sprouts, Beef Tenderloin with potato gratin, Isot Double Chocolate Cake and a bottle of Giuliana Prosecco to top the meal off with a toast. Plus, add on menu favorites including Kebabs, Whipped Feta and Muhammara Spread, Sommelier-Selected bottles of wine and more. The Dinner For Two is available for pick-up or delivery Friday, February 11 – Monday, February 14 from 10 a.m. to 4 p.m. Order by February 9 at 9 a.m.
Or dine under Aba's sparkling lights on the outdoor patio, Valentine's Day specials include Lobster Bisque ($14.95, plus tax) and Beef Tenderloin w/ potato gratin ($47.95, plus tax) Reservation link.
And because Valentine's Day isn't just for the paired up, locals can grab their pals and celebrate with a Galentine's Day Package To-Go from Aba including mezze favorites perfect for the holiday. For $44.95, plus tax, the menu includes Whipped Feta w/ Crudite & Our House Bread, Ahi Tuna w/ Apple & Fennel, Grilled Chicken Kebab w/ Lemon Dill Rice and Isot Double Chocolate Cake. The Galentine's Day Package is available for pick-up or delivery Friday, February 11 – Monday, February 14 from 10 a.m. to 4 p.m. Order by February 9 at 9 a.m.
Place your Galentine's Day order at Aba Austin
Caviar Service & Valentine's Specials at Honey Moon Spirit Lounge
Honey Moon Spirit Lounge is turning up the romance this Valentine's weekend with their special Valentine's menu. Along with their normal menu, Honey Moon is offering Caviar Service ($90) with Crème Fraîche, Chives, Boiled Eggs, Shallots, Capers, and Blinis; Grilled King Prawns ($25) with Chili Butter, Bacon, Corn, Crispy Potatoes, and Scallions; Smoked Lamb Spare Ribs ($46) with Goat Cheese Polenta, Sauce Bordelaise, Brassicas, and Cabernet Tomato; and Chocolate Bourbon Mocha, Strawberries and Cream, and Pistachio Cardamom Macarons.
Valentine's Weekend Takeout from Old Thousand
Old Thousand just took Netflix and chill to the next level with their special Valentine's Weekend Takeout specials for you to enjoy from home. For $88 their Valentine's Packs come with Hainanese Quail with Ginger Scallion Sauce and Herbs, Pork and Kimchi Dumplings, Chicken Fat Rice, Dry Fried Asparagus, and Chocolate Mooncake. The V-Day Takeout Packs are available for pickup at both Old Thousand locations on February 11, 12, and 13. Additionally, they will offer a bottle of bubbles for an extra charge. There is a limited number of Valentine's Packs at each location.
To preorder, call (737) 222-6637.
Galentine's Day
Rihanna-themed drag queen brunch at the W Hotel with noon and 2 pm showtimes. Then, brunch hours will be extended from 3 pm-10 pm so that you can celebrate with your friends all day. Brunch specials will include:
$5 glasses of Rose Gold Rosé and $5 House Bloody Mary's All you can eat waffle bar featuring house-made whipped cream, berries, chocolate sauce, sprinkles, and cherries for $15 per person
---
Valentine's sweets in Austin
1886 Cafe & Bakery at The Driskill
History buffs and lovebirds alike should check out The Driskill (which just turned 135 years old) as they are offering an assortment of Valentine's Day brunch treats. At 1886 Cafe & Bakery, patrons will find freshly baked pink cinnamon rolls, red waffles with strawberries cut like rose petals and pink mimosas containing heart-shaped strawberries, available for both the weekend before and after Valentine's Day (February 5-6 and February 12-13). The cafe will also be selling a limited supply of chocolate-dipped Valentine's Day Meringues at the front desk.
Preorders for Bom Bakeshop's Valentine's Day Love Set open Tuesday, Feb 7th at 1pm
Buddy's Burgers
Buddy's Burgers will be debuting their Chocolate Covered Strawberry Shake for Valentine's Day this year starting February 1. This delicious new menu item will be made by combining their handspun strawberry milkshake with rich Hershey's Chocolate. The shake will be available for the entire month of February.
Delysia Chocolatier
For chocolate truffles and other sweets.
Easy Tiger
Treat your sweetheart to Easy Tiger's Valentine's Day specials! Your one-stop shop for local gifts, available for pickup from Easy Tiger North, February 11-14. Order now at easytigerusa.com/catering
Valentine's Day Cookie Tin – each tin features a half dozen of our handmade cookies: Raspberry Rose Linzer Cookies and Chocolate Raspberry Shortbread. $30
Sweetheart Grazing Board – a curated selection of Antonelli's cheeses and cured meat roses with chocolate covered strawberries, nuts, olives, fresh and dried fruits, honey and seasonal jam served with assorted Easy Tiger breads. Starting at $125, Feeds 4-6
Valentine's Gift Box – everything you need in one box! Veuve Clicquot champagne, chocolate-covered strawberries and cookies. Add roses to make this the perfect gift. $120
Gelato Paradiso
Make your Valentine's Day extra sweet with handcrafted "Amore" Heart Shaped Gelato Cakes from South Congress's Gelato Paradiso. Comprised of fresh raspberry sorbetto and decadent double chocolate gelato layered on top of Gelato Paradiso's moist chocolate sponge cake, these Amore cakes feature a flavor combination you'll fall in love with. For those who'd like to pop by the shop for a sweet treat on Valtnetine's Day, Gelato Paradiso is also offering a seasonal Chocolate Covered Strawberry flavor available in a cup or on a housemade cone.
Call the Gelato Paradiso at (512) 580-0094 to place your order.
The Roosevelt Room
In honor of Valentine's Day on February 14, couples celebrating the holiday at The Roosevelt Room receive two complimentary glasses of bubbles upon seating.
Reservations are strongly reco mmended. Make your reservation online here.
The Steeping Room
Tea Time Boxes (classic, gff, and vegan available), Dark Chocolate Cherry Whoopie Pie 3 packs (gf), classic Sugar Cookie Hearts (gff/df), or one of the myriad of fantastic loose leaf teas. This year The Steeping Room also has some delightful treasures from some of their favorite makers: Seasonal Jams from Confituras, Dick Taylor Craft Chocolate vanilla raspberry bars, and a beautiful parfum sampler from TSR alumn, Stephanie Dowell, aka, Claudeen Parfums.
Walton's Fancy and Staple
Walton's Fancy and Staple is making sure everyone feels the love this year with their festive sweet treats, fresh floral arrangements, and fruity mimosa carafes for Valentine's Day weekend. Enjoy a variety of pastries including chocolate strawberries, pink and white macarons, Cupid-approved cupcakes, and more, as well as their limited time mimosa carafes paired with fresh fruit purees available the weekend before Valentine's Day. While you're there, pick up a pre-made floral arrangement or call (512) 542-3380 to customize your own. Their pastry case is full of handmade Valentine's inspired goodies for grab-and-go purchases and their pastry chef can also customize a darling display for your V-Day celebration.
---
VALENTINE'S DAY PRIX FIXE DINNERS
Here are Austin restaurants that are offering special prix fixe Valentine's Day dinners. Please call ahead for reservations.
Andiamo
Andiamo is offering a special prix fixe Valentine's Day menu with an optional wine pairing in addition to their regular Winter menu. Their seasonal dishes include entree choices like Whole Roasted Branzino and Pan Seared Veal Chops. Make reservations online here.
Heart-Shaped Pizzas from Southside Flying Pizza – Southside Flying Pizza is making Valentine's Day extra cheesy this year with their heart shaped pizzas available February 11th – 14th. Their one topping heart pizzas are $14 and are available for dine in, takeout, or delivery. Order online at your closest Southside location here.
Peached Tortilla
The Peached Tortilla's Valentine's Day menu will be available for dine-in only on Monday, February 14th from 5-10pm. 3 courses for $55 with optional wine pairings for $32.
Make your reservation HERE for The Peached Tortilla.
3 courses for $50 or 4 courses for $55
Suerte
Chef Fermín and his team will curate a 5-course dining experience beginning with botanas (small bites), followed by three savory courses. All reservations include a complimentary sparkling rose toast upon arrival and will end with a special dessert by pastry chef, Derrick Flynn. Beverage pairings are also available for purchase to elevate your experience and indulge you con mas amor!
Tickets will be priced at $120 per person with an optional $50 beverage pairing (tax and gratuity not included). Tickets can be purchased through Resy.
4-course Pre-Fix Valentine's Day at 5:30 & 8:30 pm, and there will be live music from Ruel Thomas. The cost is $92 per person.
SEE ALSO: Ultimate Guide to the Best Downtown Austin Restaurants