Photography by Gina Park Photography
The big V-Day is right around the corner so if you've been wanting to ask out that girl or guy, do it now before they're taken.
SEE ALSO: 23 Austin Texas Food Festivals You Need To Attend
As always, I've done my research and rounded up the 7 best date ideas for Valentine's Day in Austin including all the restaurants that are offering Valentine prix fixe dinners. Seal the deal with bae this Valentine's.
Photography by Gina Park Photography
GALENTINE'S
Host a Galentine's with your girlfriends this Valentine's at home with a dessert spread. We had so much fun dressing up, eating desserts, sipping on bubbles, and painting for this Galentine's shoot with Gina Park Photography!
Vday Couple's Event at Plant Party
This Valentine's Day, relax under the plants, sip some bubbly and play on your creativity together at our Terrarium Bar, in the Rosewood District.
Enjoy snacks by Spread & Co, Cake pops from Blake Pops, a Dosi Essential Oil Experience and complimentary bubbly while you design.
One ticket for two includes:
two seats to our event
all elements to make your own Mineral Tilly Garden
choose to build either in two 4x5in glass-orbs or in one 7×8" large glass-orb.
design from 50 different sand/crushed glass/substrate elements at our Terrarium Bar.
your choice of 10 different species of tillandsias (airplants) to design into your assembled mineral garden.
box and care instructions
charcuterie board by Spread & Co.
complimentary cake pops c/o Blake Pops @blakepops
a Dosi Essential Oil Experience
complimentary bubbly, you're welcome to byob
Thursday night, February 14th with choice of two classes: 6-7:30p or 8-9:30p
Limited to 6 couples per class
Tickets: theplantparty.co/products/vday-couple-build
The Red Light Special Valentine's Day AT NATIVE HOSTEL
Calling all lovers & lusters…
💘For the Lovers💘
Join Native Hostel upstairs for a private experience in the Romper Room, complete with a complimentary glass of champagne, wine pairings, and a 4-course meal – all included in your ticket. Sweet & sultry piano serenading provided by the lovely Datura ft. Paul Deemer & Dana Marie. Seating at 7:30 pm. Only 11 spots available (2 people per spot)
⚡For the Lusters⚡
Just friends? More than friends? Sworn off dating in Austin like the fuckin' plague? We're here for you, and we made you a mixtape. Fall in love with the DJ and dance the night away with a Red Light Special DJ set & a special food and drink menu for Valentine's day only. Come early and eat dinner (reservations required) or come late for dessert. And yes, there will be a kissing booth. 😘
Native Hostel, 807 East 4th Street, tickets
Sweetheart Makers Market
On Saturday, February 9 from 2 p.m. to 8 p.m., Scholz Garten will be hosting a Valentine gift shopping event with local vendors, music provided by DJ Fontana, complimentary wine samples and a raffle for the chance to win a Valentine's Day dinner for two at Scholz. The event is free and open to the public, family-friendly and dog-friendly.
Local vendors include:
Fluri United
Mana Culture
Willigan's Island
Rogue Warriers Soap Co.
White Deer Apothocary
Path to Ananda Botanicals
Ana Aguilar Jewelry
Dakini Studios
Party Holster
Yellow Elephant Clothing Company
Scholz Garten, 1607 San Jacinto Blvd, Austin, Texas, facebook event
Bumble BFF Galentine's Celebration
Join Bumble BFF and Adelante Boutique to celebrate Galentine's with your besties! Enjoy complimentary treats & beverages from Sway Rose, Frankly Organic Vodka and FitJoy. Tarot readings from Sound Sight Tarot. Lip touchups by Sentral. Manis by Lacquer. 20% off all health & wellness items at Adelante. Bring a gal pal or swipe right on BumbleBFF to find a new friend to meet! Show your bumble app at the door for a VIP goody bag (first come, first served).
Date: February 9, 2019 11am-2pm
Adelante Boutique, 1206 W. 38th St. facebook.com/events/795787077426143/
MOLLY BURCH PERFORMANCE
Looking for something to do after Valentine's dinner? Molly Burch and her silky-smooth 60's croon will grace the stage upstairs at LAMBERTS for an extra special St. Valentine's, full band performance!
Since her breakthrough album, this local has been breaking hearts with her sincere lyrics and syrupy tone. Now with last year's stellar release First Flower under her belt, Ms. Burch brings a stellar live show.
Don't miss this intimate set! Event is 21& up.
401 West 2nd Street, lamberts.frontgatetickets.com/event/h0n7ev00pqw4cw1z
VALENTINE'S BRUNCH
❤️I'm hosting a Valentine's Brunch with Aids of Austin & Shelby Sorrel at Hank's on Feb 16th! It's going to be a 4-course with drink pairings + a balloon wall.
All proceeds from this Red Ribbon Event Series benefit AIDS Services of Austin. Over the last 25 years, this Red Ribbon Series has raised more than $400,000 for HIV and AIDS care & prevention.
5811 Berkman Dr, Austin, TX, click to buy tickets
ORDER VALENTINE'S SWEETS
THOROUGHBREAD
Chocolate Covered Strawberry cookies – a chocolate chip cookie, stuffed with strawberry preserves. $5 each; buy six, get seven. Available to February 12-17.
LICK ICE CREAMS
Chocolate Strawberry Cupid Cake, a 6-inch Sweet Cream & Strawberry ice cream cake made from scratch with local Texas strawberries. This special Valentine's Day cake will be available for pre-order at our shops & online starting this Friday, January 25th! It will be ready for pick up at a scoop shop of choice just in time for Valentine's Day.
Holy Roller
Make a loved one and/or a friend feel special this Valentine's Day by sending them a little treat! Starting February 1st, you can pre-order a box of a dozen assorted cookies from Holy Roller for $30. The Vantine's Day Cookie Box includes a selection of Red Velvet + White Chocolate Cookie, Hazelnut Sugar Cookie filled with House-made Nutella, Lavender Lemon bar, and Thicc Mints with chocolate mint cookie covered in dark chocolate and mint sugar.
Elizabeth St. Café
Pre-order your Elizabeth St. Café Valentine's Macaron Six Pack now until February 11th. Each box will be filled with a fun, holiday-variety of macarons, and wrapped with red ribbon! Orders will be available for pick up on February 13th and February 14th.
Bakery Lorraine
From Thursday, February 14th through Sunday, February 17th, Bakery Lorraine will have Valentine's Day themed pastries at their Austin Location.
Strawberry Pop Hearts
Raspberry Rose Japonaise
Red Fruit Tart (topped with all raspberries)
Heart Moonpies (chocolate shortbread with a house made marshmallow filling dipped in chocolate)
Grapefruit Tiramisu (available now- 2/17)
Chocolate Turtle Tart (available now- 2/17)
Red Velvet Cake (available now- 2/17)
Lemon Cake (available now- 2/17)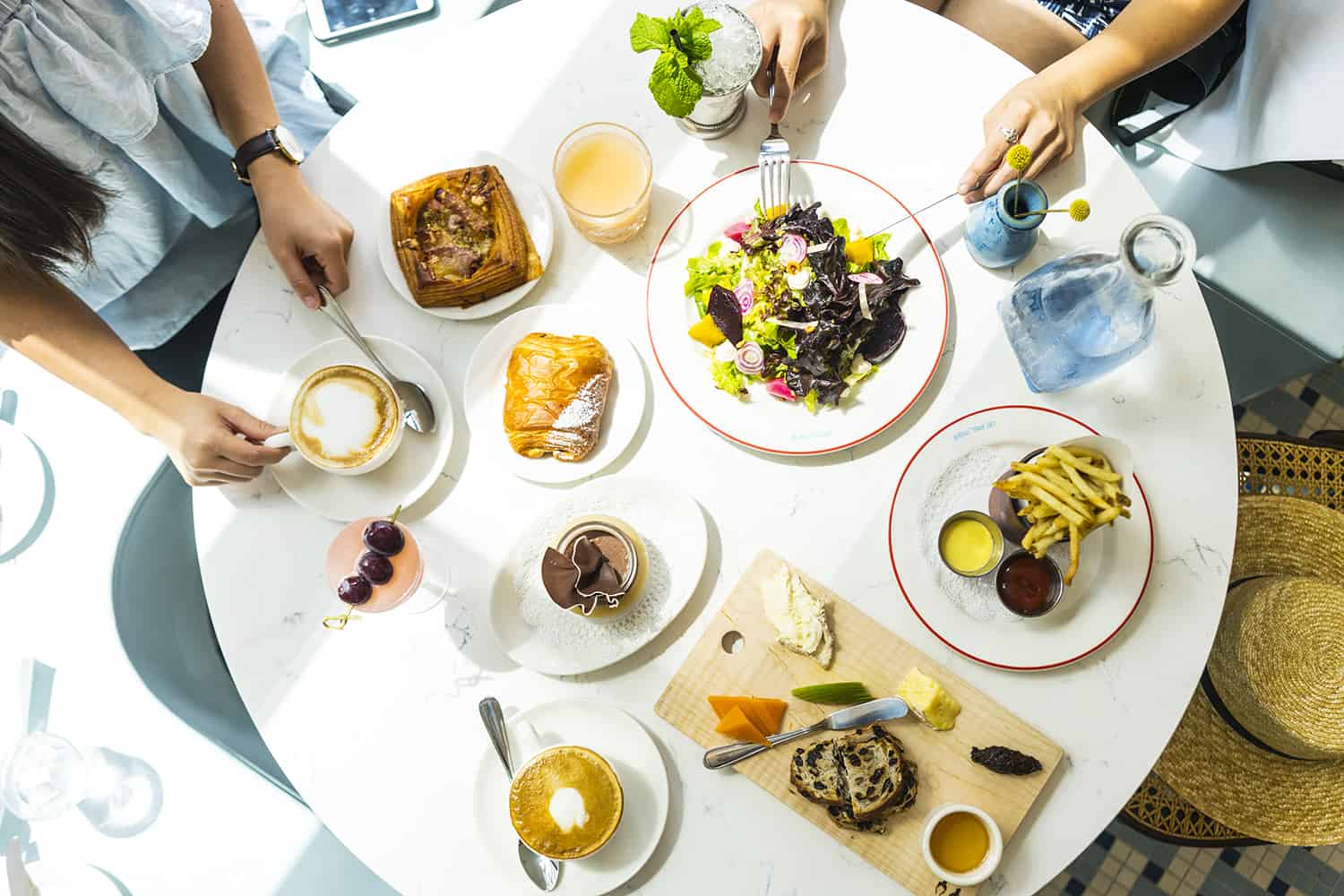 VALENTINE'S DAY PRIX FIXE DINNERS
I've rounded up my picks for the best prix fixe Valentine's Day dinners. Please call ahead for reservations.
OLAMAIE
Pre-set three-course menu for $85 per person. The menu will offer selections from their regular menu, with a choice between two dishes for each course – there will be items available for dietary restrictions as well (vegan, GF, etc.). Biscuits will be included, of course. They will also have specialty cocktails & beverage pairings available at an additional cost.
Reservations are now open via email and OpenTable.
Price: $85
SALA & BETTY
$45 for a 3-course meal with $20 wine pairings or $50 4-course meal with $25 wine pairings. Click here to see the menu.
Price: $45 – $50
COVER 3 & COVER 2
COVER 3 & COVER 2 will offer patrons a complimentary glass of champagne paired with chocolate dipped strawberries along with the purchase of two entrées or sandwiches, such as the filet mignon or blackened snapper with fresh blue crab, and two beverages.
PITCHFORK PRETTY
7-course menu and a complimentary round of bubbles. Guests will be sent all bites and dessert listed on the menu, then have the option to choose (3) appetizers per couple from each of the (3) categories and (1) entree per person. Make reservations here.
Price: $75
MONGER'S MARKET
Monger's Market is serving a 3-course meal for Valentine's. Make reservations here.
Price: $60 plus tax & gratuity
PARKSIDE
Parkside Valentine's Day Menu is $50 + tax + gratuity with optional wine pairing available. Make your reservations here
Price: $50 + tax + gratuity (optional wine pairing available)
OLIVE & JUNE
Olive & June's Valentine's menu is $90/per couple + tax + gratuity. Make your reservation here
Price: $90/per couple + tax + gratuity
VINO VINO
Whether you are celebrating with a significant other on Valentine's Day or plan on getting your girls together for a night out, Vino Vino has you covered with their 4-course Prix Fixe menus, "Loves Me" and "Loves Me Not." The special menus ($75 for each menu) with $35 optional pairings will be available on Thursday, February 14 and Friday, February 15. To make dinner reservations, please call (512) 465-9282 or visit vinotx.com.
Price: $75
UCHI
There is no better place than Uchi to celebrate a special occasion, so why not start making your Valentine's Day plans now. Enjoy their 12-course Prix Fixe menu ($185 for two) including bites like Amuse with tea smoked duck and begonia, Kambujime Hotate with cured scallop, hoja santa and aka san bai zu, Sake Mi Cult with slow poached king salmon, huckleberry and puffed wild rice, and Itoyori Crudo with threadfin bream, green strawberry and green garlic dashi. To make dinner reservations, please call (512) 916-4808.
Price: $185 for two
UCHIKO
A wonderful meal on Valentine's Day is almost impossible to resist, especially when it involves dinner at Uchiko. Celebrate Valentine's Day with Uchiko's 10-course Prix Fixe menu ($185 for two), including Sashimi with scallop, Rainbow Trou with Chinese sausage, smoked peanut and pickled peppers, Intermezzo with Lemongrass ginger sorbet and strawberry bochi, and Wagyu shortrib with beet pave, beet gastrique and beef jus. To make dinner reservations, please call (512) 916-4808.
Price: $185 for two
THE BREWER'S TABLE
Whether you're treating yourself or the significant other in your life, The Brewer's Table has a special prix fixe Valentine's Day menu ($75 per person).
Price: $75 per person
L'OCA D'ORO
L'Oca D'oro is serving their Valentine's Menu with the 80s greatest lovers and haters theme.
Price: $75 6-course dinner with $50 optional beverage pairing
EMMER & RYE
Emmer & Rye will be offering a special prix fixe dinner menu in celebration of Valentine's Day. The event will be $100 per person, and will be offered with an optional wine pairing for an additional cost. Reservations for dinner can be made by calling (512) 366-5530.
Price: $100
CAFE JOSIE
Enjoy a cozy date night at Cafe Josie. The restaurant is offering a five-course Valentine's Day prix fixe menu for $75 per person; the menu includes offerings like Bay Scallop Ceviche with tiger's milk and Thai chili, Smoked Pork Tenderloin with herbed polenta, Oak Seared Yellowfin Tuna, Grilled Redfish with dashi aioli, and Foie Creme with roasted strawberries.
Price: $75 per person
LA VOLPE
Executive Chef Will Eason blends traditional Italian with ultra-fresh ingredients and Southern flavors at downtown Austin's newest neighborhood restaurant. Call 512-501-6713 to make reservations.
Price: $75 per person
JEFFREY'S
Four-course, prix-fixe menu featuring Chestnut Tortellini, Pan Roasted Diver Scallops, Rohan Duck Breast "Au Poivre," Honey & Pistachio Mousse Cake and more! $40 small or $75 large Posey Floral arrangements.
Price: $125 per person with $55 wine pairings
JOSEPHINE HOUSE
Three-course, prix-fixe menu with highlights of Beef Carpaccio, Truffle Ravioli, Crispy Red Snapper a la plancha, and Pink Grapefruit & Almond Layer Cake. $40 small or $75 large Posey Floral arrangements
Price: $75 per person with $35 wine pairings
FLUFF MERINGUES
On Valentine's Day Fluff Meringues will be hosting a single seating two course Tea service at 7pm that will include a light savory meal of meats, cheeses, roasted veggies, and a salad before our tiered dessert service filled with Valentine's inspired treats including: a grapefruit curd with hibiscus and blood orange mousse tart, strawberry basil madeleines, chocolate strawberry marshmallows, rose + lychee and champagne + white chocolate dipped drops, a smattering of our signature treats, and a even few additional few surprises (we can't give everything away!). The seating will be at 7pm and is $60 per person and includes a glass of wine or Prosecco with the option to upgrade to a bottle.
Price: $60 per person
YUYO
This Valentine's Day Yuyo is offering a special prix-fixe menu for only $55 per person, perfect for adding a little more spice to your celebration. Grilled oysters, gulf snapper or braised beef short rib, and a chocolate torte with raspberries.
Price: $55 per person
BARLEY SWINE
Barley Swine is taking reservations on Tuesday, January 15. Enjoy the evening with an enhanced tasting menu, priced at $120. Beverage pairings can be added on for $65. The restaurant will only be offering the elevated tasting menu that evening and hope to see you there! Please call 512-394-8150 to make a reservation as they will not be accepted online.
Price: enhanced tasting menu priced at $120
EL NARANJO
This Oaxacan restaurant in the heart of Rainey Street is serving a five-course tasting menu this Valentine's Day. At $52 per person, the menu includes delectable dishes such as seared scallops in an herbal mole verde, Mexican-style beef tartare, roasted cauliflower with almond mole, and chocolate and raspberry lava cake. The tasting menu must be ordered for the entire table and does not include taxes and gratuity. El Naranjo will be serving its regular food and beverage menus in addition to its holiday tasting menu.
Price: $52 per person
The Peached Tortilla
The Burnet Rd. brick-and-mortar will be running a special Valentine's Day menu of four courses for $45/person with an option to add a wine pairing for $38/person. Featured cocktails are also available. A number of dishes from this special menu are from Eric Silverstein's upcoming cookbook, "The Peached Tortilla: Modern Asian Comfort Food from Tokyo to Texas" which is due out in May.
Price: $45/person with an option to add a wine pairing for $38/person
CENTRAL STANDARD
The special menu includes truffled mashed potatoes, grilled broccolini with braised cippollini onions, porcini mushrooms and wagyu ribeye for sharing. Reservations can be made here.
Price: $75 per couple