I use to eat at Fresa's Chicken twice a week – that's how obsessed I was with Fresa's. The drive thru on North Lamar is super convenient and Basil always gets a doggy treat at the window. Fresa's is opening their new South 1st location next week and I got to preview the new space and menu.
SEE ALSO: Date Night At Hillside Farmacy
Fresa's Chicken is known, obviously for their wood-grilled chicken but their new location has grilled steak and grilled striped bass. We had the striped bass and it was delicious with the homemade tortillas! The fried Brussel sprouts, Mexican street corn, and grilled beets were soo good too. But most importantly, Fresa's serves cocktails AND frozen margaritas. You can choose from prickly pear, regular, and avocado. I can't wait for the cooler weather to hang out on their dog-friendly patio!
WHAT TO ORDER: Wood-grilled striped bass, wood-grilled chicken, fried Brussels sprouts, grilled beets, Mexican street corn, ice cream and frozen margaritas.
PRICKLY PEAR FROZEN MARGARITAS AT FRESA'S CHICKEN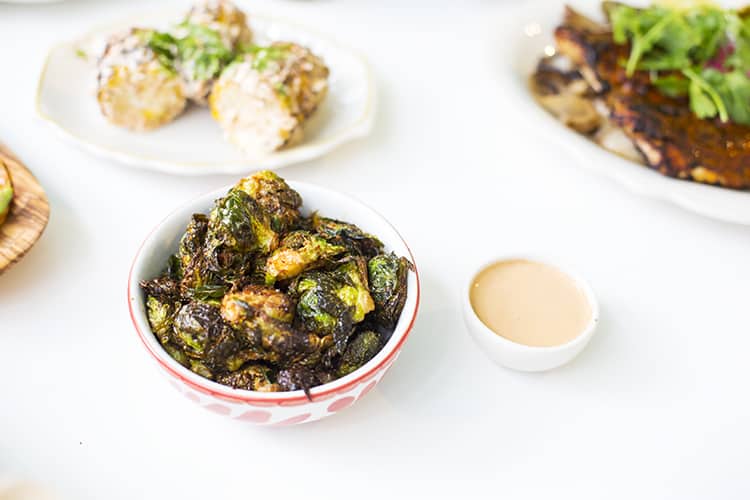 Crispy Brussels Sprouts
Fried Brussel sprouts with pasilla aioli
Tres Leches Cake
With mango
FRESA'S CHICKEN
1703 S 1st ST
Austin, TX 78704
fresaschicken.com