UPDATED JAN 2021
Start the New Year off with healthier options! Here are my tops picks for the best healthy restaurants in Austin Texas with farm-to-table, local and seasonal, vegan, paleo, and veggie-friendly options!
SEE ALSO: 22 Spots With The Best Brunch In Austin
[vessel-campaign id="179″]
Custom interactive map developed by Vessel
---
HEALTHY RESTAURANTS IN AUSTIN: CENTRAL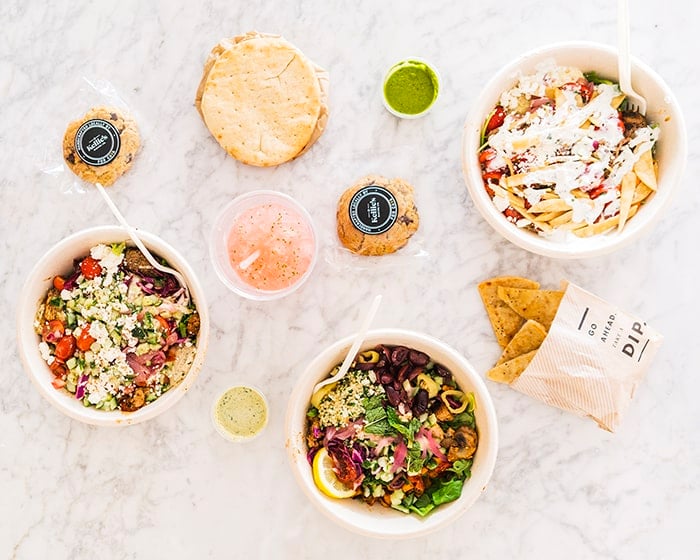 CAVA
I love the Mediterranean grain & salad bowls at Cava! Greens + grains, tzatziki, roasted red pepper hummus, braised lamb with spicy lamb meatballs, pickled onions, tomato & onion salad, kalamata olives, crumbled feta, and pita crisps with yogurt dill dressing is my go-to order.
Multiple locations in downtown Austin, Guadalupe, & Westlake
SEE ALSO: 10 Best Breakfast Tacos In Austin
The Steeping Room
I frequent The Steeping Room quite often for healthy options that also taste great! I love their napa rolls, tea sandwiches (their soup & tea sandwich combo during lunch is hard to beat), and the Take the B.A.T.E. for brunch. If I'm feeling like I need some zen, I'll come by for their century oaks tea service.
4400 N Lamar Blvd #102, thesteepingroom.com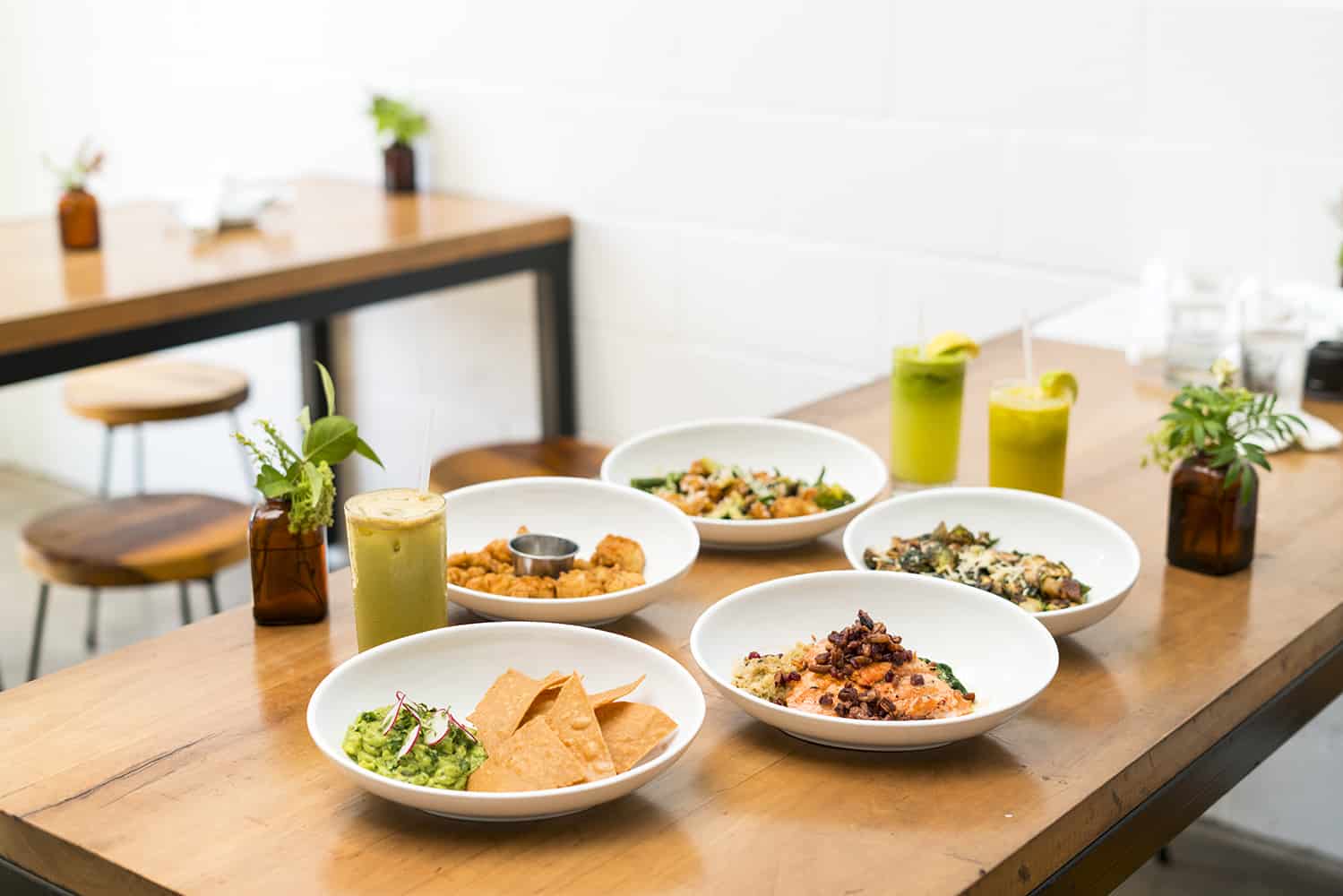 Picnik
Located in a repurposed shipping container on South Lamar, Picnik is a progressive paleo coffee shop with healthy food options like spaghetti squash lasagna and bone broth, and drink options like butter coffee. Only natural grass-fed and pastured ingredients used here! The new location on Burnet Rd has a more extensive menu of Paleo options.
4801 Burnet Rd, picnikaustin.com
Galaxy Cafe
This neighborhood cafe is my go-to after a hot yoga session! Galaxy Cafe serves all natural free range, ormone and antibiotic free beef, chicken, and eggs. I LOVE the Thai Steak Salad for lunch, and Grilled Salmon for dinner with hot matcha green tea.
*Multiple locations, galaxycafeaustin.com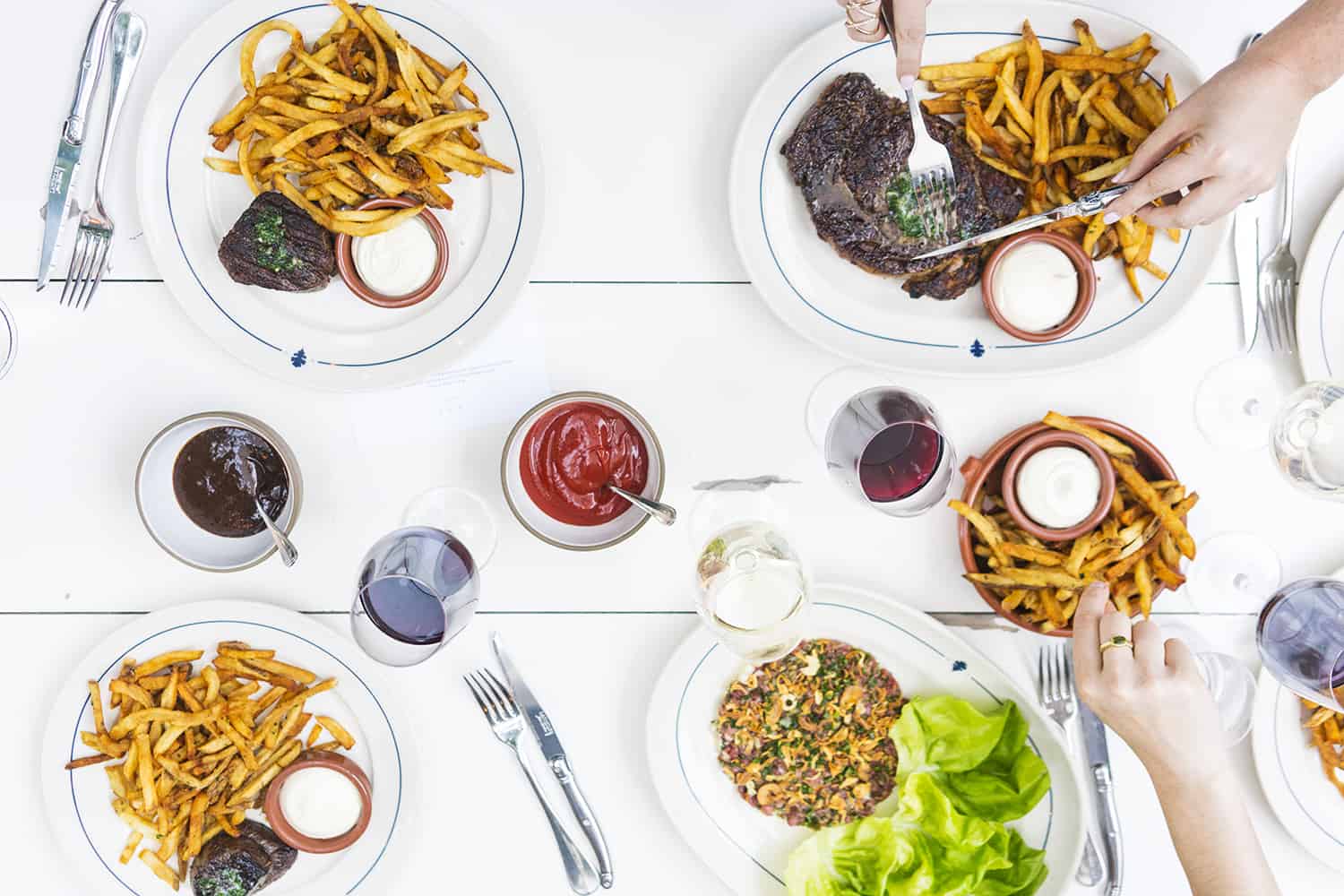 Josephine House
The burger and fries are honestly my favorite at Josephine House but this post is all about healthy options so let's talk about my second favorite option, Josephine Rice Bowl. Comes with heirloom black rice, poached farm egg, harissa roasted local vegetables, and avocado! The eclectic daily menu features the best locally sourced products
1601 Waterston Ave, Austin, TX, josephineofaustin.com
---
HEALTHY RESTAURANTS IN AUSTIN: NORTH
HONEST MARY'S
Honest Mary's just opened in North Austin but I already love this fast-casual eatery that serves fresh, healthy grain bowls made from an all scratch kitchen. Everything is just so good. My game plan is to order several bowls for pick up to eat throughout the week!
9828 Great Hills Trail Suite 300, honestmarys.com
Soup Peddler
Freshly pressed juices, smoothies, grilled sandwiches, and soul warming soups. One of my favorites when I want a soup & sandwich! Try the love cleanse juice for a burst of veggies.
*Multiple locations, souppeddler.com
---
HEALTHY RESTAURANTS IN AUSTIN: SOUTH
Bouldin Creek Café
Bouldin Creek Café serves up vegetarian and vegan options in a bohemian atmosphere. Try the Buddha Bowl with organic field greens topped with organic quinoa, roasted broccoli, kale, chickpeas, beets, cucumber, cilantro and carrot, drizzled with house made ginger sake soy!
1900 S 1st St, Austin, TX, bouldincreekcafe.com
Casa de Luz
Casa de Luz is a non-Profit, experiential, educational community center that serves 100% organic, vegan, vegetarian, and gluten-free breakfast, lunch, and dinner. The meals are served in buffet style with the choice of a soup, salad, entree, Kukicha hot tea, hibiscus mint tea, and filtered water.
1701 Toomey Rd, Austin, TX, casadeluz.org
Whole Foods Market
You didn't think I was going to forget America's healthiest grocery store right?
*Multiple locations, wholefoodsmarket.com
---
HEALTHY RESTAURANTS IN AUSTIN: EAST
KINDA TROPICAL
This retro grocery store/cafe in East Austin serves up a delicious rainbow rice bowl ($8) that I'm obsessed with.
3501 E 7th St, kindatropical.com
LUCKY LIME
Lucky Lime started off as a premier meal delivery service and now has opened a small spot in East Austin at Springdale General. It's counter service so you place an order at the counter and there's a generous dining area that is shared by Caffe Medici and The Front Page Pub.
I was really impressed by the wild salmon poke bowl and chicken soba noodle soup.
WHAT TO ORDER: chicken soba noodle soup, spicy tempeh taco salad, wild salmon poke bowl, and sweet potato fries
1023 Springdale Rd, Ste. 1I, eatluckylime.com
Blue Dahlia Bistro
When KXAN's Studio 512 asked me for my top pick for healthy eating in Austin, Blue Dahlia Bistro came to mind! Enjoy European inspired light bites, tartines, and salads made with local and organic ingredients. Start your morning with the soft boiled eggs with organic greens and bread, French goat cheese with olive tapenade tartine for lunch, and seared ahi tuna steak seasoned with lemon pepper and served with zucchini and yellow squash with cashews for dinner!
1115 E 11th St & 3663 Bee Cave Rd, bluedahliabistro.com
Blender and Bowls
Acai bowls are all over Instagram, and for good reason. In addition to being insta-worthy, acai bowls are super healthy – the acai superfruit is packed with vitamins, antioxidants, and essential amino and fatty acids. It's a smooth, rich smoothie topped with healthy toppings that you eat with a spoon.
206 E 4th St + 1625 E 6th St, blendersandbowls.com
Counter Cafe
This cafe serves up fresh, local and organic food in a familiar diner setting with breakfast all day. Counter Cafe offers a wide variety of dishes that satisfy all dietary restrictions from gluten-free and paleo to vegetarian and dairy free.
I loved their Counter Burger, polenta fried oysters, and chocolate beet soup (sounds super weird but it was really good!).
626 N Lamar Blvd & 1914 E 6th St, countercafe.com
---
HEALTHY RESTAURANTS IN AUSTIN: DOWNTOWN
MALIBU POKE
Slo-Cal inspired poke that's really, really good. Thank goodness it's healthy too!
211 Walter Seaholm Dr LR 115, Austin, TX
HIGH NOTE
This healthy and colorful cafe by the team behind Kerbey Lane is refreshing. High Note features a menu that is vegetarian, gluten-free, vegan, and Paleo-friendly.
300 S Lamar Blvd suite a, highnoteatx.com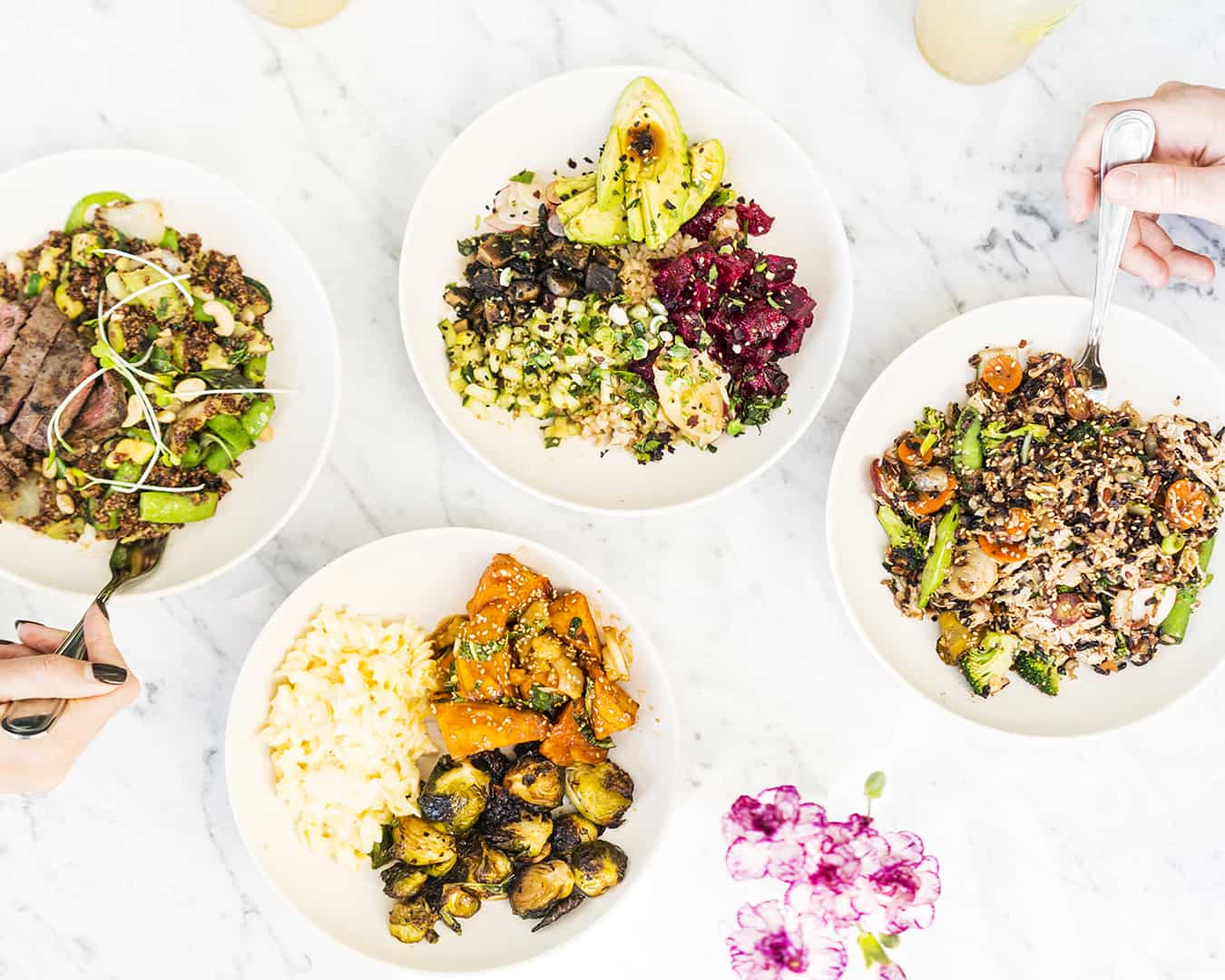 FLOWER CHILD
For those of you that work and live in downtown Austin, you finally have a new healthy spot. Flower Child just opened near the new public library on 2nd St. Love the vegan poke with beets!
500 W 2nd St Suite 160, iamaflowerchild.com/nso/austin-2nd-street/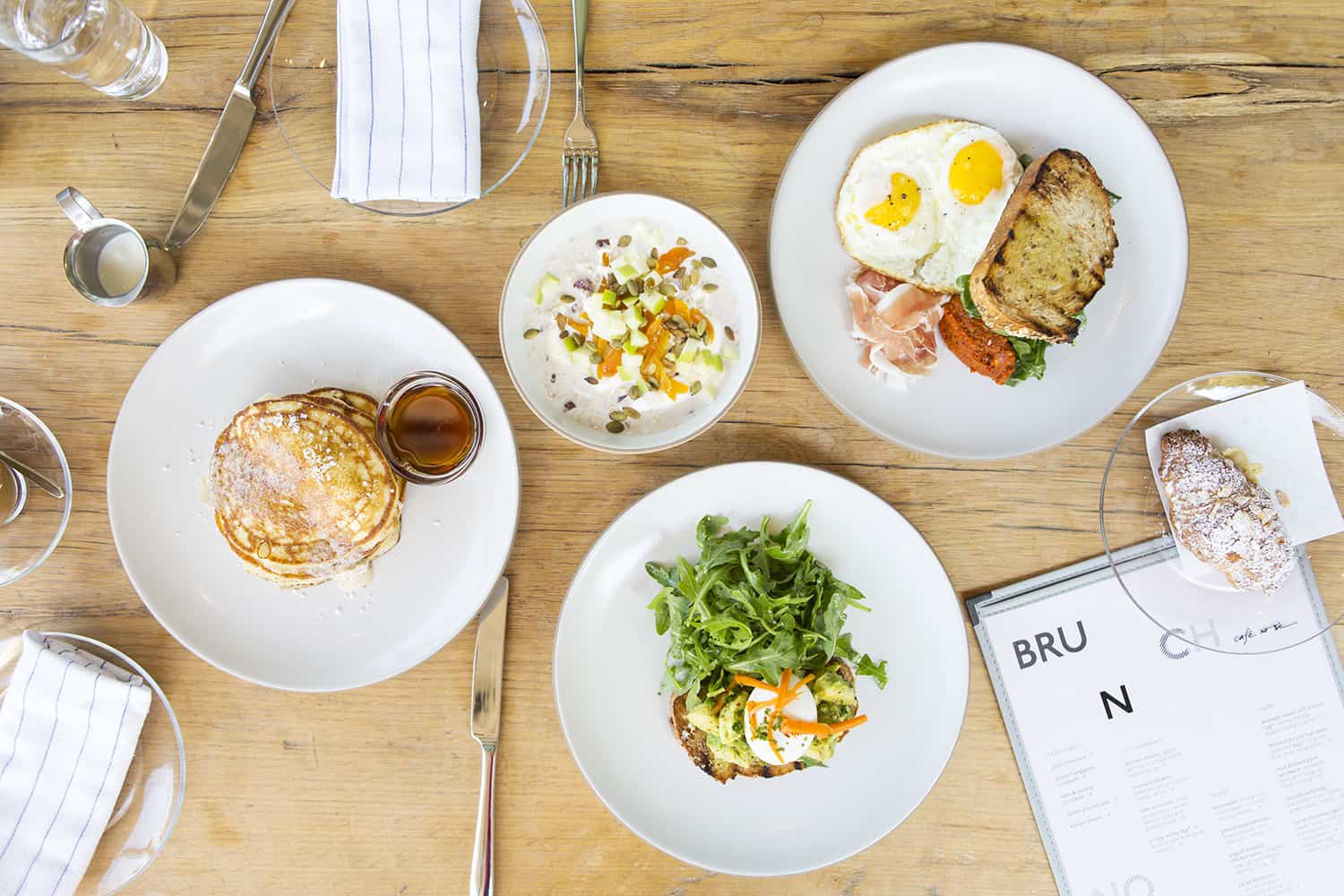 Café No Sé
South Congress Hotel's all-day neighborhood café, Café No Sé, features California-inspired American dining with options like bircher muesli, avocado toast, and fresh salads.
1603 South Congress, Austin, TX, cafenoseaustin.com
SEE ALSO: Weekend Brunch At Café No Sé
Koriente
Healthy rice bowls like the Obake Bowl pictured above, curries, stir-fries, bibimbop and bubble teas are offered at Koriente. You can add beef, chicken, tofu, sashimi grade spicy tuna or smoked salmon to any entrees. Garden salad, korean pickles, and miso soup are included with lunch! Vegan and gluten-free options are also available.
621 E 7th St, Austin, TX, koriente.com
JuiceLand
The juices here are squeezed the day-of and are made from 90 percent organic fruits and vegetables. JuiceLand has four different levels of juice cleanses for every goal and taste, including a build-it-yourself option.
*Multiple locations, juicelandaustin.com
Fresa's Chicken
Achiote and citrus half chicken with Mexican rice, pozole soup, and guacamole is my go-to order. Fresa's grills their marinated chickens over post oak, served with fresh corn tortillas and fresh fruit aguas. They also have El Super Bol – achiote chicken, kale, avocado, black beans, escabeche, steamed rice, with pico de gallo and queso fresco.
915 N Lamar Blvd, Austin, TX, fresaschicken.com
Tacodeli
Bet you didn't know tacos could be healthy. Tacodeli makes all of their food with locally sourced, organic, and responsibly sourced ingredients whenever possible. The breakfast tacos are made with organic hand-cracked eggs!
*Multiple locations, tacodeli.com
SEE ALSO: Best Tacos In Austin
RELATED
The 25 Instagram Worthy Restaurants in Austin

15 Best Tacos In Austin You Have To Eat
4 Ways To Help Support Austin Pets Alive!
---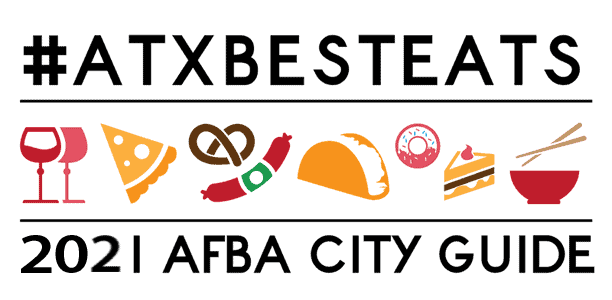 This guide is part of the Austin Food Blogger Alliance's 2021 City Guide. Check out more of the best eats in Austin, curated by Austin food bloggers, on the full list of guides.