Updated February 2020
Let me preface this post by saying that I am not vegan. I've personally tried 24 of these 25 vegan restaurants in Austin and who knew vegan food is actually really good. It wasn't easy cramming 3 – 4 vegan spots every single day for the past week but I've tried vegan queso, vegan chorizo, vegan pizza, vegan brisket, vegan ribs, vegan ice cream, vegan tacos, vegan mac & cheese, and vegan doughnuts.
SEE ALSO: 10 Best Avocado Toasts in Austin
[vessel-campaign id="188″]
It was a lot of fun going around town exploring new spots. Even if you're not interested in veganism, try one of these spots for #meatlessmonday. Here are the 21 best vegan restaurants in Austin! Do note that some of these restaurants serve non-vegan items.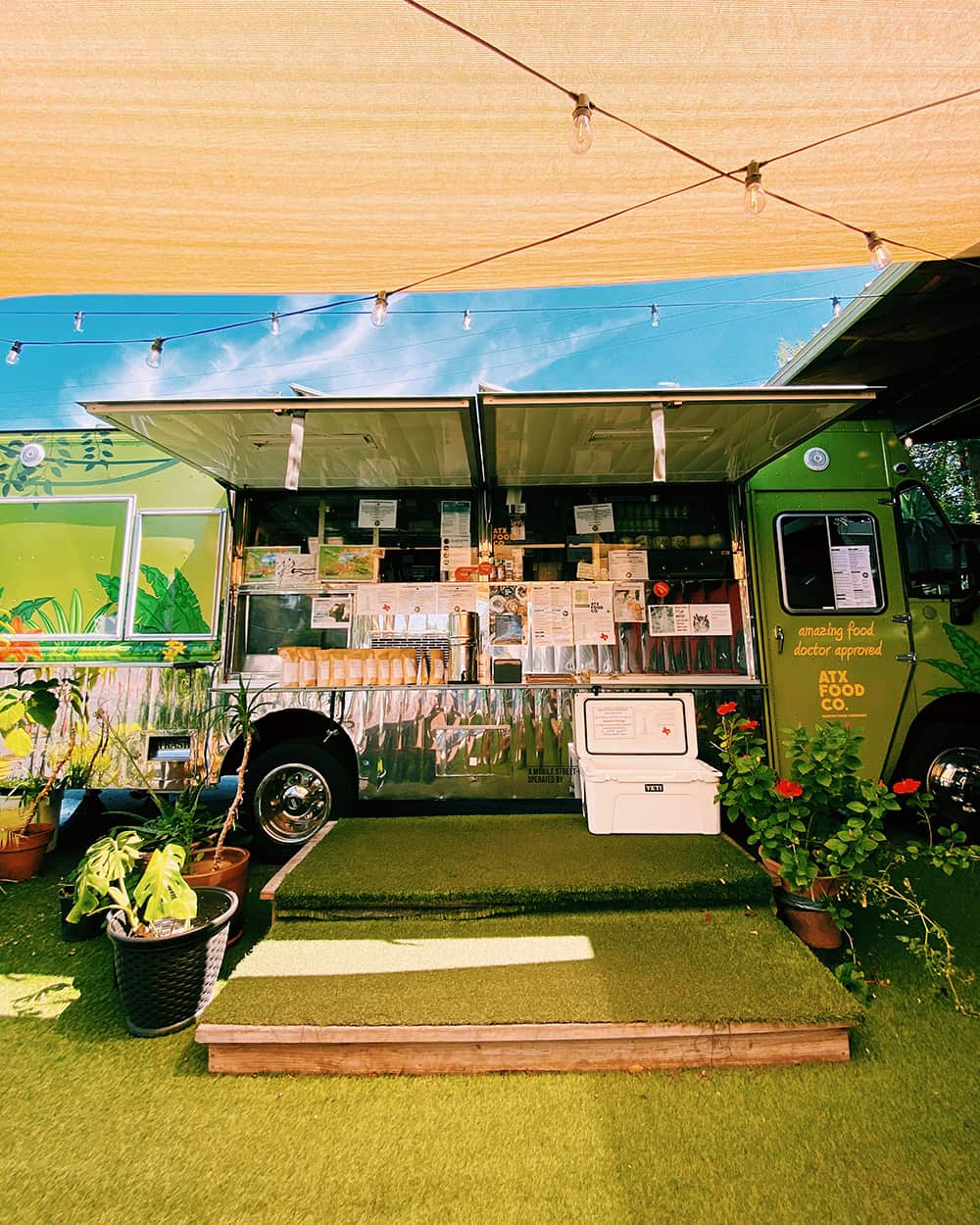 ATX Food Co
ATX Food Co is a vegan food truck parked at Bicycle Sport Shop that uses high-quality unprocessed ingredients from local farms and food growers for chef-prepared food. You can find wildcrafted sea moss smoothies, elixirs, green juices, gluten-free tacos, wild veggie bowls, entrees, berry pancakes, and sugar-free desserts.
I had the Lucky Squash Taco on a spelt tortilla and kabocha mash and it was delicious!
517 S Lamar Blvd #1, atxfoodco.com
Li'l Nonna's
Li'l Nonna's makes vegan & gluten-free pizza with meat substitutes from a window with outdoor seating.
440 E St Elmo Rd A1, lilnonnas.com/main.html
TRUE FOOD KITCHEN
Love how delicious everything is at True Food Kitchen! My go-to is the ancient grains bowl with tofu, miso-glazed sweet potato, turmeric, charred onion, snow pea, grilled portobello, avocado, and hemp seed.
VEGAN OPTIONS: kale guacamole, butternut squash pizza, and T.L.T sandwich.
222 West Avenue, Suite HR100, Austin, Texas 78701, truefoodkitchen.com/locations/austin/
SKULL & CAKEBONES
Skull & Cakebones is every vegan's sweet tooth dream come true. Gooey cinnamon rolls, cupcakes, fruit turnovers, cakes, sourdough pretzels, scones, and fruit galettes. If you don't want to make the drive out to Dripping Springs, you can find Skull & Cakebones at Whole Foods Market, Blue Cat Cafe, Jo's Coffee, Bennu Coffee, and Quickie Pickie.
3991 US-290 a, Dripping Springs, TX, skullandcakebones.com
FLOWER CHILD
Located at Domain NORTHSIDE, Flower Child is a healthy spot with vegan options.
VEGAN OPTIONS: Avocado hummus, spicy Japanese eggplant, Thai cashew quinoa, mother earth bowl, "forbidden" rice, Thai dye whole grian wrap.
11721 Rock Rose Avenue, Austin, Texas 78758, iamaflowerchild.com
SEE ALSO: 9 Best Restaurants At Domain NORTHSIDE
CITIZEN EATERY
Vegan? Citizen Eatery is a sustainable, plant-based restaurant and bar that serves scratch-made vegetarian and vegan cuisine for breakfast, lunch, and dinner.
VEGAN OPTIONS: Egg scramble with tofu, Citizen burger, smoked green chili burger, all veggie sides.
5011 Burnet Rd, Austin, TX 78756, citizeneatery.com
SEE ALSO: Citizen Eatery is Austin's Hottest New Vegetarian & Vegan Restaurant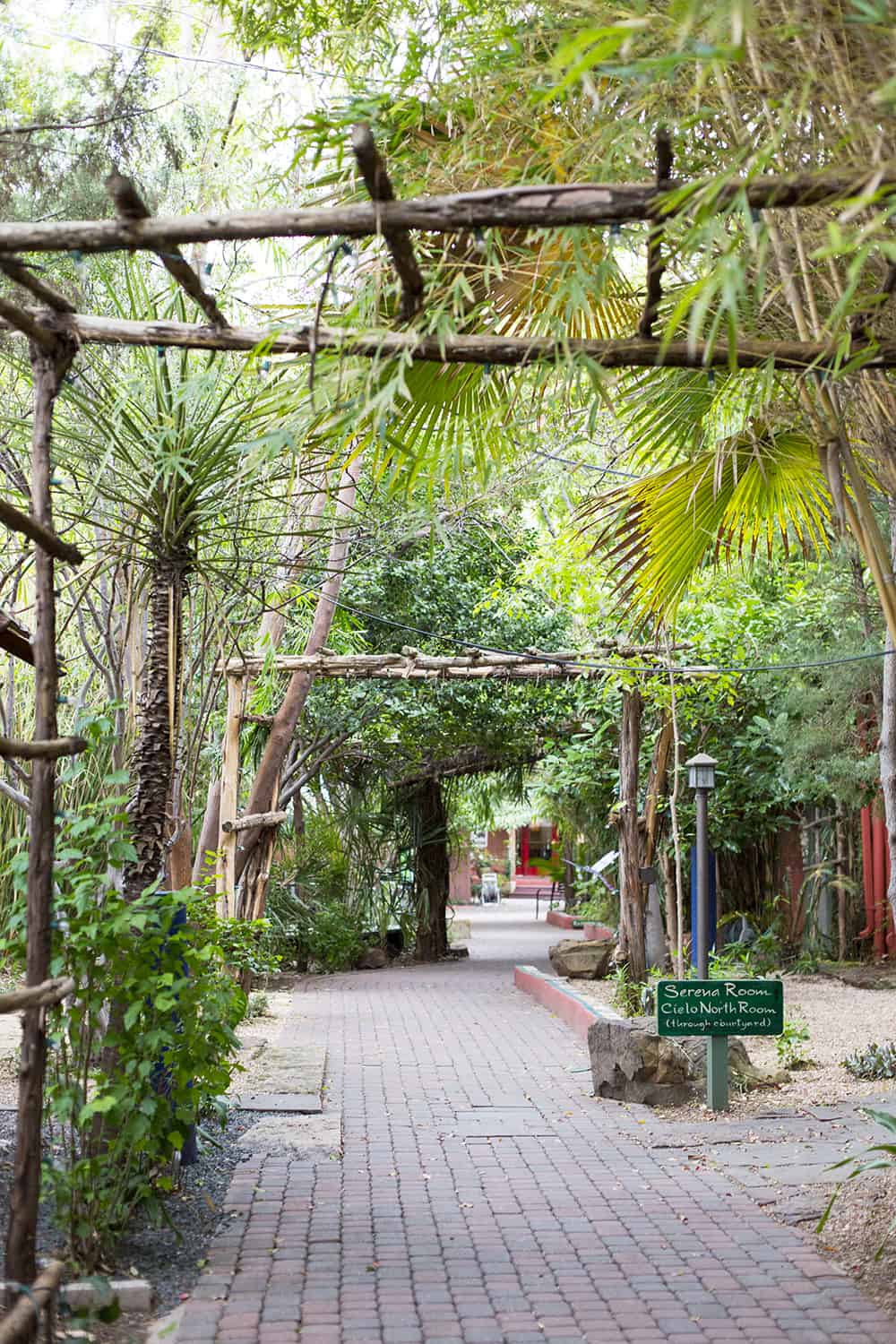 CASA DE LUZ
Casa de Luz is a non-Profit, experiential, educational community center that serves 100% organic, vegan, vegetarian, and gluten-free breakfast, lunch, and dinner. Meals are served buffet style with the choice of a soup, salad, entree, Kukicha hot tea, hibiscus mint tea, and filtered water.
1701 Toomey Rd, Austin, TX, casadeluz.org
THE STEEPING ROOM
Almost everything at The Steeping Room can be made vegan or gluten-free. Be sure to grab the vegan double chocolate cupcake on your way out.
VEGAN OPTIONS: Napa rolls, Mediterranean plate, java bowl, buddha bowl, rustica salad, the crescent salad, lemon edamame tea sandwiches, and more.
4400 N Lamar Blvd #102, thesteepingroom.com
RAMEN TATSU-YA
Bet you didn't know that ramen tatsu-ya offers a vegan ramen, because I didn't either. Ramen Tatsu-ya has a vegan mazemen (warm noodle salad) for lunch -mazemen is a type of ramen where you mix the ramen with sauce rather than having it sit in broth. The veggie ramen is 100% vegan with a soy-based vegan broth, shredded red pepper, spinach, tofu, brussels sprouts, corn, menma (pickled bamboo shoots), and woodear mushrooms. I double checked with Ramen Tatsu-ya and even the tofu and brussel sprouts are vegan.
VEGAN OPTION: Vegan mazemen
8557 Research Blvd & 1234 S Lamar Blvd, ramen-tatsuya.com
THE BEER PLANT
Buffalo cauliflower with bleu cheese, nachos with queso and quinoa chorizo, and mac & cheese at The Beer Plant – and it's all vegan. The Beer Plant is a plant-based gastropub with beer, wine, cocktails, and killer menu. #mindblown
VEGAN OPTIONS: everything
3110 Windsor Rd, Austin, TX 78703, thebeerplant.com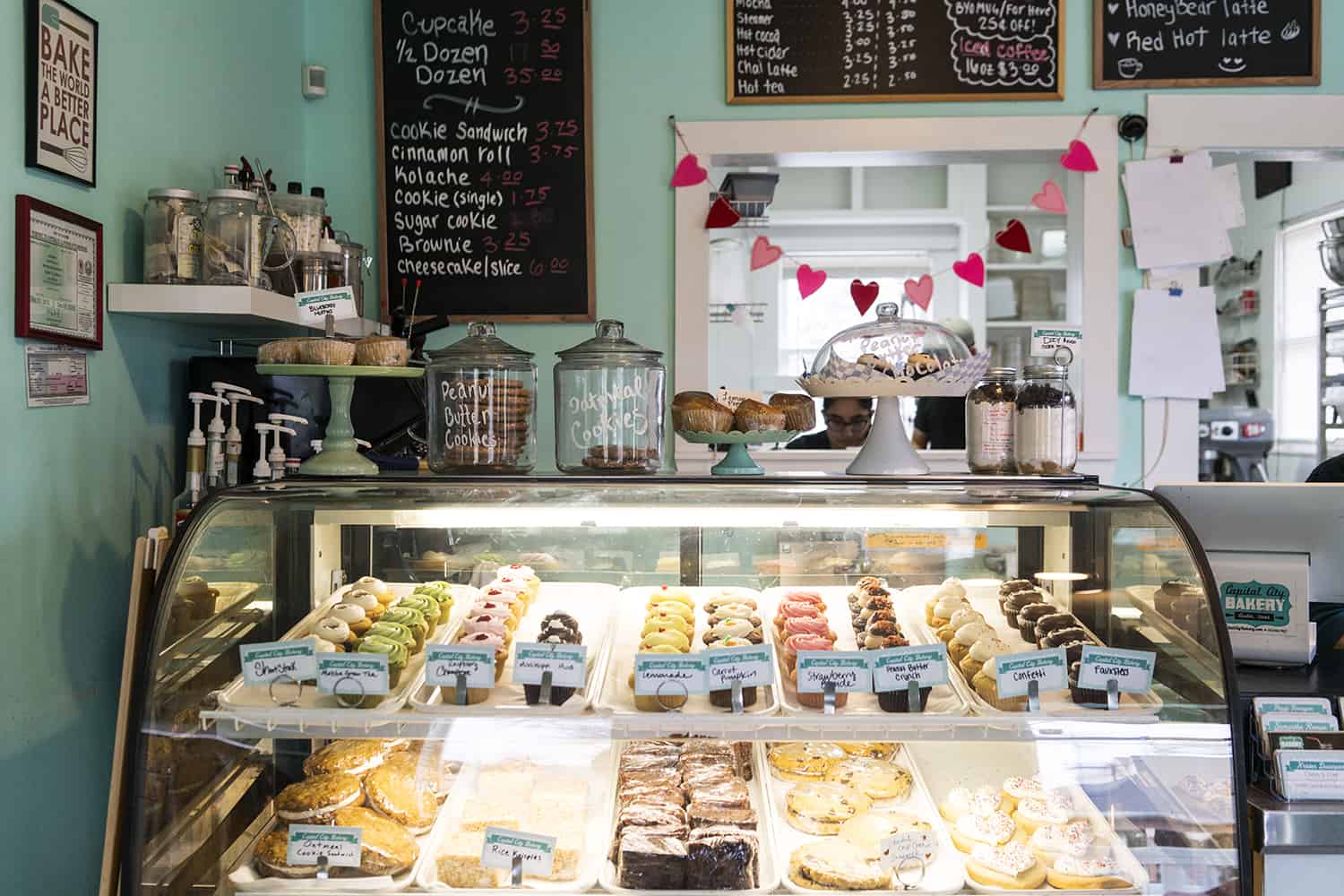 CAPITAL CITY BAKERY
Cupcakes, cakes, cookies, rice crispies, cinnamon rolls, kolaches, brownies, and cheesecakes are all vegan at Capital City Bakery!
VEGAN OPTIONS: Everything!
2211 E Cesar Chavez St, Austin, TX 78702, capitalcitybakery.com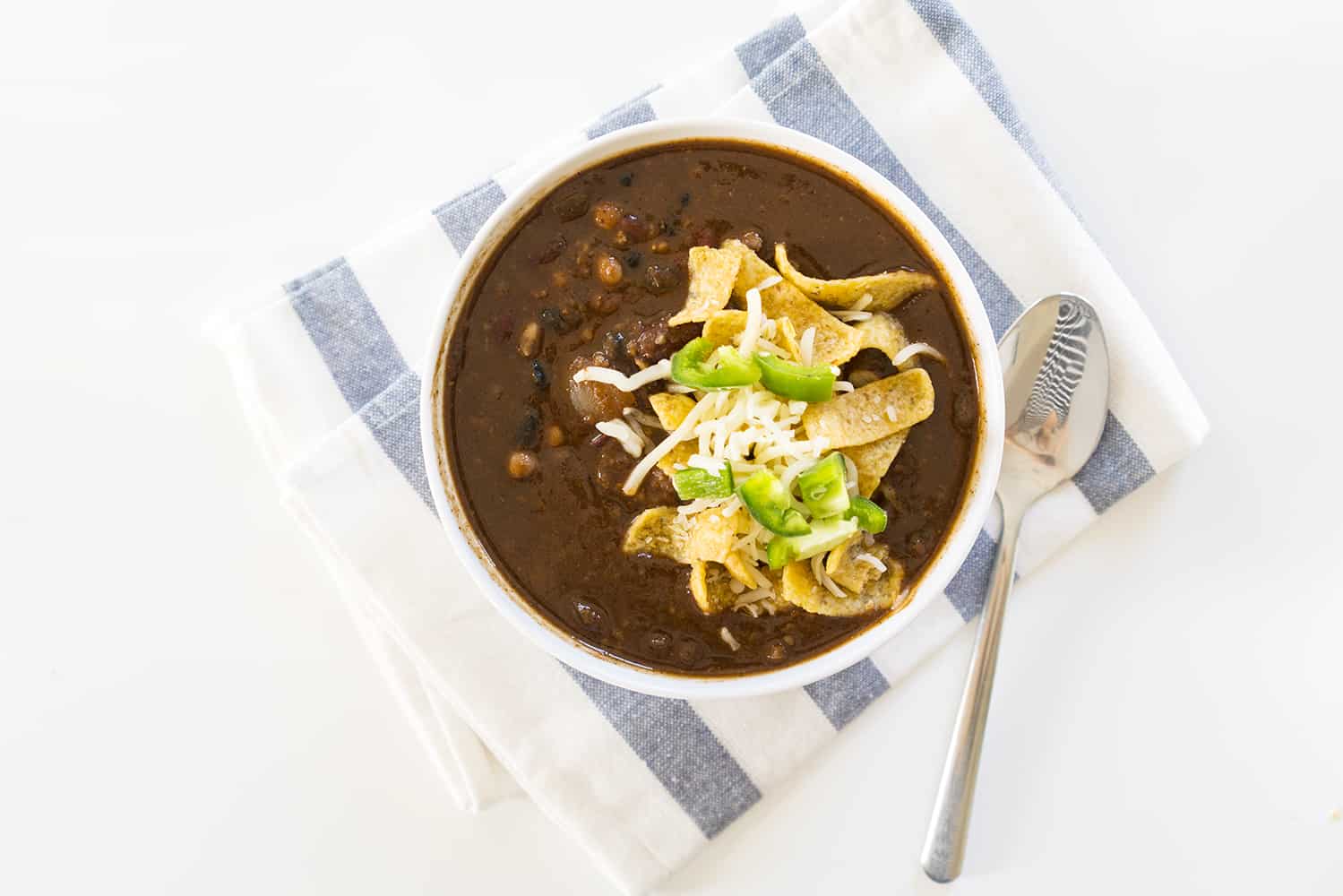 SOUP PEDDLER
Soup is food for the soul, and the best soups are made by The Soup Peddler! The Soup Peddler currently has 4 vegan soups on the menu – the tomato basil soup is always my go-to.
VEGAN OPTIONS: Tomato Basil Soup, Mulligatawny, Green Goddess, and Veggie Chili.
*multiple locations, souppeddler.com
THE VEGAN NOM
Tacos for everyone – and they're 100% vegan! Everything is gluten-free except for flour tortillas, vegan chorizo, and country sausage. The vegan mac & cheese made with their queso is so good!
VEGAN OPTIONS: All tacos and appetizers are 100% vegan.
2324 E Cesar Chavez St, thevegannom.com
BISTRO VONISH
Oh, you say you want fancy vegan food? The Bistro Vonish (located in the same lot as The Vegan Nom) makes vegan food fancy and sooo good. We tried the BBQ seitan sandwich, mac & cheese, and black garlic bruschetta. I'm eating the mac & cheese right now and wondering how I can bribe the owner for the recipe.
VEGAN OPTIONS: Menu is 100% vegan.
701 E 53rd St, Austin, TX 78751
COUNTER CULTURE
Counter Culture serves 100% vegan lunch, dinner, and brunch. My favorites were their daily pizza (it changes every day) and the curry quinoa.
VEGAN OPTIONS: Menu is 100% vegan.
2337 E Cesar Chavez St, Austin, TX 78702, countercultureaustin.com
WHEATSVILLE
Two words: Vegan donuts.
VEGAN OPTIONS: Vegan donuts, and the legendary popcorn tofu po'boy.
3101 Guadalupe St, Austin, TX 78705, wheatsville.coop
VIA 313
Via 313's vegan pizza is SO good – it's made with their regular pizza crust with marinara, seitan sausage, vegan cheese, and veggie toppings.
VEGAN OPTIONS: Vegan pizza
Multiple locations, via313.com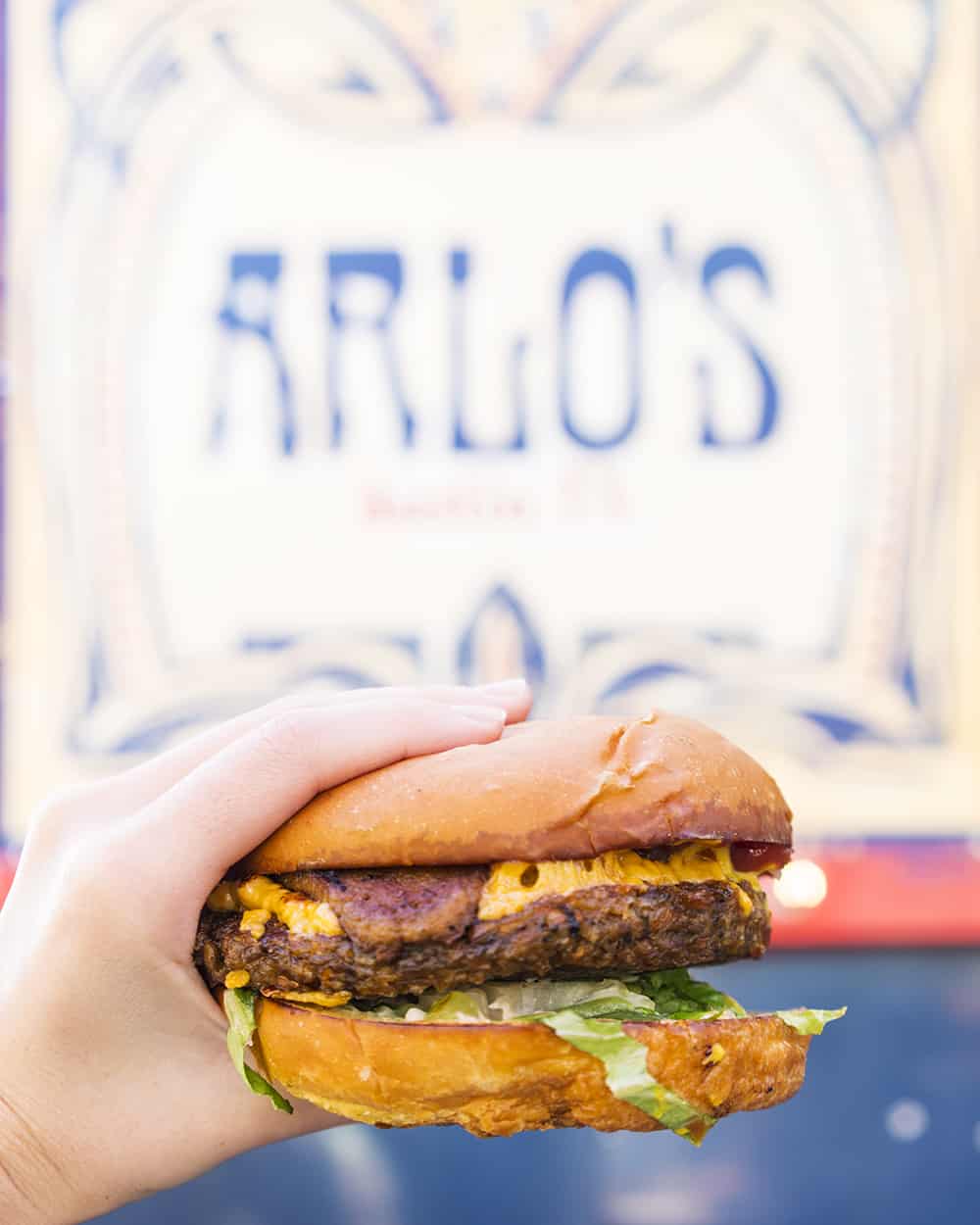 ARLO'S
If you're craving for a bacon and cheese burger that is vegan, Arlo's has your fix. The Bac'n Cheeze Burger has a house-made soy free & gluten-free patty, stacked with house-made seitan bac'n, melted cheeze, mayo, ketchup, mustard, tomatoes, onions, pickles, and lettuce. Best vegan patty I've ever had and it's not made with black beans!
VEGAN OPTIONS: Entire menu is vegan!
Multiple locations, arlostruck.com
CURCUMA
If you're looking for healthy vegan options, try Curcuma! This Tiffany & Co colored airstream is sure to bring a smile to your face like it did for me. I'm drinking the golden mylk latte with turmeric and house-made coconut milk. She also has black lemonade!
VEGAN OPTIONS: Menu is 100% vegan!
2324 E Cesar Chavez St, TX 78704, eatcurcuma.com
THE VEGAN YACHT
Organic, vegan food truck that was highly recommended by vegans that I met.
VEGAN OPTIONS: Entire menu is vegan!
2324 E Cesar Chavez St, Austin, TX 78702, theveganyacht.com
SWEET RITUAL
Unicorn poop. No really, that's an ice cream flavor at Sweet Ritual. All the ice cream at Sweet Ritual is vegan with gluten-free options!
631 Airport Blvd #125, Austin, TX 78751, sweetritual.com
RABBIT FOOD VEGAN GROCERY
Vegan queso, vegan marshmallows, vegan eggs, vegan snacks, etc – Rabbit Food Vegan Grocery has it all. You can also buy shirts with vegan messages to share your love for veganism.
2425 Exposition Blvd ste a, Austin, TX 78703, rabbitfoodgrocery.com
---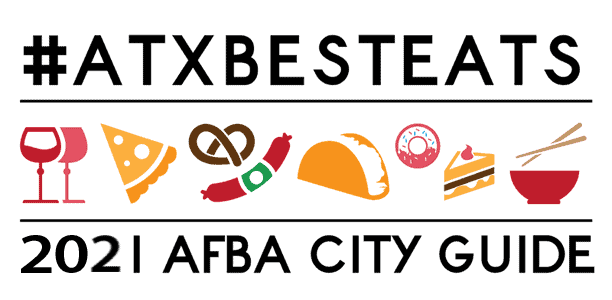 This guide is part of the Austin Food Blogger Alliance's 2021 City Guide. Check out more of the best eats in Austin, curated by Austin food bloggers, on the full list of guides.