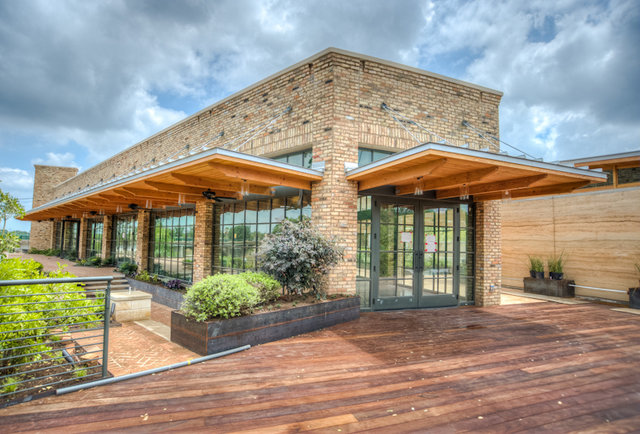 Wow. From the moment I walked into El Monumneto, I was completely blown away by exterior and interior design.
The restaurant's grounds and architecture draw from Mexican traditions, and showcase classic forms and materials, and plants of rural South Texas and Mexico. The majestic 7,700-square-foot restaurant is of modern design and includes four separate dining areas, an open kitchen, an interior courtyard, a terrace overlooking the Blue Hole lagoon, and a dining pavilion with glass walls that overlooks the courtyard. Photo by Carlos Barron Jr.
The restaurateurs behind the popular Monument Café in Georgetown are bringing the same generous hospitality to El Monumento, the home-style Mexican restaurant now serving weekend brunch. I haven't had a chance to visit Monument Cafe but the locals tell me that it's a favorite and the backyard garden is beautiful.
We opted to dine in El Bar, the cocktail section of El Monumento, that features a spacious wrap-around mesquite bar surrounded by handsome leather stools.
The tasting menu changes each week and takes advantage of the fresh produce, fine ingredients, and new methodologies that are integral to El Bar's philosophy. "Our cocktail list is all about hand-crafted classics made to exacting standards unique to El Bar," said Jeremy Corn, beverage director of the Monument.
All cocktails are made by hand at El Bar, and the attention to detail, from the housemade syrups—grenadine, strawberry, and mint—to the fresh hand-squeezed juices is unmatched. (Pictured: El Monumento Margarita, Cosmopolitan, Old-Fashioned)
Check out the super secret drinks recipes below!
El Bar has taken the margarita to new heights. For the frozen margarita, El Bar uses a Japanese shaved-ice machine to create a snow cone infused with 100 percent blue agave blanco tequila, all-natural Triple Sec, and freshly-squeezed lime juice.
5 cocktails later (very giggly and tipsy), I had my first bite of food.
El Monumento's extensive daily menu includes a variety of quintessential Mexican Aperitivos, such as the Campechana Cocktail, a combination of Texas gulf shrimp, crab meat, tomatoes, green olives and lime juice; and Queso Flameado, a blend of melted quesadilla and Oaxacan cheese, poblano peppers and caramelized onions. Both my favorites.
El Monumento
205 W. Second St.,
Georgetown, TX
Facebook | Twitter
www.ElMonumentoGeorgetown.com.