In collaboration with Pure Michigan. Thank you for supporting the brands that support A Taste of Koko!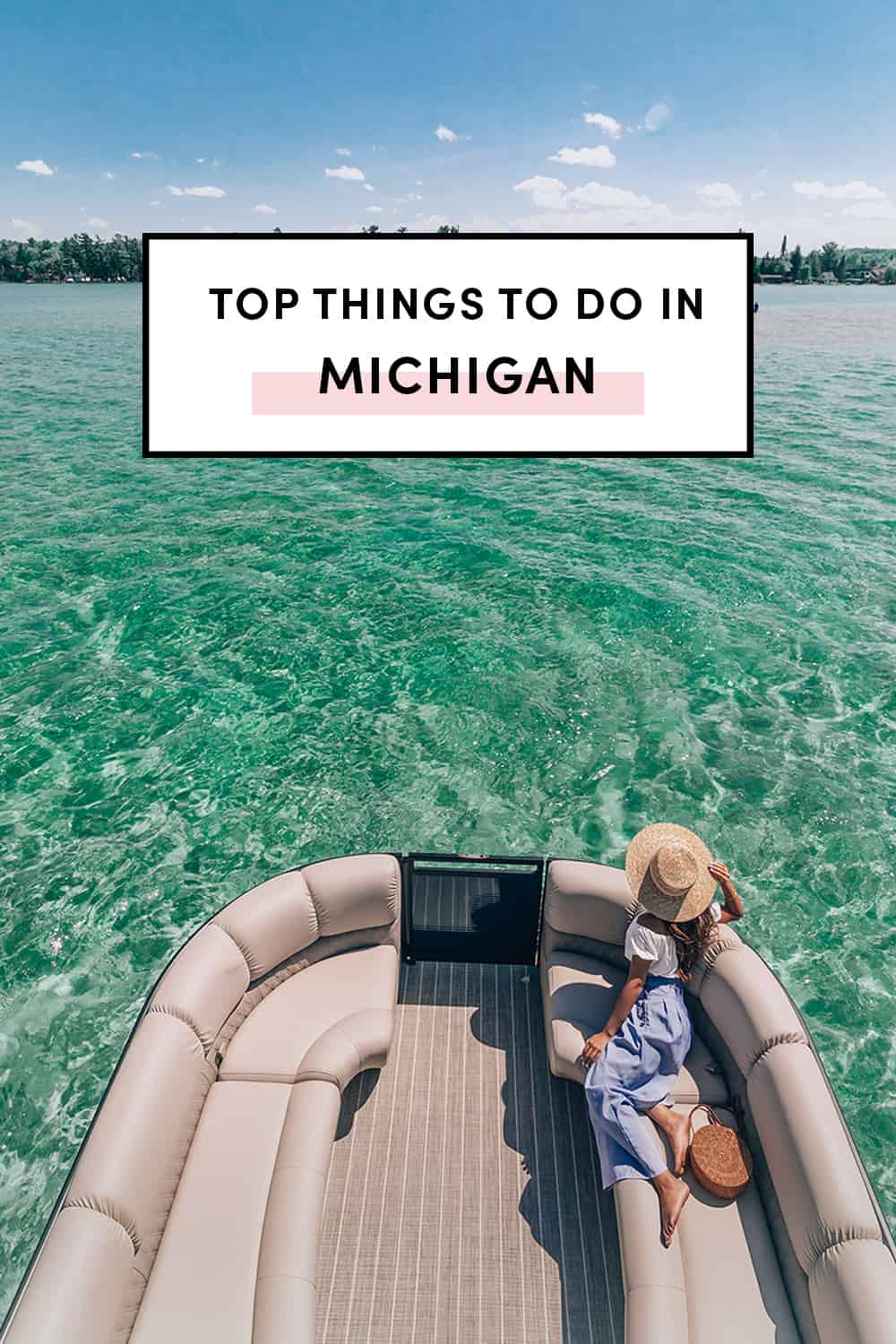 Photography by Ready Set Jet Set
Michigan – you are such a stunning surprise! This was my first time to Michigan and to be honest, I've never considered traveling to Michigan before. I'm always looking to get away from Texas during the hot, humid summers and Michigan was such a cool relief with temperatures of low 70s.
SEE ALSO: 7 Things To Do In Tempe Arizona
We did a road trip through Northern Michigan to Traverse City, Charlevoix, Frankfort, Manistee, and Ludington. Read on for my ultimate guide to things to do in Michigan.
---
THINGS TO DO IN MICHIGAN: TRAVERSE CITY
We flew into Traverse City and only had a quick lunch in the city before heading off to our road trip.
THINGS TO DO IN TRAVERSE CITY, MICHIGAN
Shop on Front Steet – this is the main street in Traverse City with local shops, restaurants, and a movie theatre.
WHERE TO EAT IN TRAVERSE CITY, MICHIGAN
Little Fleet – if you're hungry, there are several food trucks parked at The Little Fleet and there's a bar!
---
THINGS TO DO IN MICHIGAN: CHARLEVOIX
Our first stop on the Michigan road trip was to Charlevoix – one hour from Traverse City. I fell in love with this charming little town even though we were just there for one day!
WHERE TO STAY IN FRANKFORT, MICHIGAN
Mushroom House – if you're visiting Michigan, you have to stay in a mushroom home in Charlevoix. We stayed at The Thatch House – one of the original stone walls set by Earl Young in 1919. In 2013, Michael Seitz purchased the house and put his own style and design into it. The Thatch House has six bedrooms, five and a half baths with three fireplaces and two living rooms. Perfect for a family or friends vacation!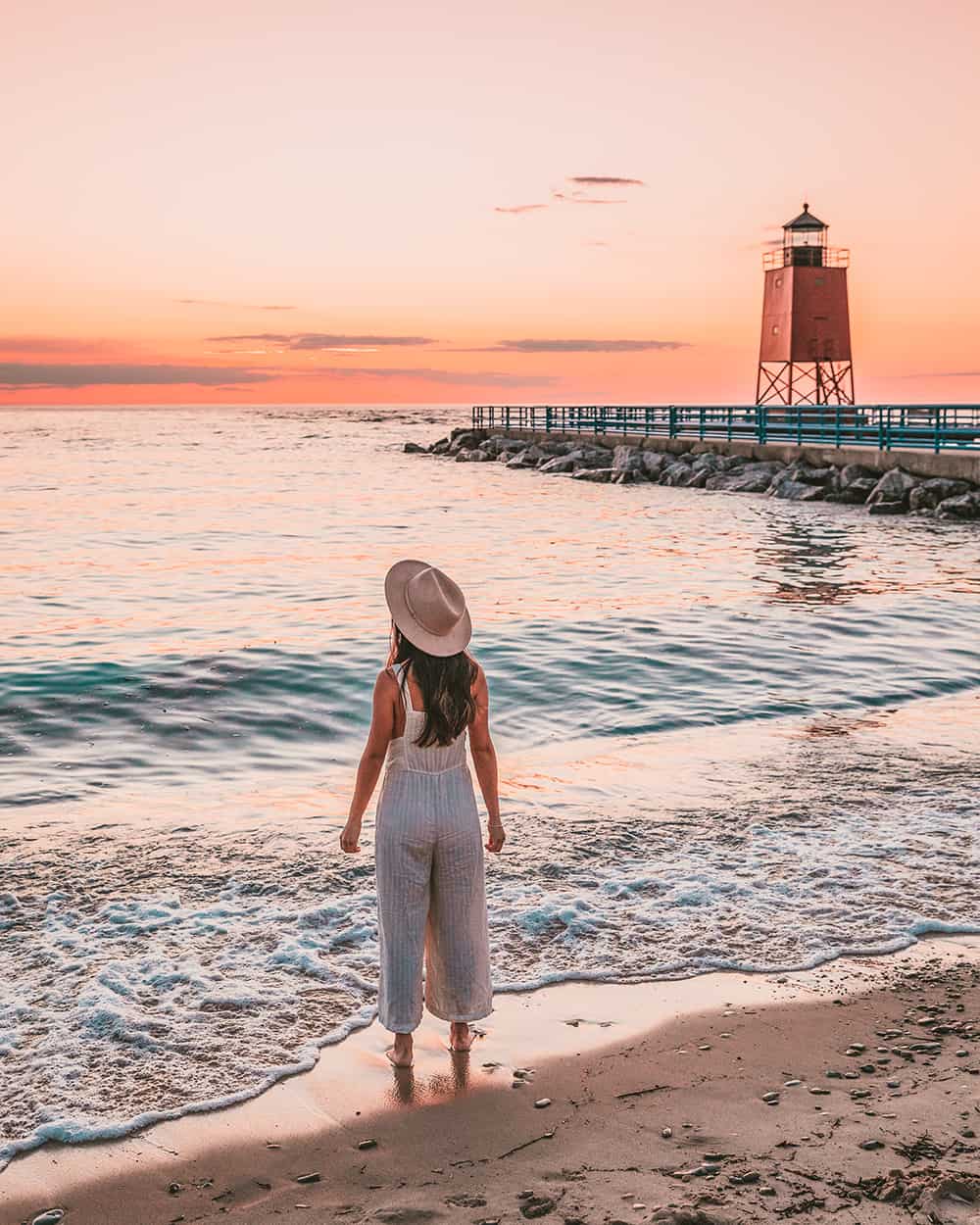 THINGS TO DO IN CHARLEVOIX, MICHIGAN
Go on a walking tour of mushrooms homes – even if you're staying in a mushroom home (or if not), go on a walking tour of the mushrooms homes and learn about the unique history.
Visit Castle Farms – also known as the Queen's Castle, Castle Farms was built in 1918 by Albert Loeb, who was the Vice President of Sears. Castle Farms is now an event and wedding venue with daily tours.
Pontoon boat ride on Torch Lake – it's incredible how clear the water is at Torch Lake. You can see all the way down! Torch Lake is 18 miles in length and is the longest and deepest inland lake in Michigan and second largest in the area among the state's more than 11,000 inland lakes. The name is derived from an Ojibwa word meaning "Place of the Torches," because local Native Americans used torches to attract fish while harvesting with spears and nets at night. The pontoon boat ride on Torch Lake was one of my favorite activities on the Michigan trip!
Bier Art Gallery & Pottery Studio – you can't miss this cute red and white schoolhouse that was established in 1981. Over sixty artists contribute to the gallery
Watch the sunset at Charlevoix South Pier Light Station – you have to watch the sun go down in Charlevoix and the best spot is at the South Pier Light Station. There are swings on the left side of the pier if you want to swing!
WHERE TO EAT IN CHARLEVOIX
Bier's Inwood Brewery – located next door to the Bier Art Gallery is the Bier's Inwood Brewery. There are 11 tap lines that rotate between the many styles of beer and hard cider. I had the Berried Alive cider made with a blend of apples with strawberries, blueberries, and cherries. So good!
That French Place – we had crepes and French pastries for breakfast at this cute little French cafe.
Terry's – we had dinner at this casual fine dining restaurant and it was my first time having whitefish that's caught locally in Lake Michigan. It was so good!
---
THINGS TO DO IN MICHIGAN: FRANKFORT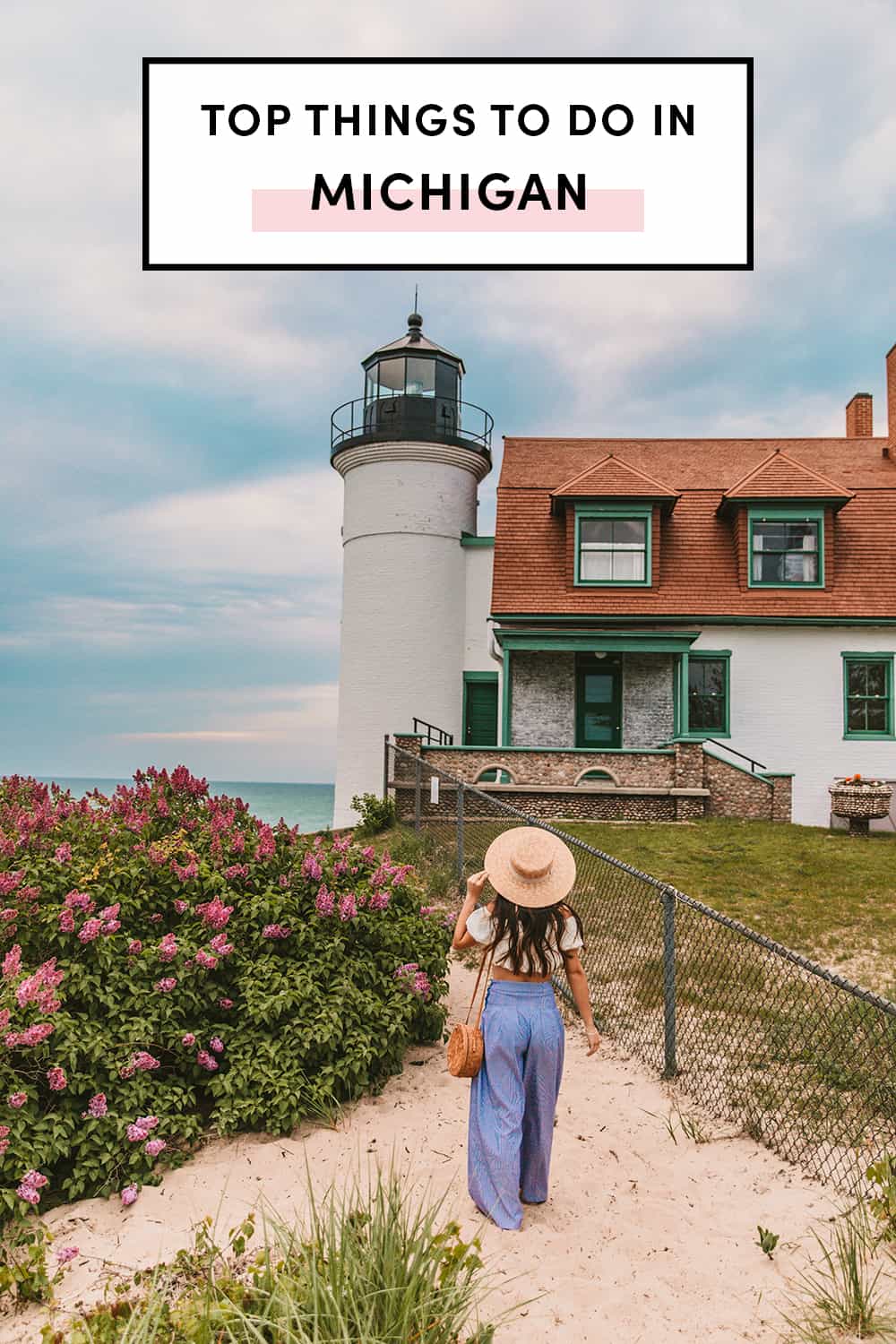 Our second stop was Frankfort – we stayed for two nights in this town.
WHERE TO STAY IN FRANKFORT
Hotel Frankfort – we stayed two nights at this 83-year-old boutique hotel in Frankfort. Hotel Frankfort has 17 guest rooms and the suites have whirlpool tubs, fireplaces, and/or saunas with two-story rooms! My room had a giant whirlpool and sauna downstairs – it felt incredible to soak after a chilly day before bedtime!
THINGS TO DO IN FRANKFORT
Sailboat ride on Lake Michigan – you can't visit Michigan without sailing on Lake Michigan! Caption John from Frankfort Sailing Excursions took us on the lake on the boat that he built.
Watch the sunset at Point Betsie Lighthouse – Point Betsie Light, built in 1854, is located on the northeast shore of Lake Michigan. You can actually stay overnight at Point Betsie too!
Shop on Main Street – walk up & down the historic Main Street that's filled with restaurants, boutiques, and an old-timey movie theatre.
Crystal Lake Alpaca Farm & Boutique – this was definitely one of the top highlights of the Michigan trip that everyone was looking forward to. The alpacas at Crystal Lake Alpaca Farm were so adorable and we even got to feed them! Their resident donkey also just gave birth that very morning so we got to see a one-year-old donkey. Established in 2002, Crystal Lake Alpaca Farm is nestled on 145 acres of land bordered by the Betsie River and view of Crystal Lake. Sweaters, throws, mittens, socks, stuffed animals and more are sold in their gift shop made with the soft Alpaca fur!
Tasting and brief tour at St. Ambrose Cellars – this local cellar makes their own 100% local honey, mead, and Michigan grown wine. I enjoyed trying a flight of different meads!
Stormcloud Brewing Company – this Northern Michigan brewery brews Belgian inspired ales and you can visit their brewery.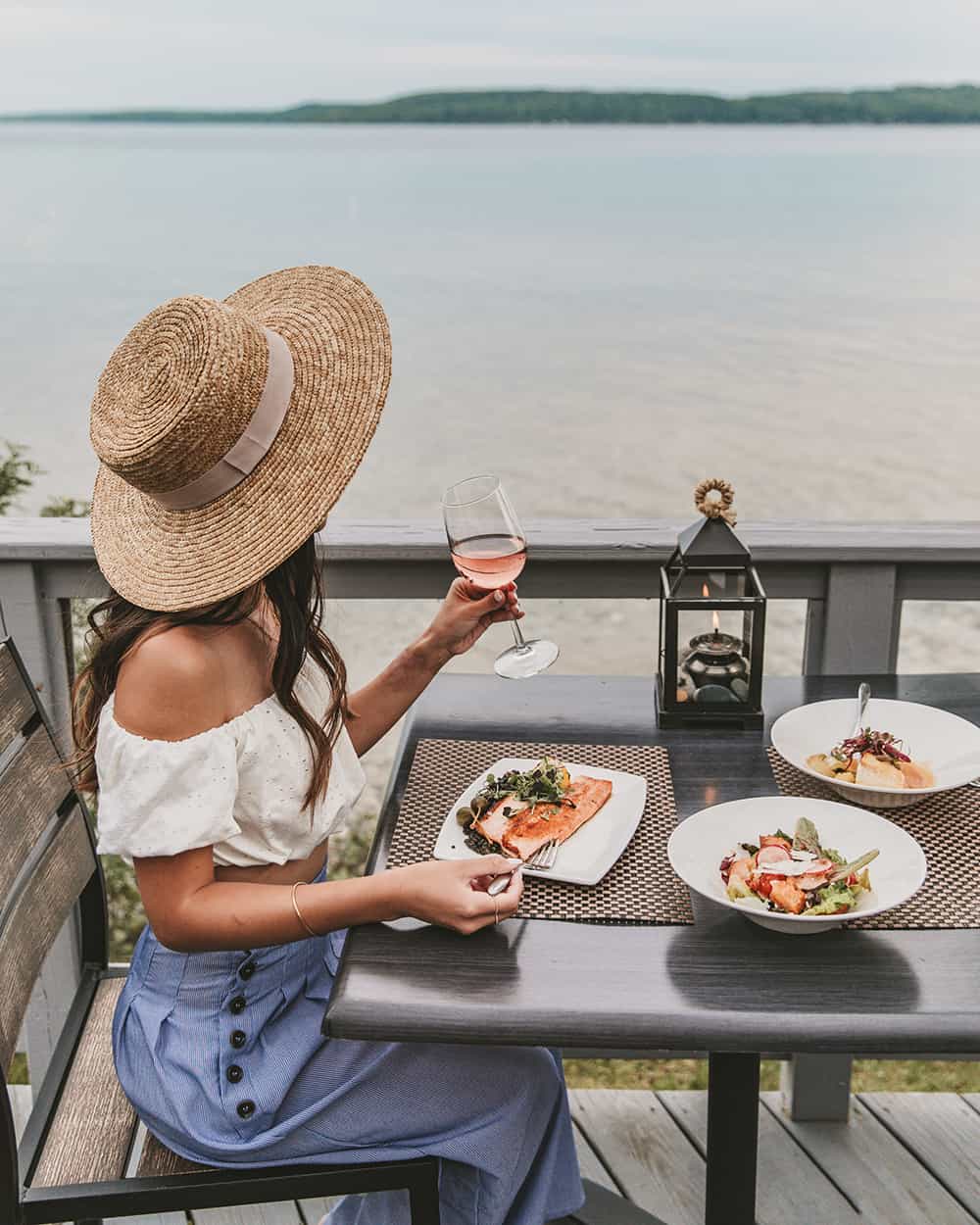 WHERE TO EAT IN FRANKFORT
Birch & Maple – this scratch kitchen serves breakfast, lunch, and dinner. They pick their vegetables from the ground and fruit right from the branch. Order craft cocktails and hang out on the patio in the afternoon.
Crescent Bakery – if you're craving sweets for breakfast, head over to Crescent Bakery for freshly baked donuts and pastries.
L'Chayim Delicatessen – we had a quick breakfast and lunch at L'Chayim. They make their own bagels and bread every day for sandwiches and it's so good!
Stormcloud Brewing Company – for a casual dinner, Stormcloud Brewing Company serves flatbreads, salads, and sharable appetizers with Stormcloud brews.
Rock's Landing – for lakefront view dining, go to Rock's Landing and sit on the patio (photo above). I had the pan seared trout with charred lemon and caper berries, fried calamari, and a glass of Left Foot Charley Blaufrãnkisch rosé from Michigan.
---
THINGS TO DO IN MICHIGAN: MANISTEE
We stopped in Manistee for a couple of hours to visit Portage Point Resort and hike Acardia Overlook.
WHERE TO STAY IN MANISTEE, MICHIGAN
Portage Point Resort – this resort is nestled on The Point between Portage Lake and Lake Michigan with stunning views of the lake.
THINGS TO DO IN MANISTEE, MICHIGAN
Hike Arcadia Overlook – As your driving north through Manistee on highway M-22, look for Arcadia Overlook (also known as Inspiration Point). It's 120 steps to the top so put on your sneakers!
Shop on River St – River St is lined with vintage shops, boutiques, restaurants, and of course, a movie theatre!
WHERE TO EAT IN MANISTEE, MICHIGAN
BlueFish Kitchen – we had lunch at BlueFish Kitchen and I had the Great Lakes Whitefish that was caught in Lake Superior served with Parmesan risotto.
---
THINGS TO DO IN MICHIGAN: LUDINGTON
golden gals // me, Globetrotting Ginger, Globetrotting Blonde, Dawn Darnell
WHERE TO STAY IN LUDINGTON
Barothy Lodge – We stayed in the Elkhorn lodge that has 8 1/2 bedrooms and sleeps 13 people.
THINGS TO DO IN LUDINGTON
Visit Stearns Park – we watched the ships sail by at Stearns Park. There's a cute little lighthouse there too!
Watch the sunset from Ludington State Park – this is a beautiful park with sand dunes and camping accommodations.
Take pictures at Big Sable Point Lighthouse – located inside Ludington State Park Beach, this historic lighthouse is from 1867. The road to the Big Sable Point Lighthouse is never open to cars and is only accessible by hiking or biking. The park itself closes at dusk (10 p.m.).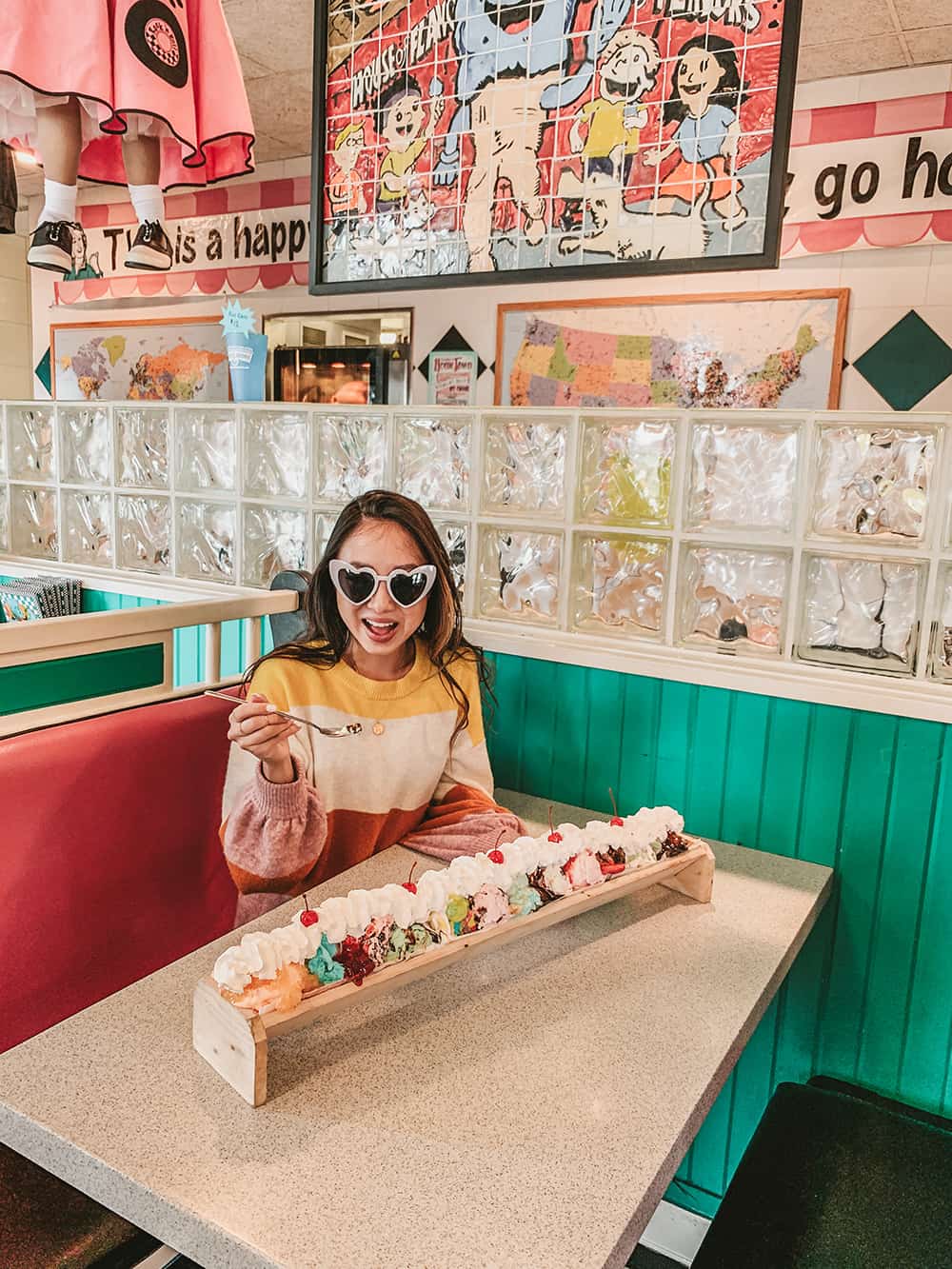 WHERE TO EAT IN LUDINGTON
House of Flavors – you can get breakfast and dessert at House of Flavors. This was my favorite breakfast food in Michigan and they have ICE CREAM! The owner, Bob Neal Sr., purchased Miller's Dairy, a full line dairy, and changed the name to Park Dairy. In 1964, Park Dairy changes its corporate name to the well-known name of today – House of Flavors. (The phrase "House of Flavors" started as a tag line describing Park Dairy.) Also, while it is the largest volume ice cream plant in Michigan (it also is Michigan's biggest private-label ice cream manufacturer), its annual ice cream production exceeds 25 million gallons. There's a before 9am early bird breakfast special for only $4.99. You can pick between toast or banana bread. We had the Super Dooper Pig's Dinner that comes with 12 scoops of ice cream on 3 bananas with 12 topping choices!
Table 14 – we had a lovely dinner at Table 14 before going to Ludington State Park. I loved the she crab soup and the whitefish!
ready set jet set // lone star looking glass // Globetrotting Ginger // Dawn Darnell // Globetrotting Blonde
Thanks for having us Michigan!