In collaboration with Puerto Vallarta Tourism Board. Thank you for supporting the brands that support A Taste of Koko!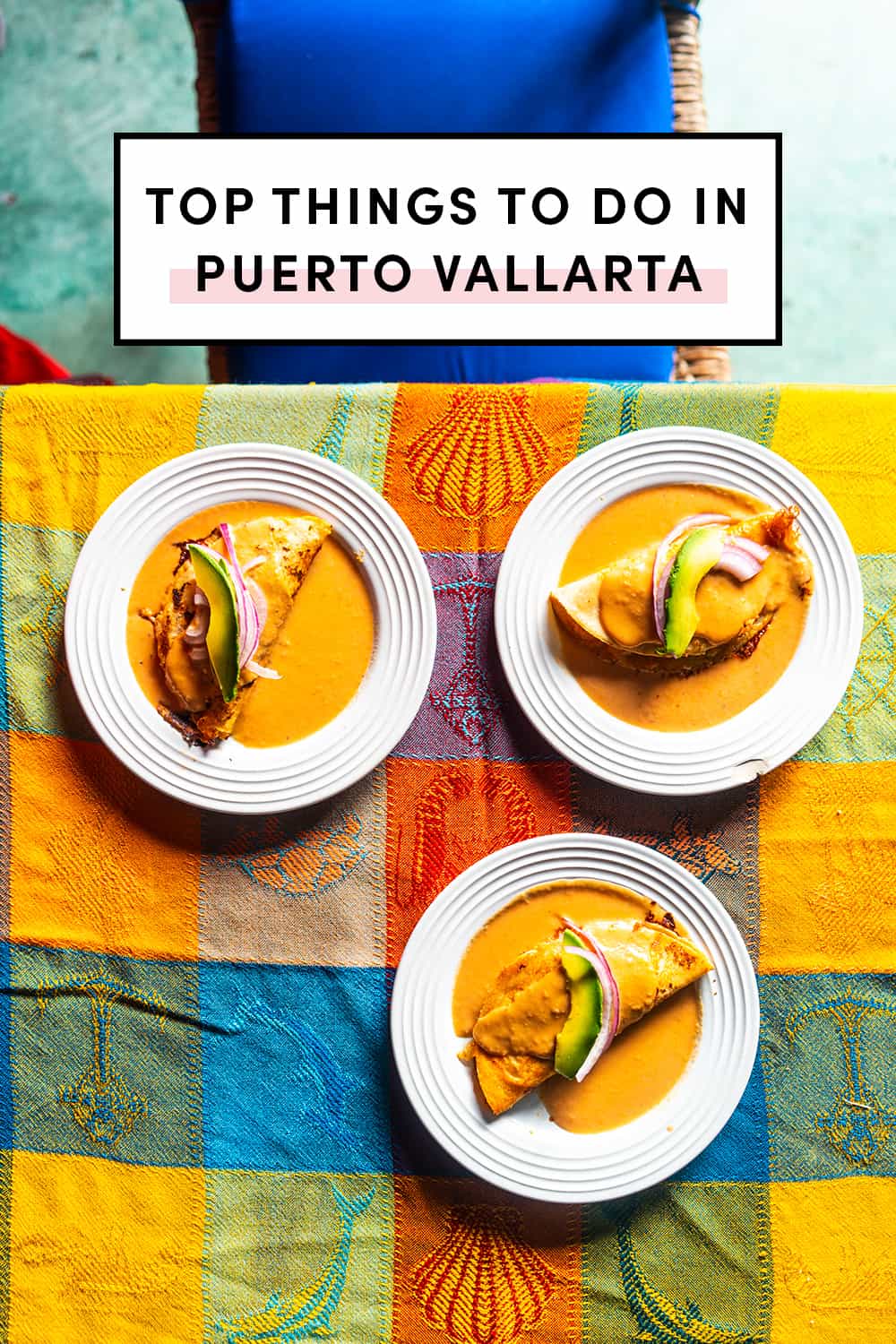 I'm back in Puerto Vallarta after just visiting a couple of months ago and I love it here. Puerto Vallarta is where the jungle meets the beach so you get the best of both worlds in one city. Located in the heart of Mexico state of Jalisco on the Pacific coast and framed by the Sierra Madre Mountains and fronted by Banderas Bay, Puerto Vallarta is a quick flight from Texas!
I stayed at Casa Velas, an adults-only all-inclusive resort in Puerto Vallarta, located just 5 minutes from the Puerto Vallarta Airport and 15 minutes from downtown Puerto Vallarta.
Fun fact: The Night of the Iguana movie was set on the beach in Mismaloya, located a few kilometers south of downtown Puerto Vallarta.
SEE ALSO: Riviera Nayarit Travel Guide: Best Hotels, Restaurants, & Things To Do
So what's there to do in this tropical destination? Walk along the sandy beach, take a dip in the ocean, take a boat ride to the different islands, eat all the street tacos, or ride an ATV up the mountain – here are the top 7 things to do in Puerto Vallarta!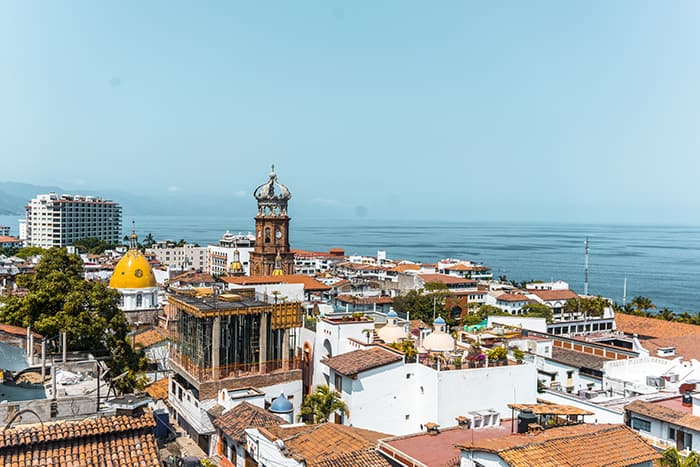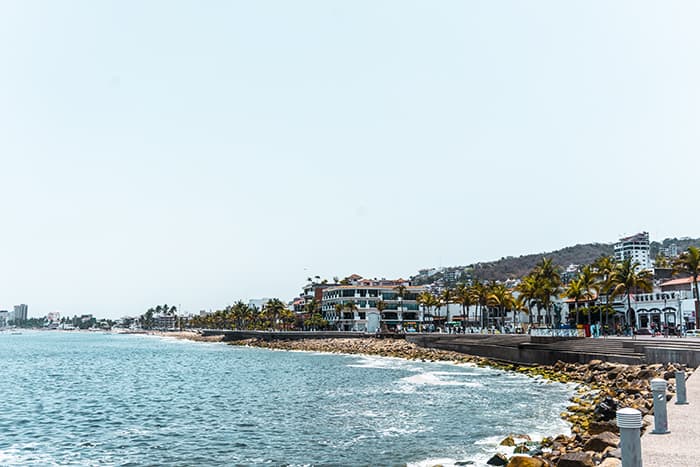 1. Explore El Malecón
El Malecón is the historical center of Puerto Vallarta that stretches across 12-block, mile-long boardwalk that has a beautiful view of the bay. Malecón actually means "esplanade along a waterfront" in Spanish. It's easily walkable by foot so spend a couple of hours exploring the art galleries, restaurants, bars, local shops, and sculptures.
THINGS TO DO IN EL MALECÓN
Church of Our Lady of Guadalupe (La Iglesia de Nuestra Senora de Guadalupe)
Drink tuba – there's a man that sells this drink by the bay. Tuba is fermented palm juice with chopped walnuts and apple.
Visit Casa Kimberly – this was the previous home of Elizabeth Taylor and Richard Burton.
Take a walk down Zona Romantica (romantic street) at night
Walk along Los Muertos Pier – the pier lights up at night
Centro, Puerto Vallarta 48300, Mexico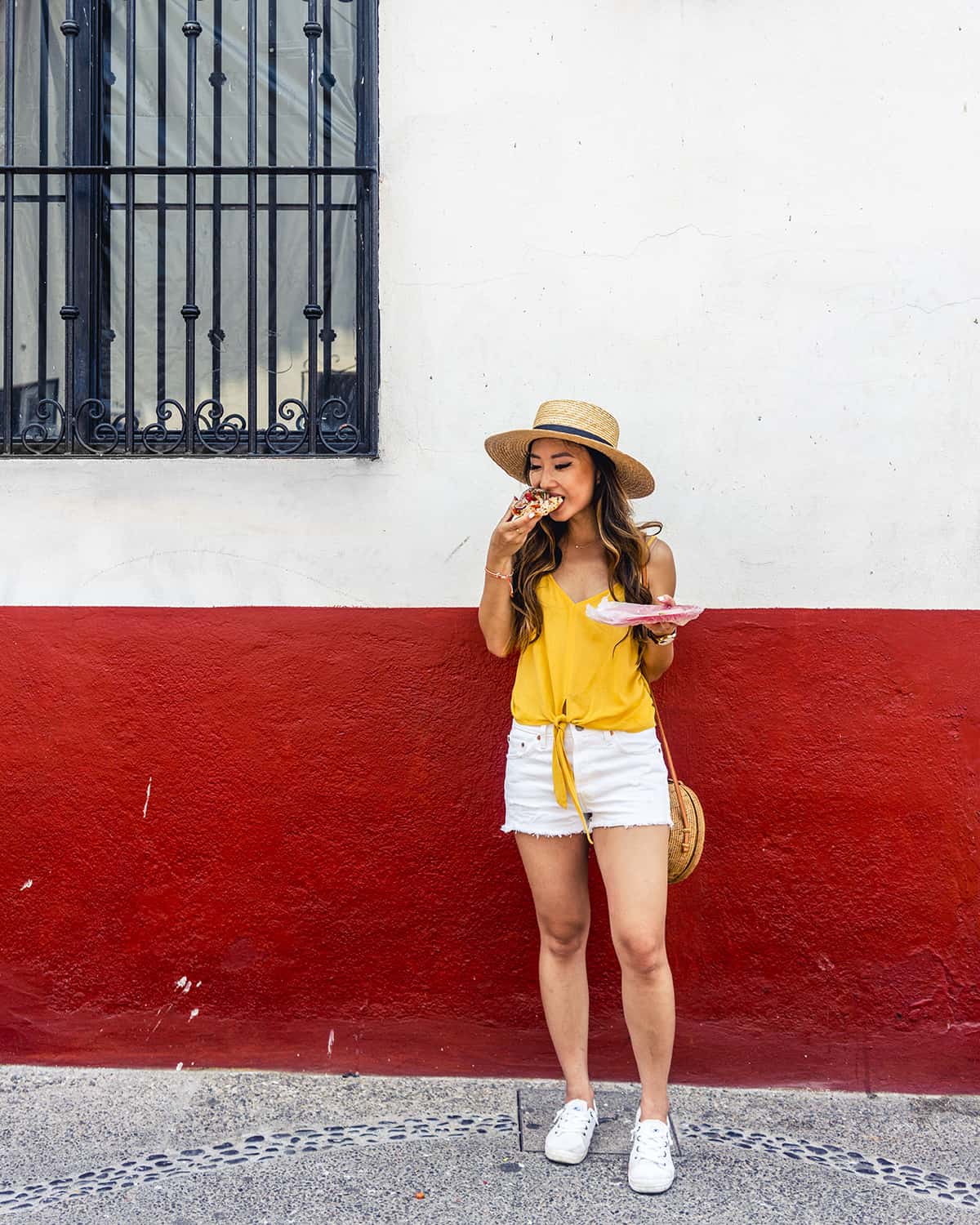 2. Go out on Old Vallarta
Also known as Old Town, or as the city has named the area "Romantica Zone," (Romantic Zone) comes to life at night. Enjoy the nightlife while dining at the small local restaurants of every type of food and charming old boutique hotels. We ate at one of the local Mexican restaurants and sampled the tequila!
There are 2 farmers markets in Puerto Vallarta that are both on Saturday and run from 10 am to 2 pm.
Olas Altas Farmers Market
Paradise Community Center
3. Tour Marina Vallarta
Marina Vallarta located just 15 minutes from downtown Puerto Vallarta is an exclusive Marina filled with yachts, boats, and charters, plus a championship 18-hole golf course designed by Joe Finger.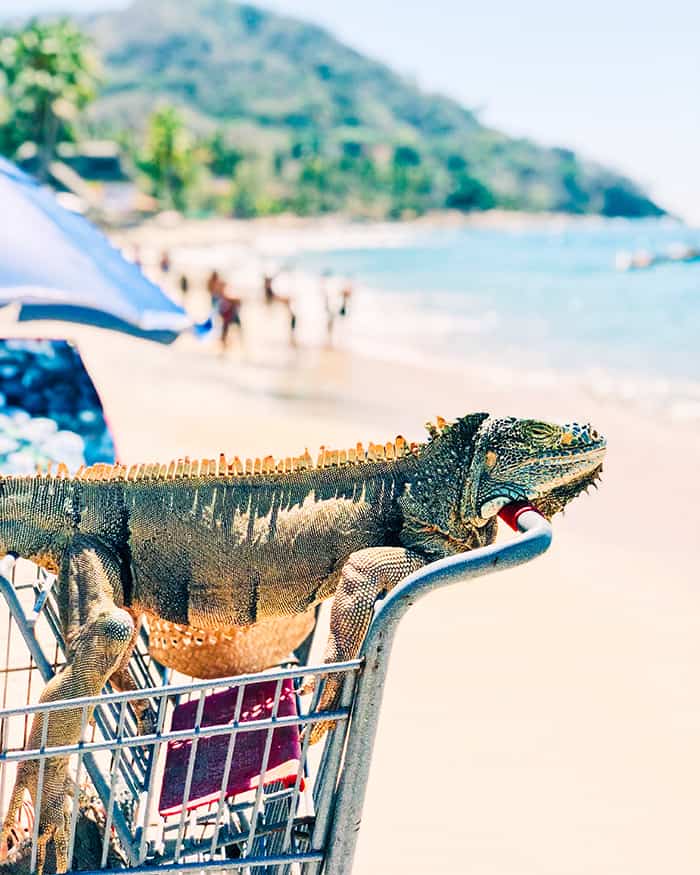 4. Boat cruise around the Bay of Banderas
Puerto Vallarta is surrounded by small islands that are perfect for a day trip. We did a boat cruise with Mike's Fishing sailing around El Malecón, Los Arcos National Park, and then to our private island where we spent the day snorkeling, kayaking, paddleboarding, and eating lunch on the beach.
5. Visit the Marietas Islands (Islas Marietas)
The Marieta Islands are a group of small uninhabited islands a few miles off the coast of the state of Nayarit, Mexico. I got to visit the islands on the previous trip to Riviera Nayarit and we snorkeled around the islands!
The only way to get to the Marieta Islands National Park from Puerto Vallarta is by boat. It's about a one-hour long boat ride.
Tip: Try to get tickets (in advance) to Playa del Amor, commonly known as the Hidden Beach, a feature of one of the Marieta Islands. It's a wide, sandy cavern with the blue waters of the Pacific rushing in. Sadly, we didn't get tickets in advance so we weren't able to visit.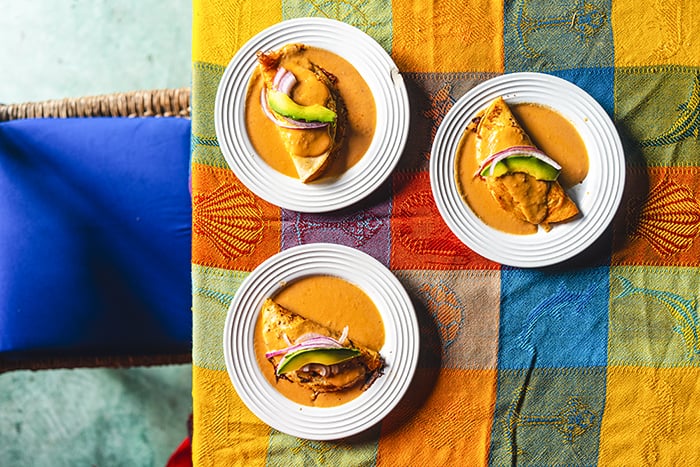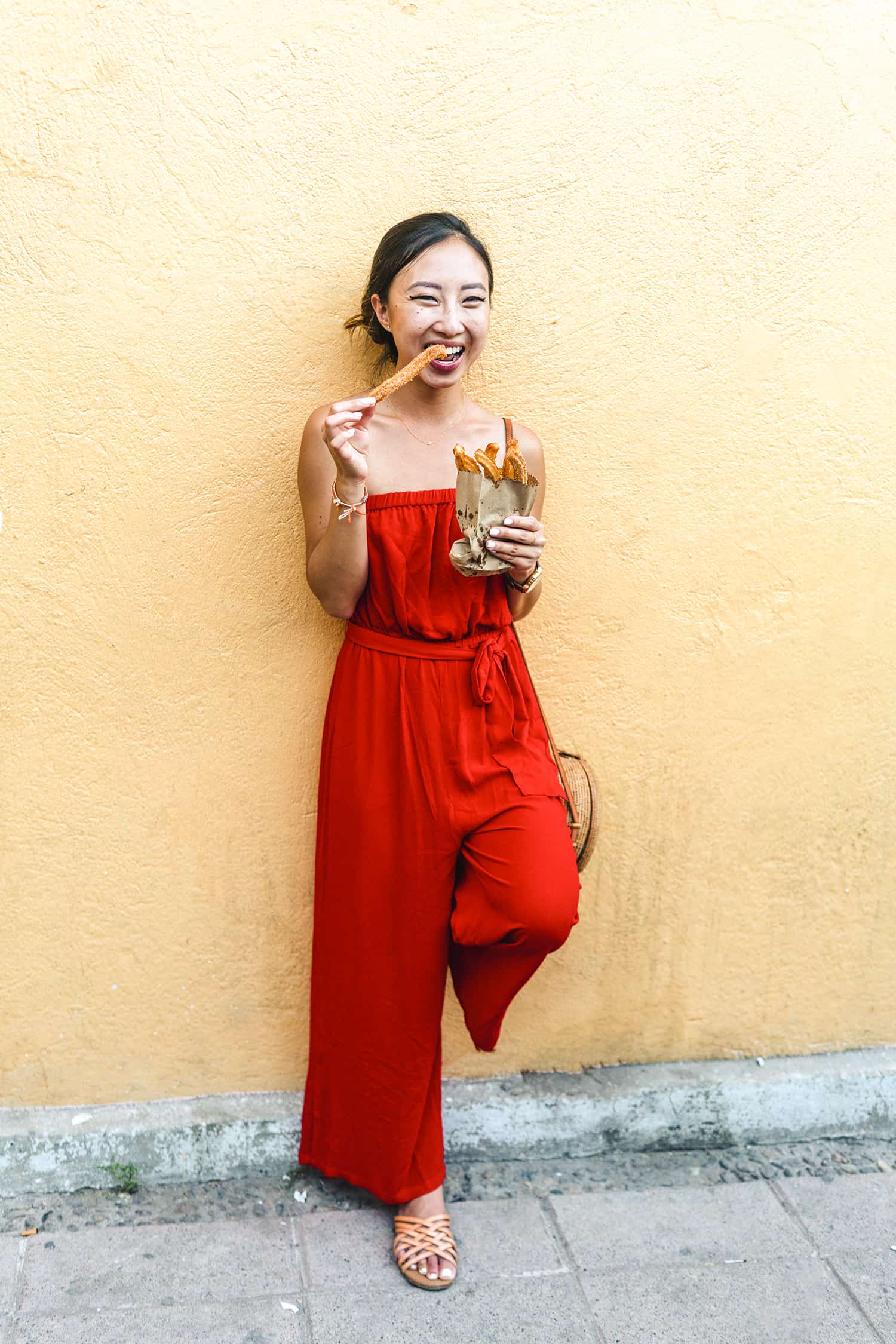 6. Go on a street taco tour
You can't travel to Puerto Vallarta without eating tacos and the best way is to go on one of the street taco walking tours with a local and learn about the local street food. Our evening with Vallarta Food Tours started in Emiliano Zapata Centro (downtown) where we ate at 5 different taco stops and 2 churros stands!
7. Walk around Vallarta Botanical Gardens
The Vallarta Botanical Garden is a 64-acre botanical garden at 1,300 ft above sea level surrounded by lush tropical forests, cultivated gardens and conservatories featuring orchids, rhododendrons, bromeliads, magnolias, and many more botanical delights. If you want to learn about different Mexican plants, this is the spot!
Tickets: Mx$206.00 per person
Carretera Puerto Vallarta, Carr. Costera a Barra de Navidad Km 24, 48425 Jal., Mexico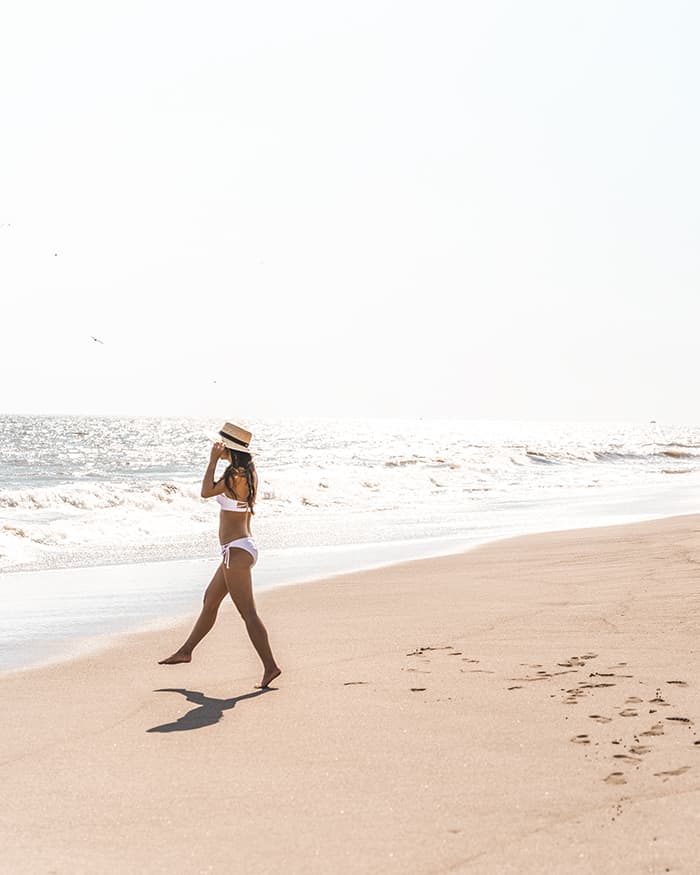 8. Head to the beach
Unlike Cabo, you can go to the beach and swim in the ocean in Puerto Vallarta! Kayaking, paddle boarding, sailing, swimming, or even sunbathing – the beautiful shoreline of Puerto Vallarta has it all! Popular beaches in Puerto Vallarta include:
Playa Los Muertos beach – located at Malecón
Quimixto – popular beach found between Las Ánimas and Majahuitas accessible by water taxi
Playa Las Gemelas
Playa Mismaloya
Playa Camarones
Playa Yelapa
Las Caletas
SEE ALSO: PERFECT WHITE BIKINI FOR SUMMER
9. Walk across Isla Río Cuale
You can reach the little island of Rio Cuale by taking the stairs leading down new bridge that crosses over the river or by crossing a hanging bridge. Once on La Isla Rio Cuale there are sweet walkways surrounded by jungle foliage, trees housing iguanas and parrots, and by looking over the side of the island you will see the water rushing over rocks.
You'll find little shops selling colorful Mexican crafts, and local Mexican restaurants serving refreshing drinks and delicious food.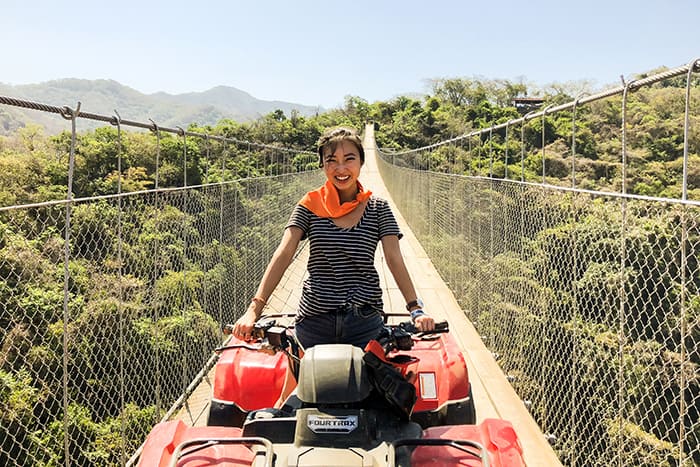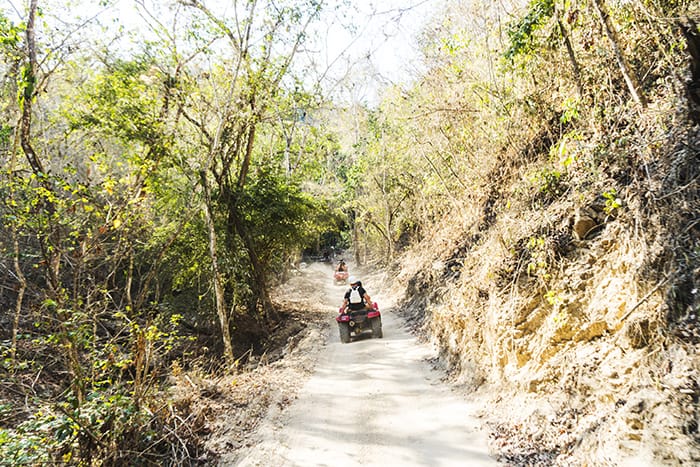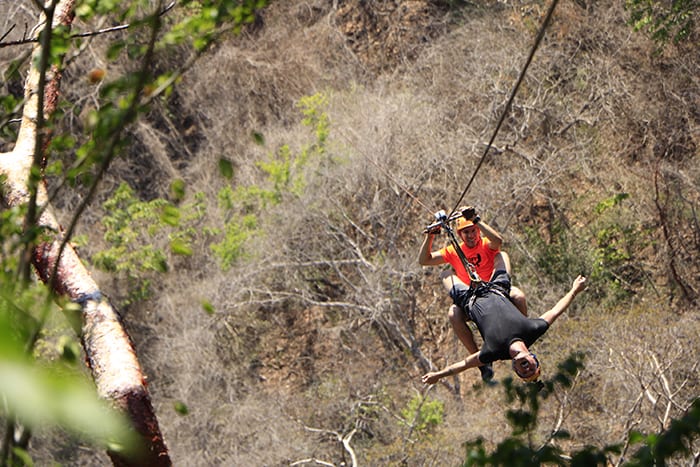 10. Ride ATVs & Zipline at Los Veranos
Roar up the mountain to the river canyon on an ATV! It was so refreshing to take a dip in the river canyon and waterfall "el salto." The ATV ride ends across a suspended bridge with the jungles of Puerto Vallarta. This was my first time on an ATV and I was surprised by how much I loved the ride!
Puerto Vallarta is made of tropical jungles, which makes it amazing for zip lining! At Canopy River you'll go flying 200 meters above the "Los Arcos" Natural Preserve and river and through the treetops, and it ends with a mule ride. I'm deathly afraid of heights so I only did one of the 7 zip lines.
11. Try the thriller jet board ride
If you like riding jet skis, you'll love the Thriller Jet Boat Ride on the Banderas Bay and it's completely on a different level. Thriller is a unique speedboat that's propelled by a jet stream of water so you drift across the water with 360° spins like the Fast & Furious.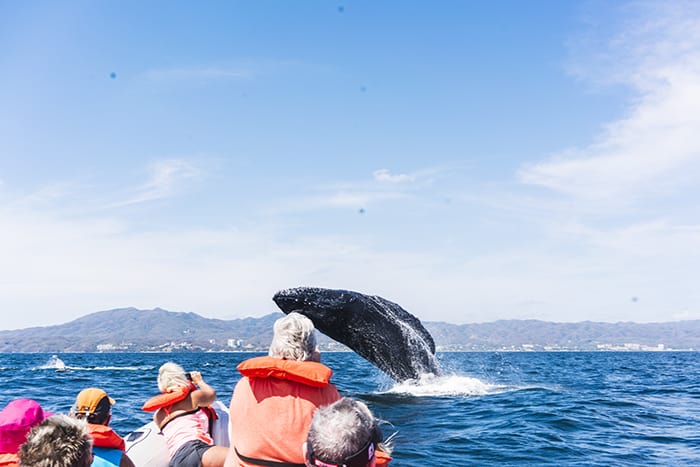 12. Go whale watching
What's the first thing a baby whale calf sees after being born? A whale watcher. – tour guide
When I went to Puerto Vallarta in February, I did a whale watching tour and was able to catch the last of the season. Whale watching season in Puerto Vallarta is December to March when the humpback whales migrate to Banderas Bay to give birth. There's no specific time of the day when the whales are most active but I got super lucky on my tour because the whales were jumping out of the water for an hour!
13. Day trip to Sayulita
You can take a bus ride from Puerto Vallarta to Sayulita that costs around $46 pesos. Buses normally arrive every 20 minutes and the 24-mile journey takes approximately 1 – 1.5 hours due to frequent stops.
Sayulita used to be a quiet fishing village but is now a popular destination for its picturesque beach and colorful shop.
RELATED: Best Things To Do In Mexico City, Sorted By Neighborhoods