In collaboration with Choose Chicago. Thank you for supporting the brands that support A Taste of Koko!
Chicago has really, really good food so if you're a foodie like me, you're going to love Chicago. Chicago was named Restaurant City of The Year by Bon Appétit, the James Beard Awards moved to Chicago, and Chicago had 25-star winners and 54 Bib Gourmand Winners in the Michelin Guide 2018.
Alinea is a popular restaurant in Chicago but not everyone wants to drop $$$. The tasting menu for two without wine pairings costs almost $700!
SEE ALSO: 7 Best Bars In Chicago
[vessel-campaign id="257″]
I spent a weekend eating my way through the city and after 13 amazing meals, I left Chicago happy with a food coma. In addition to eating really good food, I loved exploring each of the neighborhoods (Lincoln Park, River North, Logan Square, South Side, South Loop, West Town, Bucktown, Pilsen, Andersonville) shopping at the vintage boutiques, trying craft cocktails at local bars, and even just chatting with the locals at the coffee shops.
This is my ultimate food guide to Chicago on where to eat for breakfast, lunch, dinner, brunch, and desserts. There's more to Chicago than just deep-dish pizza, hot dogs, and Michelin stars.
---
BEST CHICAGO RESTAURANTS FOR BREAKFAST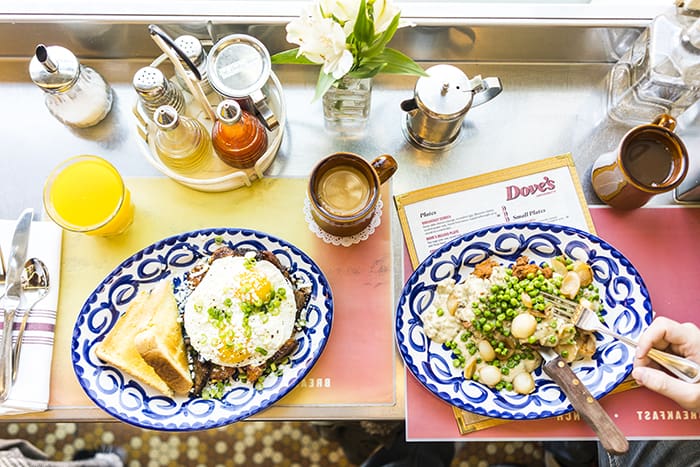 DOVE'S LUNCHEONETTE
Before you start exploring all the vintage shops like the trendy Moon Voyage shop to classic pieces from Vintage Underground, and unique boutiques in Wicker Park, you need to fuel up on a hearty breakfast and the spot to go is Dove's Luncheonette. This American neighborhood diner will take you back to the soul and blues era of Chicago in the 1960s and 70s with its comfort food and full mezcal and tequila bar. The chicken fried chicken was one of the best I've ever had and love that Dove's Luncheonette serves local coffee, Dark Matter. Pro tip: Play a song on the jukebox for just a dime.
What to order: chicken fried chicken and burnt ends hash
1545 N. Damen, doveschicago.com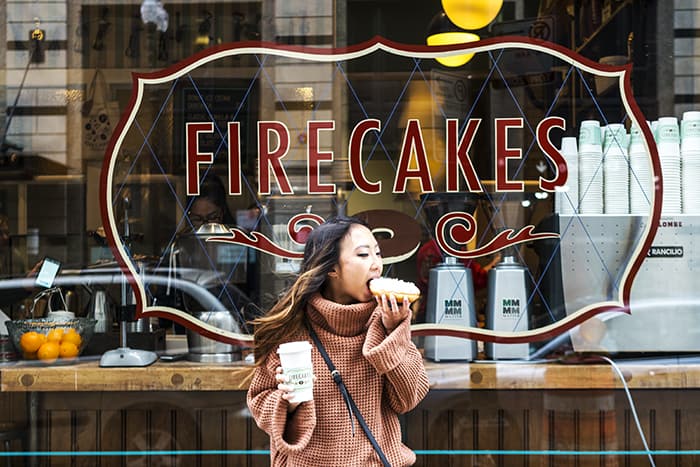 FIRECAKES
You have to eat doughnuts when visiting Chicago and the spot to go is Firecakes. The artisanal donuts are made in small batches from an old family recipe with flavors like buttermilk old fashioned to candied pepper bacon and maple long john. The Tahitian vanilla iced is what Firecakes is known for but might as well get the Valrhona chocolate iced to eat later.
What to order: Tahitian vanilla iced
68 W Hubbard St, firecakesdonuts.com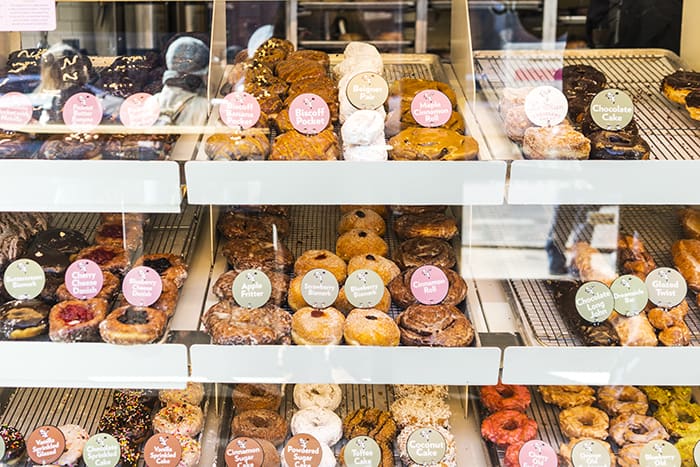 STAN'S DONUTS
When I walked by Stan's and saw all the beautiful doughnuts in the case, I had to go in! Greeted by the smell of freshly baked doughnuts and a super cute Instagrammable space makes Stan's a must eat stop in Chicago. The Le Stan' Croissant Donut was layers and layers of flaky goodness with a creamy center.
What to order: Le Stan' Croissant Donut
1560 N Damen Ave, and multiple other Chicago locations, stansdonutschicago.com
---
BEST CHICAGO RESTAURANTS FOR BRUNCH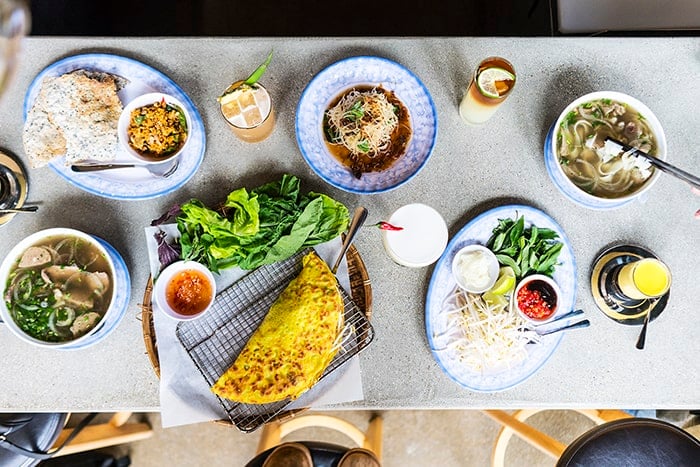 HAISOUS
Kick off the weekend with a Vietnamese brunch at HaiSous, a semifinalist for the prestigious James Beard "Best New Restaurant" Award. Opt for the $25 brunch pre-fixe that comes with Gỏi Đu Đủ (papaya salad), Hến Xúc Bánh Đa (chopped clams with grilled rice crackers), and Phở Mẹ Tôi (beef pho). I also highly recommend ordering the bánh xèo (Vietnamese pancake), egg coffee, tequila, and mezcal cocktails.
What to order: brunch pre-fixe and bánh xèo
1800 S Carpenter St, haisous.com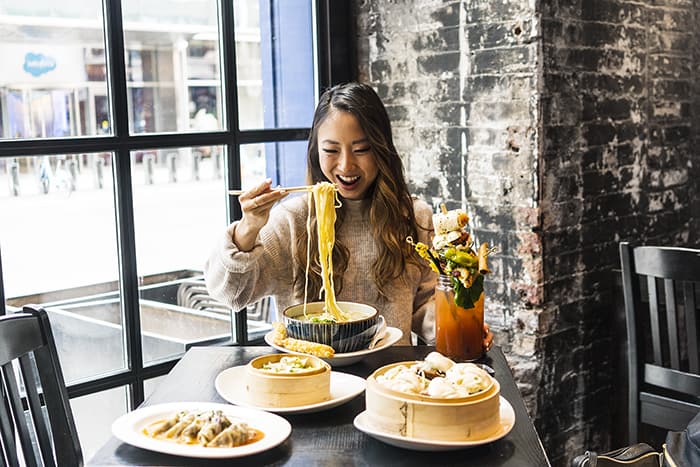 SUNDA
If you're thirsty and hungry, order the Sumo Mary – it's GIANT. The Sumo Mary comes with a grilled cheese, steamed duck bao bun, crab handroll, crispy pork belly, wok-fired shishito peppers, applewood bacon, sunda potatoes, lumpia, takuan, and kai-lan. Might as order a bowl of ramen, more duck bao, fat rice, and dumplings while you're at it.
Sunda is an Asian fusion restaurant that features Japanese, Chinese, Korean, Thai, and other Southwest Asian cuisines.
What to order: duck buns, Sumo Mary, octopus sashimi, and ramen.
110 W Illinois St, sundachicago.com
---
WHERE TO GET LUNCH IN CHICAGO
CAFE SPIAGGIA
Chicago's most beloved Italian restaurant, Spiaggia, has a sister restaurant, Cafe Spiaggia, with a more casual Italian menu and a spacious dining room. The pasta is all made in-house with the freshest ingredients.
Don't feel bad ordering an extra bowl of pasta because you're going to walk it off when you go shopping on Magnificent Mile.
What to order: guanciale bucatini and coppa & pork pate charcuterie
980 North Michigan Avenue 2nd Floor, spiaggiarestaurant.com
---
WHERE TO GET DINNER IN CHICAGO

GIRL & THE GOAT
Considered one of the best fine dining restaurants in Chicago, Girl & The Goat is Stephanie Izard's first restaurant after winning Top Chef that features rustic small dishes. Girl & The Goat is one of the hardest tables to get in Chicago but if you go early (like I did right when they opened) you can snag a walk-in seat.
We ordered the wood oven-roasted pig face and it was incredible with the crispy shoestring potatoes. It comes with a sunny side up egg that once you mixed with everything else on the plate becomes a creamy sauce and ties it all together.
What to order: wood oven-roasted pig face
809 W Randolph St, girlandthegoat.com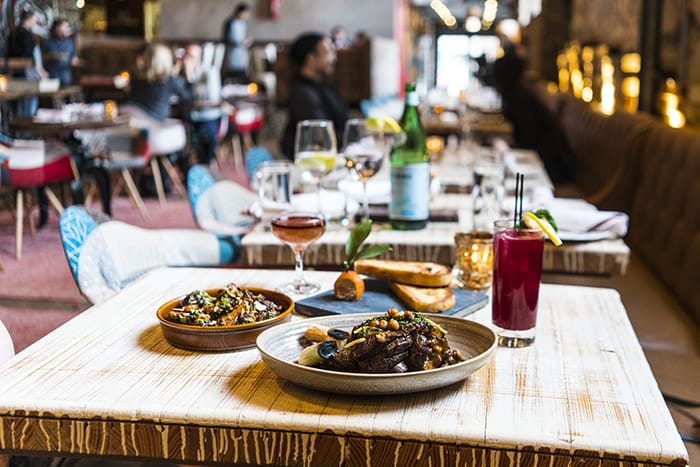 FULTON MARKET KITCHEN
Located in Chicago's West Loop, Fulton Market Kitchen menu is rustic with a touch of artistry. The foie mousse is served in a mandarin orange jelly mold in the shape of a mandarin with toasted sourdough. It's a great place to hang out and enjoy cocktails and food while taking in all the local art in this cool warehouse space.
What to order: foie mousse, chili garlic Brussels sprouts, and lamb shank.
311 N Sangamon St, fultonmarketkitchen.com
AU CHEVAL
Au Cheval was my last meal in Chicago and the one hour wait was totally worth it. Sometimes the wait can be three hours long. Grab a seat at the bar to witness all the burger magic happening right before you eyes but know that you'll want to eat everything. The hardest decision you'll have to make is whether you want a single (comes with two patties) or double burger (three patties). We got the single burger with fries and a root beer float.
What to order: double burger with bacon and a root beer float.
800 W Randolph St, auchevalchicago.com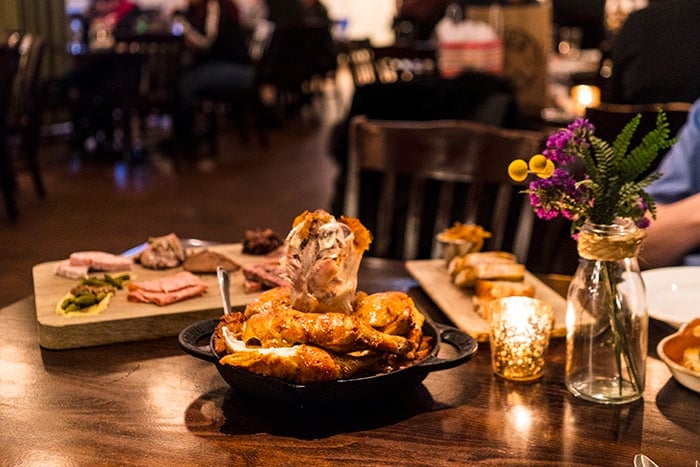 RIVER ROAST
For the best view of the city and an excellent meal, go to River Roast Steakhouse that's right on the river inside the historic Reid Murdoch building. The Hogan's charcuterie with chef's selection housemade & local charcuterie is one of the best charcuterie boards I've ever had.
From there, you'll choose from a whole chicken, rack of pork, big fish (crispy or fire-roasted), roast beef, or the 'Sunday Supper' prime rib (available only on Sundays). We got the bbq whole chicken with River Roast potatoes and it was so good. Next time, I'm getting the fire-roasted branzino with Mediterranean chips.
If you have a party of 6, order the social house smash punch!
What to order: whole chicken, fire-roasted fish, and Hogan's charcuterie
315 N. LaSalle St. riverroastchicago.com
---
WHERE TO GET DESSERT IN CHICAGO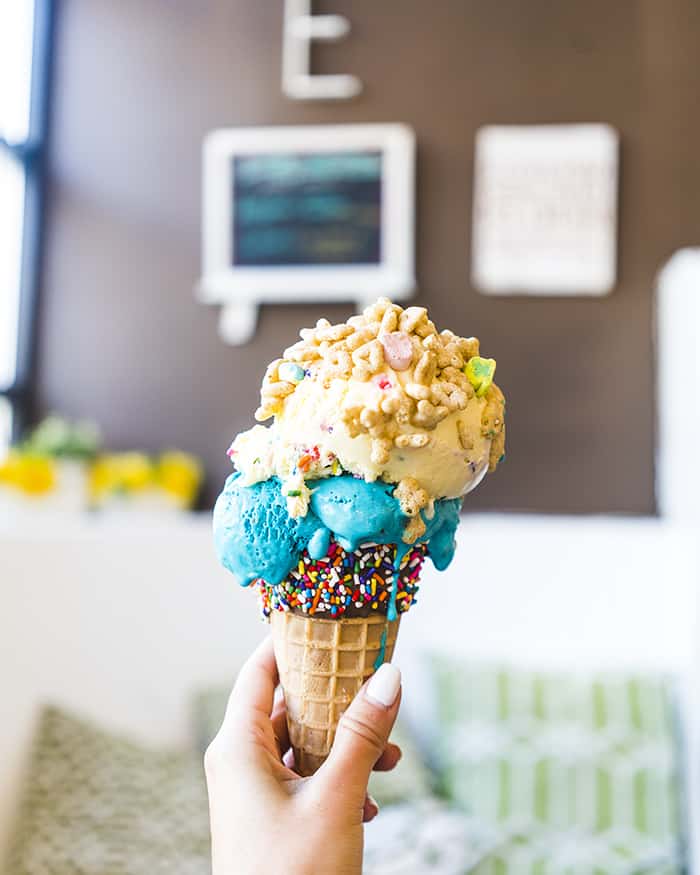 CONE GOURMET
To be honest, I came to Cone Gourmet because I wanted an Instagram-worthy ice cream shot but the marshmallow ice cream with Lucky Charms cereal is really good.
What to order: marshmallow ice cream with Lucky Charms cereal
1047 W Madison St, conechicago.com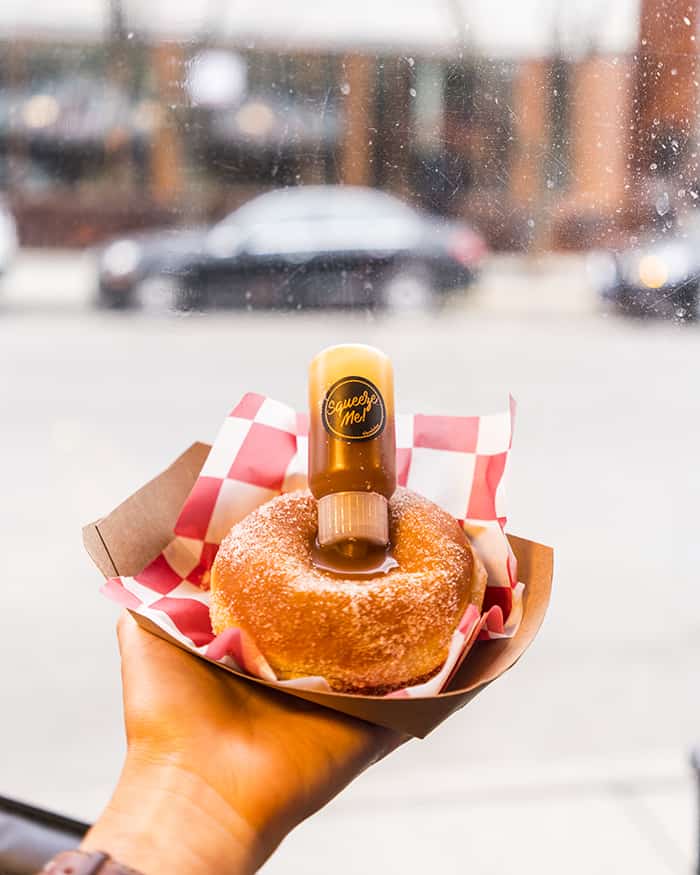 BOMBOBAR
Confession: I found Bombobar on Instagram and had to get photos of their donuts with the squeeze me bottle and the over-the-top hot chocolates. So tempted to get the bombo box that comes with a dozen but I settled for the salted caramel bomboloni and funfetti hotter chocolate.
What to order: bomboloni(s) and hotter chocolates
832 W Randolph St, bombobar.com
WARM BELLY BAKERY
I couldn't leave Chicago without freshly baked cookies and the place to go is Warm Belly Bakery. Warm Belly has over 70 varieties of homemade cookies including the unique ube cookie. Order a couple of them to go for the flight home and you'll thank me later for this pro tip.
What to order: ube cookie and birthday cake cookie
1148 W Monroe St, warmbellybakery.com
---
OTHER POPULAR RESTAURANTS IN CHICAGO
Monteverde – ($$$) Italian restaurant
Blackbird Restaurant – popular American restaurant for its fixed-price lunch menu
avec – Meditteranean and Midwestern restaurant
Boka – ($$$) American cuisine with a garden patio
Smyth – ($$$$) if you're looking to splurge on a fine dining experience, this high-end New American restaurant has tasting menus and wine pairings
The Loyalist – ($$$) also by Smyth, is The Loyalist that's a bi-level New American kitchen and bar
The Purple Pig – ($$) Mediterranean restaurant that just reopened on Magnificent Mile known for its pork dishes
Mi Tocaya Antojería – ($$) neighborhood Mexican restaurant located in Logan Square with small plates and tacos
Xoco – ($$) Chef Rick Bayless owns several restaurants in Chicago and Xoco is the casual Mexican street food spot
The Publican – ($$$) American restaurant with seafood and pork entrees served on communal tables
Lula Cafe – farm-to-table American restaurant in Logan Square
Oriole – ($$$) high-end restaurant in West Loop with an extended tasting menu by a Michelin star awarded Chef that includes caviar
Pequod's Pizza – ($$) one of the best spots for deep-dish pizza in Chicago. I had the little 7″ pan cheese pizza right before a flight and it hit the spot! Good option if you need takeout.
Momotaro – ($$$) modern Japanese restaurant with sushi and robata
Smoque – ($$) considered as Chicago's most acclaimed barbecue restaurant with good brisket
Acadia ($$$$) – upscale New American restaurant inspired by coastal Maine that has two Michelin stars