In collaboration with Choose Chicago. Thank you for supporting the brands that support A Taste of Koko!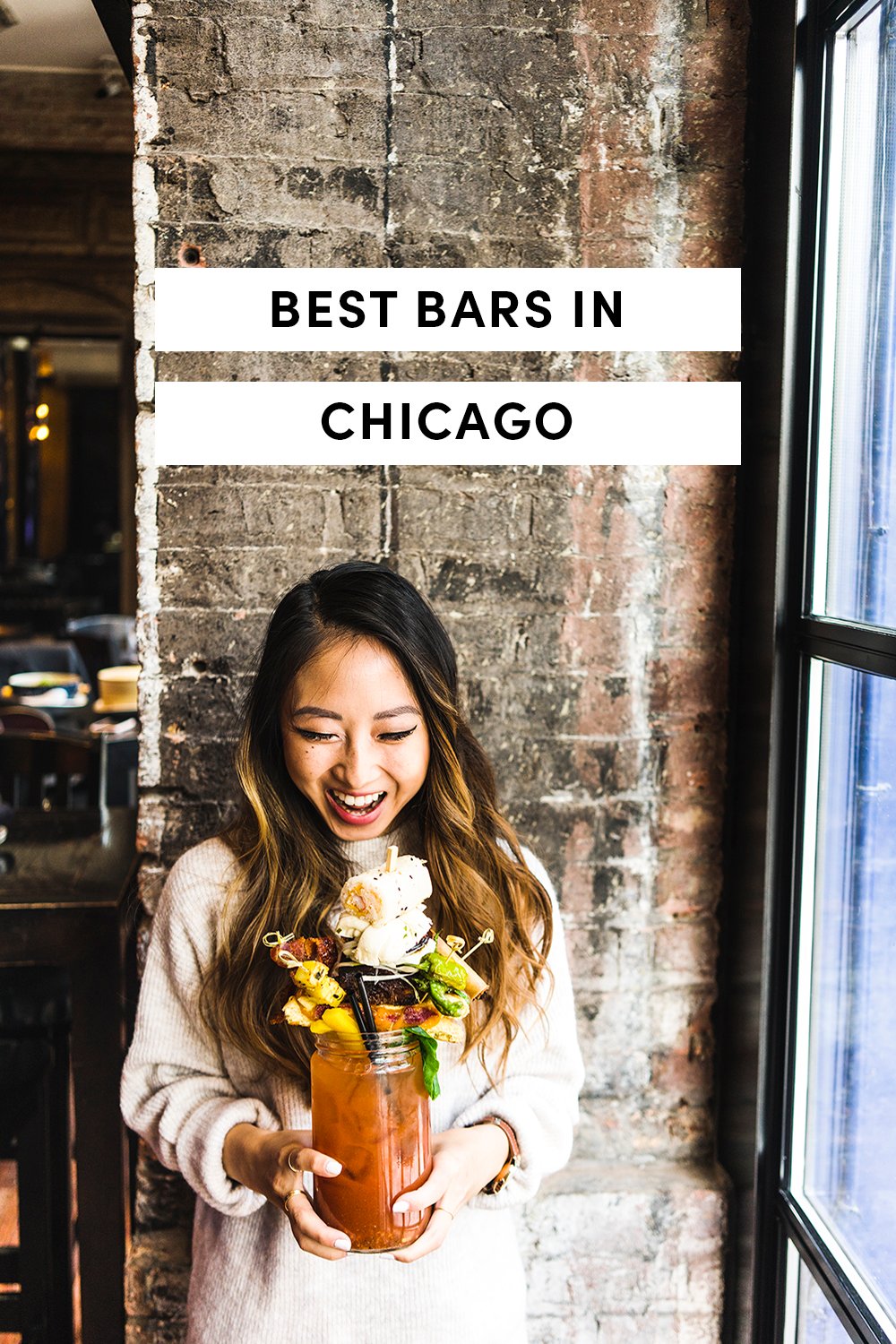 Chicago is filled with incredible bars that are literally raising the bar. The city also has over 70 breweries (and over 200 in the Chicagoland area) and over 15 distilleries. There's a reason why Chicago was named the best city in the world by Time Out London and #1 Best Big City in the US – Readers Choice Award by Conde Nast Traveler!
SEE ALSO: Best Restaurants In Chicago You Have To Eat At
From a 3-course cocktail prix fixe experience that will blow your mind to a Bloody Mary that includes an entire brunch meal (above), here are the 7 best bars in Chicago that you have to drink at.
FOR RUM COCKTAILS: SPARROW
The Sparrow is located in a classic Art Deco apartment building in the Gold Coast neighborhood in Chicago. Originally established in 1927, The Sparrow was designed for those looking for a nightcap or late night rendezvous with a mistress (that's what they said!). The bar has 10 rotating drafts, a European-focused wine list, and over 70 different kinds of rums so be sure to try one of their specialty rum cocktails. From the moment I walked in, I felt transported back into time and was immediately presented with an impressive cocktail menu. The bartender recommended the Grasshopper with sparrow rum cream, crème de menthe, crème de cocoa, and mint. Surprisingly not cloyingly sweet like typical minty sweet cocktails but smooth, sophisticated, and the perfect nightcap.
12 W. Elm, sparrowchicago.com
SEE ALSO: Beer Festivals and Tasting Events
FOR A GLASS OF WINE: HAMPTON SOCIAL
Wondering where that Instagrammable rosé all day spot is in Chicago? It's at Hampton Social! Sip on rosé, well all day, in a breezy beach atmosphere. I stopped in to take a picture for Instagram and ended up staying a little longer to finish my glass of wine in their cute, beach-inspired patio!
353 W Hubbard St, thehamptonsocial.com
FOR THE ULTIMATE COCKTAIL EXPERIENCE: THE AVIARY
The Aviary is brought to you by the Alinea Group where they have perfected state-of- the-art beverages that promise to be unlike anything else. The prix fix menu includes 3 cocktails for $65 and $25 more for food pairings. The night starts off with a complimentary warm cocktail to prep you for the adventure ahead. For the first course, I had the Let The Games Be-Gin – it was like a savory gin and tonic that ended up being my favorite of all the cocktails. For the second course, the Peach Better Have My Honey was a warmed toddy with a bunsen burner demonstration. The third course, I picked both the Tropic-like It's Hot, reminded me of mulled wine (pictured above), and (719)26-OATES, a boozy cocktail served inside an ice ball that you break open. Truly the ultimate, elevated cocktail experience that you cannot miss in Chicago.
Make reservations in advance!
Pro tip: Ask for a standing table next to the kitchen to see the cocktails magic.
955 W. Fulton Market, exploretock.com/theaviary

FOR BRUNCH IN A COCKTAIL: SUNDA
Sunda is a restaurant but I had to include their insane Bloody Mary. This is the Sumo Mary – 32 oz Bloody Mary comes with a grilled cheese, steamed duck bao bun, crab handroll, crispy pork belly, wok fired shishito peppers, applewood bacon, sunda potatoes, lumpia, takuan, and kai-lan with your choice of regular vodka, cucumber vodka, or spicy vodka. Bottoms up.
110 W. Illinois St, sundachicago.com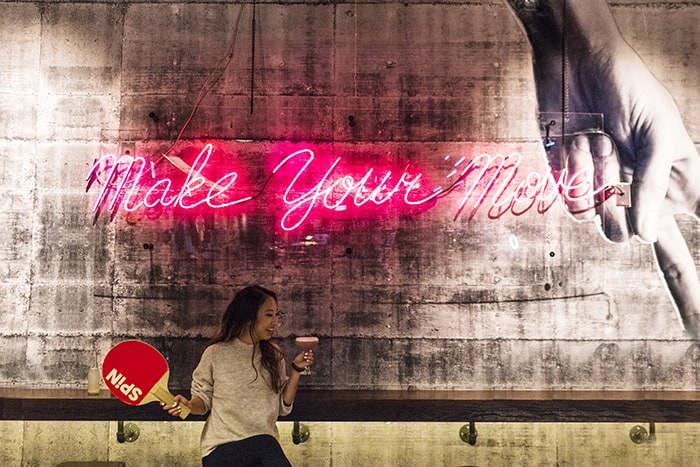 FOR COCKTAILS + PING PONG: SPiN
Looking for a spot to hang out before dinner? SPiN in River North combines ping pong with draft beers and cocktails like moscow mules and their signature SPiNGRIA. Don't know how to play ping pong? Trust me after a couple of cocktails, you'll naturally become a pro. You might even end up skipping dinner and playing the entire night (they serve food too!).
344 N. State, chicago.wearespin.com
FOR THE COOLEST COCKTAILS: THREE DOTS AND A DASH
This is the Bali Bali punch bowl at Three Dots and A Dash – passion fruit, orange, pineapple, lime, falernum, Puerto Rican rum, armagnac and London dry gin served in a tentacle bowl and dry ice. Dangerously delicious. Meant for parties of 4 to 5 so don't try to drink one to yourself. This premier tropical tiki bar and craft cocktail destination is hidden in the alley between Hubbard and Illinois. All the tiki cocktails are made with the freshest exotic fruits and spices, the finest rums and distilled spirits, and juices and elixirs that are cold-pressed and concocted in house every day. There's a reason why Three Dots and A Dash is named one of The World's 50 Best Bars by Drinks International.
435 N Clark St, threedotschicago.com
SEE ALSO: Bottomless Brunch Cocktails
FOR WHISKEY + ARCADE: EMPORIUM
Tired after a day of vintage shopping in Wicker Park? Head to Emporium for two dozen rotating craft beers and over 50 whiskeys while playing 40-some-odd arcade games.
1366 N Milwaukee Ave, emporiumchicago.com
SEE ALSO: 13 Trendy Cocktail Spots